I hope your weekend is off to a terrific start. My mind is racing and it's time for some "Random Thoughts"…
TODAY IS "KITE FLYING DAY"
There seems to be a day for just about everything. Today is Kite Flying Day"!
According to the Days of the Year website, "Kites have been bringing joy and relaxation since the 5th century in China. Kite Flying Day was created to remind us of the feeling of freedom that one feels when guiding a kite through the currents of air."
I wouldn't know what that feeling is like!
As a kid I remember going to Walker Street Pharmacy and buying one of those rolled up kite kits that included the paper kite and the wooden supports. I'd get that for about 50 cents and then buy some kite string.
Once I was back home, I'd assemble the kite and find something to use for the tail.
Then it was off to the park, or an open area, to try to fly this thing.
Let's just say I did more kite "dragging" than "flying". I would run as fast as I could and the kite would start climbing into the air…until I stopped running. Then it was back to the ground it went.
This would go on for about 20 minutes before I would grow tired of this activity and back home I went.
Hopefully you were (or are) a better kite flyer than I ever was.
CUTTING THE CORD ON THE TV
Over the years, I know a lot of people that have decided to cut the cord on their cable television.
I recently did this. I'm using some streaming services now to get my local and national television feeds.
Some are turning to an antenna once again. I'm starting to see more and more of these structures on roofs lately. There was a time about 20 years ago where it was rare to see an antenna on a roof, maybe a satellite dish, but rarely an antenna.
I keep getting some weird advertisements while Facebook lately. Because I have researched antennas in the past, my computer knows that I must be interested in these things.
I love this ad…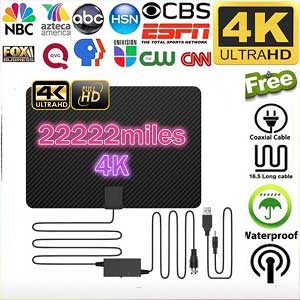 I know it's way too good to be true. There is NO way that an antenna could pull in TV signals from 22,222 miles away!
I was doing the math…The circumference of the earth at the equator is 24,901 miles. Now in reality to get all the TV stations from around the world from my house, I would only have to pull from 12,450 miles in each direction. If I did that, I would have the entire surface of the earth covered.
So, for less than $20 I can get every TV station in the world!!! But wait, my TV doesn't have that many available stations! And how do I tell my TV I want to watch channel 8 from Australia instead of WOOD TV 8 in Grand Rapids?!
The sad part is I'm sure there are some that order this thing thinking it will work!
DILL PICKLE POPCORN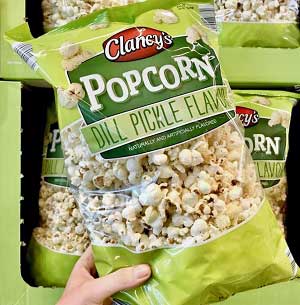 I've have said many times that I HATE pickles. Well, I will tolerate the "Bread and Butter" pickles on a hamburger, but that's my limit.
Manufacturers have been adding the dill pickle flavor to a lot of things lately… from chips to pizza to even ice cream.
Well now there is Dill Pickle Popcorn!
Aldi just added Clancy's Dill Pickle Popcorn to their shelves. Several people have commented on Instagram that the pickle popcorn doesn't have a super strong flavor — which some love and others hate.
You can pick up a 7.5 ounce bag of Clancy's Dill Pickle Popcorn at Aldi for $1.69. It's part of Aldi Finds, which means it will only be in stores for a limited time. Aldi confirmed on Instagram that it's available now while supplies last.
And don't worry, I WILL NOT be buying a bag, so there will be one additional bag for you to purchase!
Have a GREAT weekend! I will talk to you this afternoon from 2-6 pm on 98.7 WFGR!
If you have any comments on the above stories, please leave your remarks below…