How is your weekend going? It could get a little snowy around here later today. We have a Winter Weather Advisory for all of the Lower Peninsula from 12:00 Noon until Midnight. We might see 2-4″ of new snow.
It's time for some "Random Thoughts"…
IS THAT A NAKED MAN ON THAT BILLBOARD?!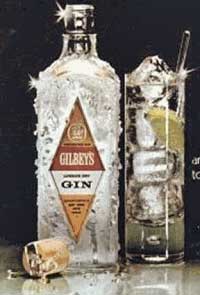 I once had a marketing class where we were shown pictures of ads that had subliminal messages in them.
One of the more famous print ads that everyone claims had a hidden message was for Gilbey's Gin. Many said that the ice cubes in the glass spelled out the word "SEX". I can kind of see it. Imagine what they could do today with programs like Photoshop!
Then there are those pictures we see that we have to look twice — because at first they appear different than what they really are. There are several websites that have pictures like this. They also appear in my Facebook feed on a pretty regular basis.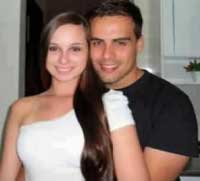 For example, the picture of a woman and a man that looks as if the man has lost his hand. In reality, the man has a hand. what you are seeing is the woman's shoulder and arm in front of the man's. His arm is actually extending downward.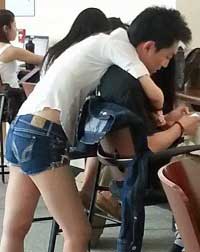 Or how about the one where it appears that a woman has a man's head. (Or a man has an incredible body and legs!) It's actually a picture of a man sitting in a chair, with a woman standing next to him from behind, with her head down on his shoulder, hidden by the man's head.
Or how about the one that looks like the horse has two heads? It's actually one horse standing in front of the other, both facing opposite directions. However, with the way they are positioned, it actually looks like just one horse with a head on both ends.
There is a billboard on Southbound US-131 just past the West River Drive exit that has a photo on it that could be an example of either a subliminal message or a mistaken image — or both!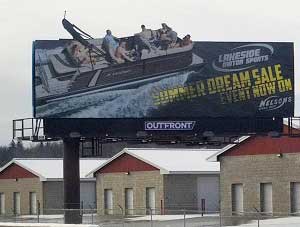 I've driven by this billboard for a few weeks now. Every time I thought I saw something a little different about the picture in the advertisement. While driving 70 miles per hour it was tough to get a good look at it.
On Saturday, I had a friend riding with me. I had him take a photo of the billboard so I could explore it a little closer while sitting still back at home.
What has been catching my eye is the driver of the pontoon in the middle of the boat, on the right-hand side.
I've often wondered if ad agencies, or even photographers, like to play jokes from time to time and add things to pictures that really shouldn't be there.
Could that be the case in this photo? If you look closely, it looks like everyone on the pontoon is dressed in boating attire or their bathing suit…EXCEPT the driver. It appears he might not be wearing ANYTHING!
I still really couldn't tell by my friend's picture, because it was taken at a distance, and while I was still driving the speed limit.
I did find a copy of the picture on the company's website though that showed a little more detail…

If you take a good look at the driver, can you see what I'm seeing…or not seeing (as in a bathing suit)?!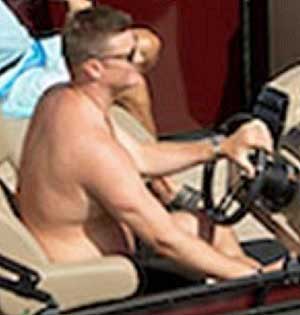 Let's zoom in just a little closer…
Wouldn't it be funny if when they took the picture, they had everyone clothed except the driver who maybe wanted to enjoy some "naked boating".
Maybe they just wanted to see if anyone noticed?!
If nothing else it's good for a chuckle every time I drive by the billboard. I bet you will see the billboard a little differently now too.
And who knows, maybe a naked pontoon driver on a billboard will help sell more boats!
All I do know is that I'm ready for sunny and warmer weather where "naked boating" can even be an option!
CELEBRITY DEATHS
If you listened to "The Rick and Scott Show" in the past, you know we had a "Deathwatch" and always talked about "Celebrity Deaths".
Usually they always come in threes.
"1-2-3 Deathwatch Over!"
In the last week we have lost three in a row.
Starting on Wednesday, February 5th, we lost actor Kirk Douglas at the age of 103.
On Friday, February 7th, actor/comedian Orson Bean was fatally struck by an automobile. He was 91.
And the next day, Saturday, February 8th, actor Robert Conrad passed away at the age of 84.
Rest in Peace Kirk, Orson, and Robert.
HAPPENING TODAY
The Grand Rapids Griffins will be playing at the Van Andel Arena against the Texas Starts. Game time is 4:00 pm. For Sunday's game, it will be Princess Day with Princess appearances. There will also be a post-game autograph session.
The Oscars are on TV tonight (does anyone even watch these shows anymore?). They will air this evening starting at 8 pm on ABC.
And, we had a peek at it last night, but the Super Snow Moon will be visible again tonight if the weather allows.
ON THIS DATE
Back in 1997, with their 167th episode, "The Simpsons" became the longest-running prime-time animated series, taking the record previously held by "The Flintstones". The show still holds the record. If I'm watching TV tonight, I can bet you I'll be watching "The Simpsons" instead of the Oscars!
Enjoy what's left of your weekend!
If you have any comments on the above stories, please leave your remarks below…