Are you ready for a weather roller coaster this weekend?
THE WEATHER
The weather continues to be the hot topic.
Here in Cedar Springs the precipitation has turned over to freezing rain. Everything has a very thin coating of ice as of about 10 am.
The National Weather Service is asking for your help in keeping an eye on what it's doing. You can download an app called mPING. You can then report just what it's doing wherever you are. I put the app on my phone this morning and have already submitted a report.
For more information on mPING, here is the website where you can download the app.
I have a few friends that have posted on Facebook that they are on vacation and were supposed to fly home today or tomorrow. Their flights have been cancelled. Many are having a tough time finding a way back home.
I went to the Gerald R. Ford International Airport website in hopes of checking out their flight status. I wanted to see just how many flights were cancelled or delayed. Their webpage with the information seems to be malfunctioning. You can keep trying for  yourself. The webpage is available here. I see they did post on their Facebook page on Friday that all Frontier and Allegiant flights for Saturday from Grand Rapids are cancelled.
There are a ton of cancellations. Mostly school activities for today. A list of the current cancellations can be found here on the WFGR website.
A few power outages have already been reported, mostly in a line from Muskegon to Greenville…about where most of the freezing rain is falling. At this point is looks like 1,832 customers in Muskegon county are without power. Another 1,190 in Kent County. In Allegan county 134 customers have no power. There are just 33 customers affected in Ottaw county and 10 in Montcalm county as of 10:30 am this morning. You can keep an eye on the outages at the Consumers Energy Outage page.
If you don't have to venture out, authorities are suggesting you just stay home. You might want to seriously consider that — especially as we get more and more freezing rain and ice. Be safe.
CELEBRITY DEATH
Another Celebrity Death…
Neil Peart, phenominal drummer for the band "Rush" has passed away at the age of 67.
Peart died on Tuesday, January 7th, in Santa Monica, CA. The cause of death was brain cancer, which Peart had been quietly battling for three-and-a-half years.
Read more about Neil Peart here.
MY FANTASY CAME TO LIFE
I was sitting at lunch with a friend on Friday and I told him how when I was a kid, I was always jealous of the fast food worker who was able to use the pop machine to dispense a customer's drink order.
As a 8 or 9 year old I so wanted to just hop over that counter and hold that cup up to the ice spout and then to hit that little lever with the cup to fill it up with soda. (Little things like that entertain me!)
Fast forward to today and we all get to use that pop machine at just about any restaurant we go to! And with the newere Coke machines, it takes it to a whole new level!
My friend also mentioned how he always wanted to use the scanners at the grocery store as a kid. Once again, now we have to do that on a regular basis everytime we go to the store.
Our fantasies of our past have now become the present!
TWINKIES FOR BREAKFAST
This story could also  have fallen under the "My Fantasy Came to Life" heading…
Growing up I always had a tough time coming up with something to eat for breakfast. Milk would give me problems with my stomach and I never really cared for eggs. I've eaten a lot of toast and Pop Tarts over the years.
On rare occasions while growing up we might have had Twinkies in the house. I often thought they would make a great breakfast, but my Mother would disagree.
I was walking through Meijer on Friday, stocking up for the storm and look what I found…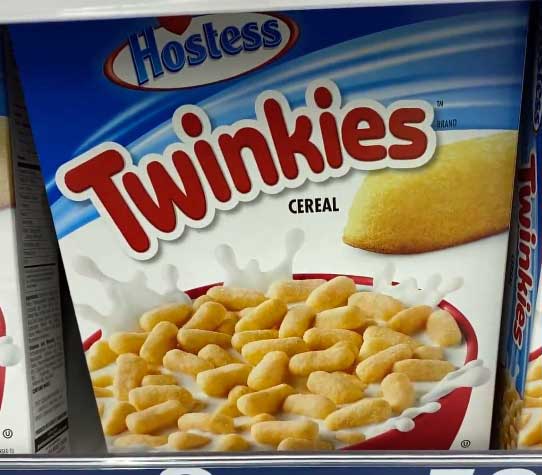 I did not buy a box to try them, but I might! From the picture on the box, it looks like the cereal is just shaped like Twinkies. I doubt the cereal pieces are soft spongecake. And, I also doubt the pieces have a creamy filling. I'm sorry, without that… it's just not a Twinkie!
If I give them a try, I'll let you know.
A GREAT CHOIR PERFORMANCE
For your viewing pleasure today, here is a video clip from a choir performance at Timpanogos High School in Orem, UT.
I'm surprised I have never seen this video before. It goes back to 2010. I wonder what all those people are doing now days!
I've always like the "William Tell Overture", often referred to as the "Lone Ranger" theme song.
Another great version was done by the late Glen Campbell…
Wow, what a performance! I had Glen's version on a 45 rpm record when growing up. I think it was the "B" side to "Rhinestone Cowboy". I bought the record for just the "William Tell Overture".
Now that song will be stuck in our heads all day!
Be careful if you have to venture out today. I will talk to you this afternoon from 2-6 pm on 98.7 WFGR.
If you have any comments on the above stories, please leave your remarks below…