Where were you 28 years ago? I can tell you exactly where I was. We were in the process of moving our morning show from one radio station to another one just a few blocks away!  Oh what an exciting and yet nerve wrecking time. Making a move like that was risky, but it was something the three of us had sat down and discussed at great lengths. It was something we decided that we HAD to do for our careers.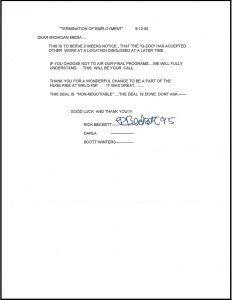 After several meetings with WGRD, we decided it was a move we had to make. We met at secret locations so nobody would notice us talking to people from another radio station. We didn't need anyone knowing what was going on. We finally had the deal complete and all the paperwork was signed. Rick Beckett put together our resignation letter and we delivered it to the management at WKLQ after our show on Tuesday, September 12th, 1995 (A copy of the letter is on the right. The copy we gave to management had all of our signatures on it. Click on the image of the letter to see it full size).
The management at WKLQ wasn't sure how to react. They told us they would call us and let us know if we would do any more shows for them. They called later that afternoon and told us our services were no longer needed and to come in on Friday and pick up our personal belongings.
Here is the article written by some guy named "John D. Gonzalez" (yes, that Johnny Gonzo who is still at mlive.com!) that appeared on the front page of The Grand Rapids Press on Wednesday, September 13th, 1995…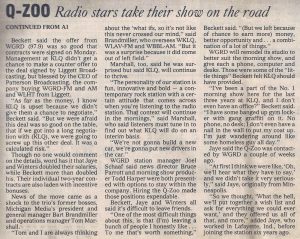 (If you'd like to read the article, you can click on the images to open up a bigger, more readable sized version)
It was on Monday, September 25th, 1995 that "RDS" (Rick, Darla and Scott) made our debut as the new WGRD morning show!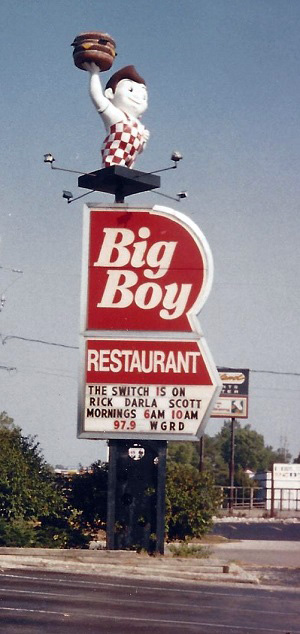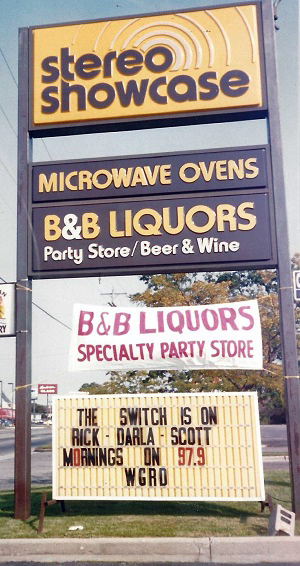 Leading up to our first broadcast at WGRD several area businesses put our names up on their company signs, WGRD redesigned the graphics on the side of their station van (that's a picture of a very young "Rovin' Ralph" standing next to the van), and there were even billboards that stated "WGRD: We Got Rick & Darla…Scott too!".