Today marks a sad anniversary for anyone who grew up in West Michigan during the 60's, 70's, 80's or 90's. It was on August 28, 1999, that the very last local version of "Bozo's Big Top" aired on WZZM TV-13.
At one time, just about every television market in the country had their own "Bozo the Clown". Back in 1999 there were only two television stations still producing a "Bozo" show…Grand Rapids, MI and Chicago, IL.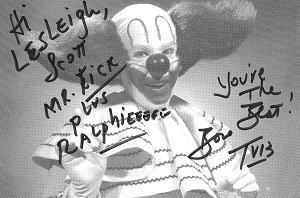 Dick Richards, who donned the red/orange wig, the white face paint, and size 47EEE shoes, played "Bozo" in West Michigan for over 40 years. The original "Bozo" in Grand Rapids was Bill Merchant. Bill had to give up that role for health reasons. Dick, who had been the "Ringmaster" on "Bozo's Big Top" since December 1, 1967, took over the role of the "World's Most Famous Clown" on December 1, 1968.
Back in 1999, we talked with Dick about the cancellation of the local version of "Bozo's Big Top". Prior to that interview we talked about "Bozo" and his history here in Grand Rapids. It's amazing how many people said they knew, or lived near, "Bozo" over the years!
Here are the segments from "The Rick and Scott Show" leading up to the interview:
Segment #1 – Talking about the newspaper article and it seems like everyone lived near Bozo…
Segment #2 – Calls About Bozo
Segment #3 – More calls about Bozo…
Here is our interview with Dick Richards about Bozo's last show and other career highlights…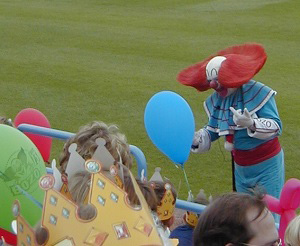 Lesleigh and I attended the taping of the last show at Fifth Third Ballpark. I'm glad I was there to witness the very final Bozo show for West Michigan. A tear may have welled up in my eye.
With the cancellation of the local show, that left only Chicago with a "Bozo" show. Unfortunately, that too was cancelled in 2001.
I always thought I had pretty cool jobs, but imagine being able to clown around for over 40 years!
And I always wanted a pair of Bozo's old shoes! I thought the worn out footwear would look pretty cool framed and hanging on the wall with a pic of Bozo. I wonder how many pairs of shoes Dick went through over the years? Not to mention the gallons and gallons of white clown makeup, red/orange wigs and red noses.
On YouTube I found a couple of complete shows from WZZM TV 13's "Bozo's Big Top". The most recent goes back to 1995. If you want to go down memory lane, here is that video…
Here is another "Bozo's Big Top" from January of 1986…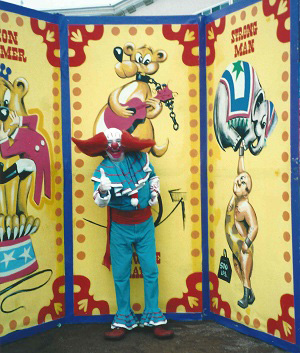 I was on "Bozo's Big Top" twice. It would have been about 1968 or 1969. WZZM TV-13 was still downtown in the Pantlind Hotel back then. I think the first time I was on the show, Dick Richards was still playing the role of "Ringmaster". The show was on live, from 4-5 pm, every afternoon. If I remember correctly, there was a waiting list of over a year to get tickets to the show. (In Chicago, that waiting list was many years long. I've heard rumors that many parents would send for tickets when their child was born in hopes of getting tickets by the time their kids were elementary school age.)
I have the "Bozo" show to blame for my career in the media. Even at the age of 5 or 6, I remember being in awe of the TV cameras, the lights, the sets, etc. I think it may have been what got me interested in working in the media in some way as an adult.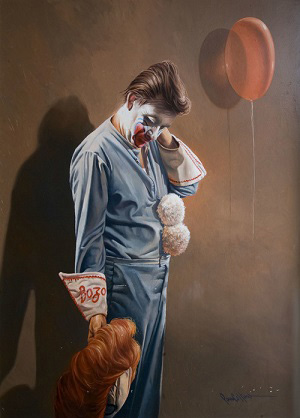 At one point, local artist Paul Collins painted a series of portraits for his "America at Work" collection. One of the people he chose to paint was Dick Richards. The portrait shows Dick after a taping of "Bozo's Big Top". The painting was displayed in the Amway Grand Plaza for many years (along with the rest of the portraits). I'm not sure if you can still find it in the Amway or not.
"Bozo" will always live on in my memories growing up. A huge THANK YOU to Dick Richards for all of his time that he spent in that costume. He left an impression on so many children in West Michigan.
And I even remember the theme song (How does something stick with you like this after all those years?!)
"Hello world, every boy, every gal.
I'm Bozo the Clown, yeah this is your old pal.
I brought you a bag full of rooting, tooting, tricks.
One, two, three, four…five or six.
The funniest man on the whole human race,
Is gonna to put a smile on your face.
Just keep laughing, get rid of that frown,
Bozo is back. The one and only Bozo the Clown."
For more on the history of "Bozo", here is the Wikipedia page.
I would love to hear about your experiences with Bozo! Better yet, do you have any pictures to share? I would love to include them here.
I hope ol' Bozo is clowning around for many more years to come! I'll end this post the same way Bozo would end his show… "Just Keep Laughing!"
Dick Richards is still alive and well. Here is a post from 2018 when he was celebrating his 80th Birthday.
Top Photo: YouTube/odor31