If you lived in West Michigan during the 60s, 70s, and 80s — you will remember Dick Richards. He doesn't know it, but he played a part in my decision to go into broadcasting! On October 16th, 2018, Dick celebrates his 80th birthday! Happy Birthday Dick Richards!
Dick originally came to Grand Rapids as a radio personality. He worked at WJEF (which eventually became B-93). From there he made the transition to TV, working at WZZM TV-13 for many  years.
At TV-13, Dick would be on every afternoon, along with Jack Hogan, on "Eyewitness at Noon". The show would focus on the top news of the day for a few minutes and then Dick would take over with interviews of local guests, visiting celebrities, and movers and shakers in our community. Watching Dick do this type of show made me want to get into broadcasting. He made it look so easy and fun. (I eventually ended up doing a TV talk show back in the 80s on public access TV! It ran for a couple of seasons before I did my 36 Hour Guinness World Record TV Broadcast. You can read about that here.)
Dick also played a huge part in the children's television programming produced here in West Michigan. He originally started out playing the Ringmaster on "Bozo's Big Top". Bill Merchant played Bozo at that point, but due to health complications had to step aside from that role. Dick Richards took over as Grand Rapids' "world's most famous clown" on December 1, 1968 — and has been doing it ever since! (Read more about Dick's role as Bozo here.)
Dick had a couple of big birthday parties to celebrate his milestone 80th birthday. First, many of his former co-workers at TV-13 attended a surprise party for him. You can read more about that party on Bill Steffen's Blog on the WOOD TV-8 website.)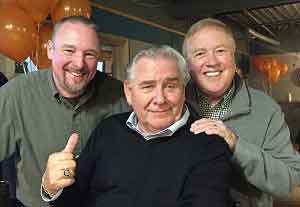 A few days later, his daughter Tracy threw another party for family and friends to attend. I was honored to have been invited to that gathering and couldn't wait to go. I not only ran into old co-workers and friends, but was able to spend some time talking to Dick about his past and Grand Rapids broadcasting in general. Even Andy Rent (who played "Captain Woody" on TV-8 in the 70s) was in attendance. It was a journey back to my TV viewing days a a child. (I was on "Bozo's Big Top" twice as a kid — both times at the old Pantlind Hotel, when TV-13 was still based out of that location.)
Dick is still sharp as a tack! His quick wit and sense of humor is still top notch. I was shocked that he remembered parts of a conversation we had 20+ years ago about Bozo's shoes! It's been about six years since Dick has put on the white grease paint, the orange wig, the blue suit, and the big 47EE shoes, but he still has the costume — and I'm sure he could jump back into that role without a problem!
Happy 80th Birthday Dick Richards! And thanks for all that you have done all these years in West Michigan — in both roles — as Dick Richards and as Bozo the Clown!