This has been a weird week for me. I seem to be a day behind. I keep thinking it is a day earlier than it is. Today is actually Wednesday, when I woke up I thought it was Tuesday. I guess the good thing is my weekend will get here quicker that way! Here are my "Random Thoughts" for Wednesday…
"COPS" CANCELLED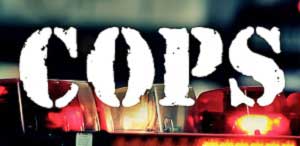 First, I find it hard to believe that it hard to believe that "Cops" has been on the air for 32 seasons.
With the current worldwide protests against racism and police violence, the Paramount Network has pulled the plug on the program for good.
"Cops is not on the Paramount Network, and we don't have any current or future plans for it to return," a network spokesperson said in a statement.
The TV series began in 1989 on Fox. It aired on Saturday nights for more than 20 years until it was cancelled in 2013. It was then picked up by Spike TV. Spike TV changed their name to Paramount Network in 2018. The show had been on the air for 32 seasons and had more than 1,100 episodes.
The A&E Network also has decided to not show new episodes of "Live PD" in light of recent events. The network "is still evaluating the right time to bring it back."
SOCIAL DISTANCING SHOES
I need a pair of these!
A Romainian shoe maker has come up with a solution for Social Distancing. Grigore Lup, a Transylvanian cobbler who has been making shoes for 39 years, has developed long-nosed size 75 shoes.
When two people are wearing their shoes, and are toe-to-toe, there will be about 5 feet between them.
Each pair of shoes uses about a square yard of leather. The shoes can be ordered with either rubber or leather soles. The shoes take him a couple of days to make. Lup is charging 500 Romanian Leu – or about $118 per pair, larger sizes are extra.
Maybe Bozo the Clown was onto something many years ago when he wore his size 47EEE shoes!
WHAT WERE YOU THINKING?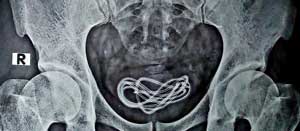 A man in India went to hospital with stomach pain and told doctors he had ingested some earphones. Once x-rays were done, doctors found the man had actually inserted a mobile phone charger cable into his penis.
He had a two-foot-long charging cable in his bladder that had been inserted via his urethra, the tube that leads from the penis to the bladder.
Why? Just why? Neither a penis nor a phone charging cord were designed for such use!
The patient has been discharged and is fine
POTENTIAL FOR SEVERE WEATHER IN MICHIGAN TODAY
The National Weather Service in Grand Rapids is warning us that we could have some severe weather later today.
WOOD TV-8 Chief Meteorologist Bill Steffen posted that storms are already developing just southwest of us…
Stay safe out there today.
TODAY IS…
Today is Iced Tea Day!
With as warm as it was yesterday and today, a nice glass of iced tea sounds wonderful!
A LOOK BACK
On this date in 2007, "The Sopranos" ended by fading to black in a New Jersey diner.
Trivia question: What was the song they played at the end? (The answer is below)
Find out what else has happened on June 10th.
Here is that final scene…
WRAPPING UP
I hope you have a WONDERFUL Wednesday! Keep an eye on the weather. I will be on the air this afternoon — local and live — from 3-7 pm on 98.7 WFGR! I'll talk to you then!
The answer to the trivia question above: Journey's "Don't Stop Believing"…
If you have any comments on the above stories, please leave your remarks below…