Well that storm was pretty uneventful!
COCA COLA TIC TACS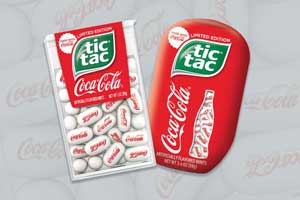 We've all had Tic Tacs. My favorite flavor, besides the original, are the orange Tic Tacs, even though they do kind of taste like children's aspirin.
I'm looking forward to trying their newest released flavor — Coca Cola Tic Tacs!
An according to one person who was lucky enough to give these things a try: "I was instantly taken aback by how it truly did taste just like Coca-Cola. As someone who is really familiar with the soft drink's taste, they nailed it. There is a hint of a mint aftertaste, but Coke is the primary flavor."
From the information I have read, it looks like these things should be on the shelves the end of the month.
I'll be giving them a try for sure!
Read more about the Coca Cola Tic Tacs here.
OLD ROCKERS WHO SHOULD GIVE IT UP
There are a lot of bands from my youth still out performing.
I saw The Eagles a couple of years ago. The very first song they started out with was rough. Don Henley's voice sounded awful, but surprisingly about halfway through the song his voice had warmed up and the rest of the show was incredible!
And then this week, a few videos of David Lee Roth performing with Van Halen at the Hard Rock in Las Vegas appeared on the internet.
Maybe Dave should stick to just singing in his car while driving…by himself!
OK, maybe it was just that one song that was bad…
Ouch! I think my ears might be bleeding.
If you really want to punish your ears, here is the entire performance. I scanned through it and fortunately Dave talks A LOT! With how his voice sounds when he sings — him talking and telling stories was probably a good thing!
And it appears that Dave is still just as full of himself as ever!
ANOTHER CELEBRITY DEATH
I don't know what it is about the beginning of a new year, but it seems like in the month of January we have a large number of celebrity deaths.
It looks like 2020 is no exception…
Veteran actor Scott Wilson, best known recently for his role as Hershel Greene on "The Walking Dead", has died at the age of 76. He passed away peacefully at his home in Los Angeles due to complications from leukemia.
You can read more about Scott Wilson here.
I WANT A DOG THAT PLAYS JENGA
I love my little dog "Moose" so much, but he can't play Jenga!
I found saw this video on Facebook over the weekend…
For not being able to use its hands, the dog does a pretty good job. How well would you do at Jenga if you could only use your mouth!?
Have a GREAT Sunday!
If you have any comments on the above stories, please leave your remarks below…