It's been a rough week for a lot of people… so today only GOOD news!
PRONTO PUP WEEKEND
I love corndogs! There are a few places that you can get them in the winter, but nothing compares to a Pronto Pup from Grand Haven. It's been a few months since you've been able to get a corndog there.
Good news…For the past couple of years, Pronto Pup has picked one weekend in the winter to open up for everyone to get their Pronto Pup fix to hold them over until they open again in the summer. This coming weekend, Friday, January 17th through Sunday, January 19th is the weekend they will be open!
Head west to the lakeshore to Grand Haven to get your Pronto Pup. They will be open from 11:00 am to 8:00 pm all three days.
Here is the Pronto Pup Facebook page for more information.
I'll see you there!
DOG LEADS KOALA TO WATER
By now, you've probably heard and seen pictures or video of the brush fires in Australia. Just devasting.
Recently a border collie over there, named "Rusty", made friends with a little koala bear.
The dog led his very thirsty little marsupial friend to a large pot full of water to get a drink.
Too cute. You have to love how the little koala bear gives Rusty a little nose-to-nose rub to show his appreciation.
Read more about Rusty's story here.
Good dog Rusty!
A CANDLE THAT SMELLS LIKE WHAT!?
Gwyneth Paltrow has a website called Goop.com. On the site you will find a variety of things, from clothing, to jewelry, to household items — like candles.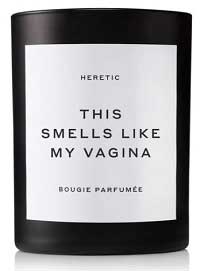 One of the candles that is getting a lot of attention is something with a scent called: "This Smells Like My Vagina".
The website describes the scent this way… "With a funny, gorgeous, sexy, and beautifully unexpected scent, this candle is made with geranium, citrusy bergamot, and cedar absolutes juxtaposed with Damask rose and ambrette seed to put us in mind of fantasy, seduction, and a sophisticated warmth."
According to one report, the product got its name "as a joke" between Paltrow and a developer when they were working on scents together. The pair were testing smells when Paltrow blurted out, "Uhhh … this smells like a vagina." And thus the name of the new candle.
The candle first appeared on the Goop website back in November and the candles have sold out. The good news is (I think) that more candles are being manufactured and should be available later this month.
If you want a candle that smells like Gwyneth's nether region it will set you back $75.
And just a little advice if you do order the candle…you may not want to leave it out where certain people can see the label. I can't even imagine trying to explain that to your parents, or maybe people from your church!
Read more about this special candle here.
SATURDAY MORNING PROGRAMMING
As an adult I still look forward to the weekend. It's nice to have a day or two off.
As a kid, I loved Saturdays for the cartoons and TV shows that were on Saturday morning.
I grew up in the 60s and 70s. In my opinion, we had some of the best entertainment while sitting in front of the television on Saturday mornings.
I just happened to be searching around YouTube and I found a video of "Saturday Morning TV Memories 1964-1976".
I thought I'd watch it just a few minutes to see what it was about…
The video is 34 minutes long. I'll warn you, if you start watching, you'll probably keep watching until the end like it did!
The video shows the openings of so many cartoons and live action shows. Also in the video are several different commercials for foodss and toys and games from that era. I had a lot of those toys and enjoyed them all.
OK, here is the video… (Don't blame me if you are stuck watching it for a half hour!)
I wish they'd bring back Saturday morning cartoons and children's programming like it was back then. I'd probably find my self sitting on the livingroom floor, in my PJs watching TV every weekend!
Get out there and give Thursday your best. I'm on the air this afternoon from 3-7 pm on 98.7 WFGR, local and live! Please join me.
If you have any comments on the above stories, please leave your remarks below…