It's going to be a busy Thursday, so I'm up and at 'em early and here are today's "Random Thoughts"…
WEST MICHIGAN WHITECAPS FOOD
I had the pleasure on Wednesday to have been invited to try some of the food options that may be available when you go to a West Michigan Whitecaps game this summer.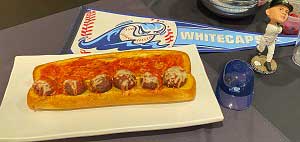 Every year the Whitecaps invite members of the media to sample some of the food they are considering for their concession stands for the upcoming season at Fifth Third Ballpark. Wednesday was the big day.
At this event you don't normally find the typical ballpark food, instead it consists of new things that they are considering.
There is no way you can sample everything, but I do try to go and check out as much as my stomach will permit. And there were some great options yesterday.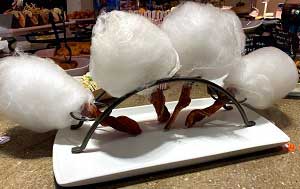 A couple of my favorites were the Impossible Meatball Sandwich. This was my first time having any meatless "meat". This meatball sub so looked like it was made with meat and the taste…if I had not been told it was meatless I would have never guessed. I would definitely order one of these at the ballpark if they become available.
The other big favorite of mine was…cotton candy wrapped around a strip of bacon! Yes,  you read that correctly! I wasn't quite sure what to expect, but the combination of sweet and salty worked wonderfully. And how can you ever go wrong with bacon as an ingredient?!
I'll post more pictures and information on this event in the next day or so, but I did want to let you about at least a couple of my favorites.
DON'T DO DRUGS
It is sad when you see what a drug addiction can do to somebody.
Former child actor Shaun Weiss, who starred as as goalie Greg Goldberg in the 1992 film "The Mighty Ducks" is proof of how bad it can get.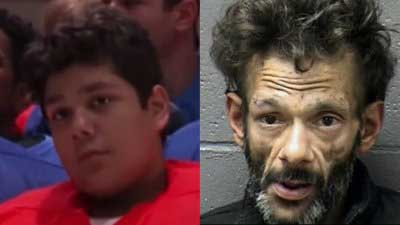 The 40 year old was arrested in Marysville, CA early last Sunday morning. He was charged with residential burglary and being under the influence of a controlled substance.
Weiss had broken into a woman's garage and then into her car by shattering a window.
The homeowner called the police. Officers found Weiss in the car when they arrived.
He was arrested and charged with being under the influence of methamphetamine and residential burglary. He is being held on a $52,500 bail.
Just look at the picture of him from when he was inthe movie and then his mug shot. Wow. He looks like he's 60 and yet he's 20 years younger than that.
To read more about the story, click here.
It's an abbreviated "Random Thoughts" today. I have a pretty packed schedule through until about midnight tonight. I'm attending Jay Allen's funeral later this morning (You can read his obituary here.) I'll be on the air this afternoon from 3-7 pm on 98.7 WFGR. I will talk to you then!
If you have any comments on the above stories, please leave your remarks below…