It's Wednesday, let me get my brain engaged…
DETROIT AIRPORT ALLOWING NON-TICKETED VISITORS PAST THE SECURITY CHECKPOINTS
There was a time, before the September 11th attacks back in 2001, when you could go to the airport and get right up to the boarding area if you were just a visitor sending of a loved one, or meeting a loved one after their arrival.
After the attacks, that all changed. Only those who are flying, with a ticket in hand, we allowed past the security checkpoints.
It looks like that is changing now. A few airports are allowing some visitors to get a little further than in the past.
It started with airports in Pittsburgh, PA and Tampa, FL. On Tuesday, the experimental program was expanded to include the airport in Detroit, MI.
But, before you get too excited, not everyone can get passed those checkpoints. You need to fill out an application on the airport's website. From there you will either be permitted or denied to proceed past those security points. At this point only 75 people per day will get the privilege to go up to the actual gates along with ticketed passengers.
You can read more about the program on the USA Today website.
What do you think? Is this a good idea or a bad idea? I'll be honest, I think things work just fine with only ticketed passengers being allowed past those security checkpoints. Does it really matter, when saying your goodbyes, if you are at the checkpoint or a little further into the airport near the gate? I do realize it gives you a little more time to visit with the flying passenger, but I think this just adds extra headaches and security issues. I'm fine with leaving it the way it is.

Loading ...
PROJECT NIGHT LIGHTS
If you are looking for something to do this evening tonight is Project Night Lights.
This is where kids shine flashlights out of their windows at Spectrum Health Helen DeVos Children's Hospital, and local law enforcement and community members respond by flashing their lights back.The initiative is a partnership between Silent Observer and all area first responders and Helen DeVos Children's Hospital.
As a special addition to this fun project, the sign atop Helen DeVos Children's Hospital will blink on and off at 8:30 pm as a beacon to encourage people to join in by blinking their lights as well. If you're in the neighborhood, bring a flashlight or flash your cell phone back at the hospital. The kids inside will be watching.
This event happens the second Wednesday of every month. I'm sure with the cooler weather, not as many people are participating. So, if you find it in your heart to go make some children very happy…plan on particpating tonight.
For more information please visit www.give.helendevoschildrens.org/Project-Night-Lights.
FUNNIEST PERSON IN GRAND RAPIDS
If you need a smile this evening, the Funniest Person in Grand Rapids contest kicks off again at Dr. Grin's in the B.O.B.! Check out Prelim #1 as eight people try to be the two who move on to the semi-finals. Comics include Aaron Sorrels, Max Tidey, Ben Glaze, Marcus Cusic, Keegon Damron, Humzah Azeem, Jon Batch, and Patrick Steward. Come help pick the winners! The show starts at 8 pm and tickets are just $5.
MY FAVORITES ARE BACK!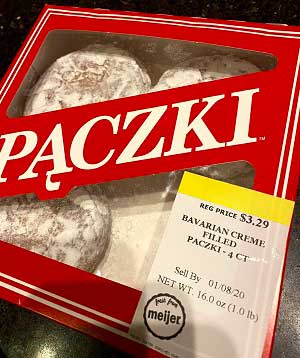 I was walking through the Cedar Springs Meijer yesterday and look what are already available! Isn't it a little early for Pączki Usually they come out around Fat Tuesday, which isn't until February 25th this year.
I'm not complaining at all, but just when we were all trying to lose a few of those holiday pounds we put on…these delicious delights show up to tempt us so!
And yes, there is one missing from the box in the photo. I had one as soon as I arrived home for the store — before I realized I wanted to take a picture of the box. I put my stomach before my brain obviously.
Hmmm, I wonder how many of these things I'll eat this year now that they are out a month early.
What is your favorite kind of Pączki? I really like the Bavarian Creme. I WILL NOT eat the prune Pączki so don't even try to send me any of those. Those are just a waste of a good Pączki in my opinion.
Oh, and just so you know…A single fat-packed, Polish-style pastry is called a Pączek, pronounced POON-check. If you've had more than one, you've eaten Pączki (POONCH-kee). That's right, "Pączki" is plural; "Pączkis" is not a word.
HOW MANY OF ME?
I don't know about you, but sometimes I get so busy I wish there were more than one of me.
I wondered just how many Scott Winters were really out there. I found a cool website called, appropriately, www.HowManyOfMe.com.
The U.S. Census Bureau says there are at least 151,671 different last names and 5,163 different first names in common use in the United States. Some names are more common than others.
So just how many people named Scott Winters are there?
It's a pretty cool website. It will show how many share your first name and your last name. For example, There are 906,553 people in the U.S. with the first name "Scott", which is the 51st most popular first name. 99.64% of people with the first name "Scott" are male. Hmm, I've never met that .36% of all the Scotts that are female.
NASTY WEATHER ON ITS WAY?
The National Weather Service has issued a statement that says: ""WE'LL BE FRANK — THIS STORM HAS THE POTENTIAL TO BRING SIGNIFICANT IMPACTS IN THE FORM OF POWER OUTAGES, DANGEROUS TRAVEL CONDITIONS, AND AREAL AND RIVER FLOODING TO PARTS OF WESTERN LOWER MICHIGAN. ALL PARTIES WITH WEEKEND PLANS ARE ENCOURAGED TO STAY UP TO DATE ON THE FORECAST AS CONFIDENCE INCREASES IN WHERE THE HEAVIEST PRECIPITATION WILL FALL."
I'll keep an eye on that and discuss it more tomorrow. Oh, and to the National Weather Service… STOP TYPING IN ALL CAPS!
Enjoy your HUMP DAY! We've made it almost halfway through the week! I will talk to you this afternoon from 3-7 pm on 98.7 WFGR.
If you have any comments on the above stories, please leave your remarks below…