"Random Thoughts" for Tuesday, July 7th, 2020
I don't know about you, but I'm still playing "catch-up" after the holidays! Hopefully I can get my head above water today and get back on track. Here are my Random Thoughts" for Tuesday…
THE HEAT CONTINUES
The warm weather continues here in West Michigan. You really won't hear me complaining though. I prefer the heat over the cold any day. Just think…it could be 20 degrees outside, with a wind chill of 10 below zero, along with a foot of snow on the ground. I'll take today's weather over that any day!
Things are getting dry out there. Many lawns are now just a lovely shave of tan!
The National Weather Service in Grand Rapids warns against doing any burning right now…
CELEBRITY DEATH
The news of this Celebrity Death came out just after I published my "Random Thoughts" for yesterday, so it wasn't included in Monday's post…
Country music and southern rock legend Charlie Daniels has passed away. The Country Music Hall of Fame and Grand Ole Opry member died Monday (July 6th) morning at Summit Medical Center in Hermitage, Tennessee. The cause of death was a hemorrhagic stroke. He was 83.
"The Devil Went Down to Georgia" was the Charlie Daniels Band's most well-known song, although "Long Haired Country Boy" and "The Legend of Wooley Swamp" were also well-known. The band had three Top 10 hits on Billboard's Hot 100, including "The Devil Went Down to Georgia" at No. 1 in 1979. Daniels notched the same number on the Hot Country Songs chart as well, with "Simple Man" and "Drinkin' My Baby Good-Bye" among his other Top 10 hits.
Here is the official music video for "The Devil Went Down to Georgia"…
The was recorded ive at Saratoga Springs, NY, in 1979.
What a great song!
I AM ALIVE AND WELL!
Every week I get reports on just what people are searching for on this blog. To my surprise this morning, there must have been some rumors of my death, because one of the searches was for "Scott Winters Death".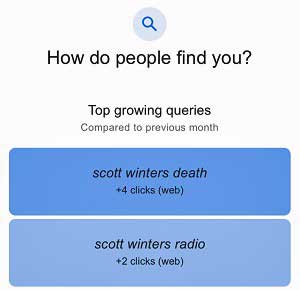 I am happy to be able to report, that as of this moment…I am still living and breathing!
TODAY IS…
Today is a great day for food lovers!
First it's Cow Appreciation Day. I'm thinking steak or  hamburgers!
It's also Chocolate Day, Macaroni Day, and Strawberry Sundae Day!
Now I'm just hungry!
A LOOK BACK
On this date in 2011, it was the day of the worst mass murder in Grand Rapids' history. It all started at about 2:30 in the afternoon with a call about a possible shooting on Janes St. NE. Police begin looking for Rodrick Dantzler. By the end of the day, there were eight people dead, including Dantzler. You can read more about that day here.
Find out what else has happened on July 7th.
WRAPPING UP
Have a TREMENDOUS Tuesday! Try to keep cool. I will be on the air this afternoon — local and live — from 3-7 pm on 98.7 WFGR! I'll talk to you then!
If you have any comments on the above stories, please leave your remarks below…