"Random Thoughts" for Tuesday, June 16th, 2020
Get ready for the heat again! It looks like we are going to have a gradual increase in heat each and every day. It will be in the 90s by the end of the week.
Here are some "Random Thoughts" for your Tuesday…
DON'T BELIEVE EVERYTHING YOU SEE AND HEAR
That is especially true on the internet, but even when watching major news programs…they don't always get it correct.
NBC News used a graphic showing that Michigan has had a spike in Coronavirus cases. In fact, we've had some of the lowest numbers in months.
WOOD TV-8's Tom Hillen posted this on Twitter…
Dear @NBCNews please stop using this graphic, we are not seeing a spike in Michigan. Attached numbers are from Monday. pic.twitter.com/2BpocUTfgl

— Tom Hillen (@traffictom8) June 16, 2020
GOING "OVER THE EDGE"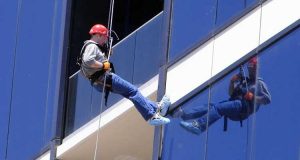 Twice I have had the opportunity rappel down the side of some of Grand Rapids' tallest buildings.
First, it was Riverhouse Condominiums back in 2009. More recently, I scaled down the side of Bridgewater Place (right next door) last year.
The event is called "Over the Edge" and it is a fundraiser for Easterseals Michigan. This year the event will happen on Saturday, September 19th.
Every time I talk about doing this event, people ask me if there is a way that they too can rappel during this event.
The answer is YES! All the details on how you can get involved are on the "Over The Edge" website.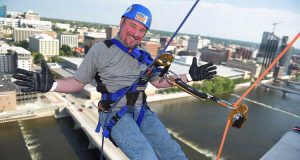 Easterseals Michigan provides services to over 12,000 individuals in the community living with mental, physical, and behavioral health difficulties.  During the Covid-19 pandemic, Easterseals has remained opened, serving all of their clients and loaning their staff to other agencies who needed help. They never closed because or families and clients needed us. Now they need your help.
Please consider signing up and rappelling down the side of Bridgewater Place! They are also looking for sponsors and volunteers.
Here is a video of my first experience rappelling back in 2009…
GREAT CUSTOMER SERVICE
We all like to bitch when we get bad customer service — and there seems to be a lot of that lately. I recently had really bad customer service from one of the big box hardware stores. It was so bad, that I will NEVER, EVER shop at that store again.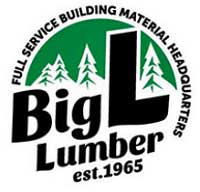 But it was nice to find a company with GREAT customer service. To help me get the supplies I needed for a project around the house, I turned to a smaller, local business to get me out of the bind that the big box store had put me in.
I needed some lumber that was too long to transport in the back of anyone's pick-up truck. The big box store told gave me three different delivery dates, promised a delivery and returned phone calls — and NONE of those things happened.
However, I called Big L Lumber in Greenville and talked to Leanne. Not only did they have the materials that I needed, but they had them here within 48 hours of my initial phone call searching for help. Needless to say, I am forever indebted to them, and they will have my business for any lumber needs I have in the future.
If you are having a hard time locating any lumber for your projects, head to Greenville and let them help you out! I can't say enough nice things about Big L right now. They are a Michigan based company and they truly do have customer service in mind when they deal with their clients.
Here is their website and their phone number is (616) 754-9339. They are located at 5981 South Greenville Rd. in Greenville.
THANKS AGAIN Leanne and crew!
THIS WEEK'S WARM-UP
It looks like the temperature is doing a steady climb this week…
'
They also warned of the dangers of leaving children and pets in the car during warm weather…
TODAY IS…
Today is Fudge Day!
Why not! We've already put on the extra 15 pounds from being locked in during the coronavirus. What's another pound or two?!
A LOOK BACK
On this date in 1884, John Ball Park in Grand Rapids, MI, officially opened.
Now that they are re-open I need to stop by and see the animal sculptures made of building blocks and see Wasabi, the red panda, who is expecting soon.
Find out what else has happened on June 16th.
WRAPPING UP
Have a TREMENDOUS Tuesday! I will be on the air this afternoon — local and live — from 3-7 pm on 98.7 WFGR! I'll talk to you then!
If you have any comments on the above stories, please leave your remarks below…