What a crazy weekend. I actually woke up on Sunday morning and had hoped I had just had a bad dream. There really weren't riots in the streets of downtown Grand Rapids on Saturday night. Unfortunately, it was no dream.
Hopefully this is a better week as we kick off the month of June. Here are today's "Random Thoughts".
THE NUMBERS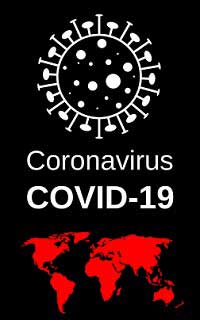 According to the website put together by the Michigan Department of Health and Human Services, as of Sunday afternoon at 3 pm there are 57,397 confirmed cases of COVID-19 in the state of Michigan. That number jumped up by 776 in 48 hours.
As for confirmed cases here in west Michigan, we have:
3,715 confirmed cases in Kent County
774 in Ottawa
643 in Muskegon
218 in Allegan
148 in Ionia County
105 in Newaygo County
66 in Montcalm
63 in Barry County
We have had a total of 5,491 deaths in our state due to COVID-19 (an increase of 85 in 48 hours). Here are the numbers for west Michigan:
85 deaths in Kent County
36 in Muskegon County
34 deaths in Ottawa County
6 deaths in Allegan County
4 deaths in Ionia County
2 deaths in Barry County
1 death in Montcalm County
They are now also giving us the Cumulative Total of Recovered COVID-19 Cases. They will update this number every Saturday. As of May 29th, 38,099 have recovered from the virus.
Worldwide, there are more than 6.1 million confirmed cases and more than 372,000 deaths. There are now approximately 6.1 million confirmed cases of coronavirus in the United States and more than 104,000 deaths.
The latest we have on percentages from WDIV TV in Detroit: These results lag by a few days, but on Friday, May 29th, the results of 16,267 tests came back with 1,077 confirmed as positive. That's 6.6% of the tests that came back positive. The previous day, Thursday, May 28th, 6.2% of the tests came back positive. That means we have seen an increase of .4% in cases testing positive in just a day. Those numbers have increased for five days in a row. Those numbers are down overall from the peak on April 4th of 41.8%.
The state has a new web dashboard for testing information. It shows that here in west Michigan, on Friday, May 29th, 2.185 tests were administered and 5.5% of those tests came back positive. That is down from 5.7% the day before, Wednesday, May 27th. Those numbers have decreased for one straight day. The peak was 42.1% on March 22nd.
Stay Home, Wash Your Hands, and Social Distance Yourself! Please stay healthy.
WHAT IS A "THUG"?
On Facebook on Saturday I got into a pretty heated discussion about the word "thug".
It all stemmed from a post I saw that addressed President Trump calling one group of people "thugs", while also calling another group "good people".
On April 16th, when referring to the protesters in Lansing, the President Tweeted: "The Governor of Michigan should give a little, and put out a fire. These are very good people, but they are angry. They want their lives back again, safely. See them, talk to them, make a deal."
There are some that are trying to compare that statement, referring to protesters as "good people", to the following Tweet from the President on May 26th that read: "These THUGS are dishonoring the memory of George Floyd, and I won't let that happen."
People are trying to say that the word "thug" is racist and the President shouldn't have used that term while referring to the protesters. First, I don't think he was referring to the protesters in the second statement — but rather those who were rioting in the streets.
Second, people were bashing President Trump for using the word. Apparently many of them forgot that Barak Obama also used the term "thug" while discussing  a similar situation in Baltimore back in 2015…
He said "thug" and there was no outrage.
In the discussion I was having on Facebook, people tried to argue that "thug" was a racist word.
So I did what most people do when they have a question, I went to Google and asked "what is the definition of thug?"
The information returned to me was…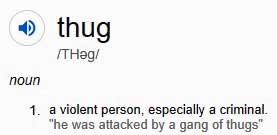 No mention of race in that definition at all. So, if anyone thinks the term is racist, perhaps it is THEY who are inserting a "race" into the definition and should educate themselves on the meaning of the word. I couldn't find any definition that included a race. And the term was used by two Presidents — of different race.
So I then have to ask, what do you call the people that terrorized our city of Grand Rapids on Saturday evening?
They were violent, they were criminal in their actions… THEY WERE THUGS!
I have no problem with peaceful, meaningful protests. I encourage them. I also encourage intelligent discussion on various issues, but when another group of people take over the situation and start destroying businesses and our town — I'm going to continue to call them exactly what they are… THEY ARE THUGS! Why are we worrying about offending these people? They have no respect for others.
Early Sunday morning, while watching the live coverage of the damage and destruction that was still happening in our city, I just posed the question to those who were opposing me, and my terminology, on Facebook. I posed the simple question…"What do you call these people now?"
The entire post and thread with the discussion mysteriously was gone later Sunday morning.
CURFEW LAST NIGHT AND TONIGHT
As a result of what has happened in our city on Saturday night, there is now a curfew in place within the city of Grand Rapids.
The curfew is from 7 pm to 5 am last night and tonight.. It prevents community members from walking, running, loitering, standing or motoring upon any alley, street, highway, public property or vacant premises within the city of Grand Rapids. Community members may travel to and from work during the curfew.
Violation of the curfew is a misdemeanor that is punishable by up to 90 days in jail and/or a $500 fine.
Governor Gretchen Whitmer has authorized a state of emergency and has deployed the Michigan National Guard to assist with curfew enforcement and the protection of property in Grand Rapids.
Grand Rapids institutes citywide curfew in light of recent unrest. Please stay indoors 7 PM-5 AM Sun and Mon. https://t.co/SkxWW2nJwe

— Grand Rapids Police (@GrandRapidsPD) May 31, 2020
BOB AND DOUG MADE IT!
They made it!
NASA and SpaceX successfully blasted off on Saturday afternoon and then the two astronauts — Robert Behnken and Douglas Hurley — arrived at the International Space Station on Sunday. It was the first manned space launch from U.S. soil since the final flight of the Space Shuttle Atlantis in 2011.
A MOVIE TITLE FOR 2020
The website Reddit asked their users to come up with a movie title to describe 2020 so far.
Some of the answers were:
Superbad
A Series of Unfortunate Events
Idiocracy
Scream
Contagion
Apocalypse Now
Armageddon
End of Days
Seeking A Friend for the End of the World
The Perfect Storm
CELEBRITY DEATH
The artist Christo died Sunday at his home in New York. He was 84.
Along with late wife Jeanne-Claude, their artwork often involved wrapping large structures in fabric. In 2005, he installed more than 7,500 saffron-colored vinyl gates in New York's Central Park. He wrapped the Reichstag in Berlin in fabric with an aluminum sheen in 1995. Their $26 million Umbrellas project erected 1,340 blue umbrellas in Japan and 1,760 blue umbrellas in Southern California in 1991. They also wrapped the Pont Neuf in Paris, the Kunsthalle in Bern, Switzerland and a Roman wall in Italy.
Read more about his life and death here.
TODAY IS…
Today is Say Something Nice Day!
With all that is going on, take the time to just say something nice today to somebody. You will be glad you did.
A LOOK BACK
On this date in 1954, in the "Peanuts" comic strip, Linus' security blanket made its debut.
You know, a security blanket doesn't sound like such a bad thing right now.
Find out what else has happened on June 1st.
WRAPPING UP
Have a MAGNIFICENT Monday.
I will be on the air this afternoon — local and live — from 3-7 pm on 98.7 WFGR! I'll talk to this afternoon!
If you have any comments on the above stories, please leave your remarks below…