Happy Tuesday! Hopefully we can dry out a little bit today. My driveway is a muddy mess. If I could only win the lottery to pave my 1/4 mile driveway! Here are some "Random Thoughts" for today…
US-131 CLOSED THIS MORNING IN GRAND RAPIDS
Hopefully you made it to work BEFORE they had to close down the highway in Grand Rapids this morning.
Due to a burned power pole and electrical lines across the roadway, US-131 was closed in both directions from Leonard to Pearl. Some of the ramps from I-196 were also closed.
Unfortunately things like this can't be scheduled for less peak travel volumes. It definitely created quite the traffic dilemma for many this morning as they tried to make their way into work.
The freeway re-opened about 10:45 am.
GO VOTE!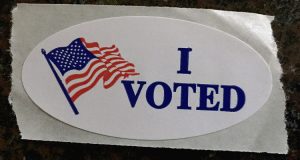 Get out there and cast your vote in the Michigan primary today.
This is your chance to show your support to your favorite candidate for the election in November.
If you would like to see what is on the ballot (simply just a presidential primary), here is the link from the Michigan Vote Information Center.
PAWS WITH A CAUSE® TOUR
Many of you know that I am on the Board of Directors for Paws With A Cause®.
Paws With A Cause® enhances the independence and quality of life for people with disabilities nationally through custom-trained Assistance Dogs.
PAWS® increases awareness of the rights and roles of Assistance Dog Teams through education and advocacy.
If you've ever wanted to see what happens in the process of training and placing this dogs, Paws will be having a public tour of their National Headquarters in Wayland, MI on Friday, March 20th. You do need to RSVP. Follow the link from the Paws With A Cause Facebook page below to reserve your spot.
ONE OF MY FAVORITE MOVIES
Whenever I need a laugh I head over to my rack of DVDs and grab the movie "Airplane".
I loved that movie! The sequel, appropriately named "Airplane II: The Sequel" is almost just a good.
The movies were a spoof on "Airport 1975" and other films in the "Airport" film series.
Someone took the time to edit out the best scenes in "Airplane" for our viewing pleasure…
Now my day is complete!
Have a SUPER Tuesday! Go Vote! I will be on the air — local and live — from 3-7 pm this afternoon on 98.7 WFGR.
If you have any comments on the above stories, please leave your remarks below…