Everyone is talking about the Coronavirus. I might as well do the same… Here are some "Random Thoughts" for today…
CORONAVIRUS CRAZINESS
The World Health Organization has now classified the coronavirus (COVID-19) as a pandemic. That means that it has spread worldwide.
The latest news includes word that actor Tom Hanks and his wife Rita Wilson both have tested positive for the virus. They are traveling in Australia. They posted this on their Instagram account…

Here in the United States, the NBA has suspended their season until further notice. This action came about after Utah Jazz player Rudy Gobert tested positive for the coronavirus.
The NCAA men's and women's basketball tournaments will be played this year without any public fans in the arenas. Only essential staff and limited family attendance will be allowed.
Closer to home, many colleges and universities are cancelling face-to-face classes and lectures and encouraging their students to head home. so far the list includes Michigan State University, the University of Michigan, Central Michigan University, Grand Valley State University, Western Michigan University, Ferris State University, Grand Rapids Community College, Michigan Technological University, Calvin College, Cornerstone University and Hope College. Those schools will be shifting to online classes..
Here in Grand Rapids, Irish on Ionia — scheduled for this Saturday — has now been postponed. It will be rescheduled for later this summer. According to the Irish on Ionia website: "All ticket purchasers may choose to save their tickets or request a refund."
HOARDING TOILET PAPER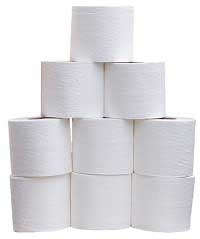 Apparently the thing to do when you are worried about the Coronavirus is to stockpile toilet paper.
Why?
I've seen several pictures of different stores around the area, and the shelves are completely bare. Not a roll of toilet paper to be found.
Stop hoarding toilet paper!
This isn't just a problem here, in Hong Kong there was actually an armed robbery over toilet paper. Last month, three robbers, one armed with a knife, stole 600 rolls of toilet paper, worth about $125.
To be honest, I'm more worried about running out of toilet paper than I am about catching the coronavirus!
WASH THOSE HANDS FOR 20 SECONDS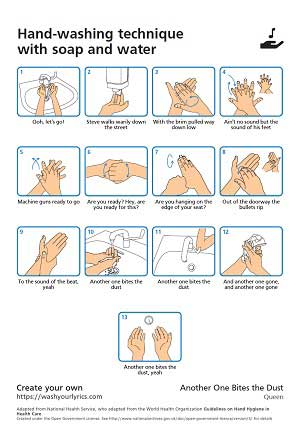 They keep telling us to wash our hands. That is one of the best ways to prevent getting sick.
It is recommended that you wash your hands for 20 seconds. Some people need help in determining just how long 20 seconds is.
I found a very cool website that will take different songs and give you 20 seconds of that song to sing while you wash your hands.
The website is www.washyourlyrics.com.
I figured that by washing your hands, you are killing germs…so isn't the song "Another Bites the Dust" by Queen appropriate? Here is the link for the graphic for that song.
I also asked on Facebook for everyone's favorite song. I went and generated handwashing sheets for some of those songs as well…
Kim Morford Stevens' favorite song was "Lights" by Journey. Here is the graphic for that song.
Greg Yoder suggested "Old Time Rock and Roll" by Bob Seger.
Katherine Kusmierski likes "The Lion Sleeps Tonight" by The Tokens.
Paul Phelps suggested "American Pie" by Don McLean.
Some songs work better than others. You can create your own handwashing sheet by going to the www.washyourlyrics.com website and entering the song title and artist. There is also an option for gel instead of soap. You can also customize your own song.
Post a few of these around the workplace bathrooms. Happy Singing and Handwashing!
Have a TERRIFIC Thursday! I'm off to hoard some toilet paper. I will be on the air — local and live — from 3-7 pm this afternoon on 98.7 WFGR!
If you have any comments on the above stories, please leave your remarks below…