Welcome to Wednesday! The week is almost half over! We can do this. Here are today's "Random Thoughts"…
FESTIVAL OF THE ARTS CANCELLED

The cancellations continue to pour in due to the coronavirus (COVID-19).
The latest casualty is the Festival of the Arts, held in Grand Rapids the first weekend of June every year.
This would have been the 50th year of the Festival, but it has now been called off.
A lot of people are saying that because it wasn't scheduled until June, that perhaps it was too soon to call it off.
Keep in mind there is a lot of planning that has to happen for an event like this to happen. A lot of things have to be ordered. Groups have to rehearse for their performances. A lot of those performers can't even gather right now to try to practice or perform. I think those in charge made the right call on this one.
"Oh we feel so festive!"…not this year.
POSSIBLE GOVERNMENT STIMULUS CHECK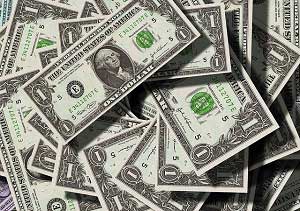 In his news conference yesterday, President Donald Trump hinted at a possible check coming to us soon from the government.
This is not a sure thing yet, but this money would help people with the hardships they are dealing with due to the coronavirus. Many are out of work, or have shortened hours.
One of the numbers I have heard tossed around is $1,000 per person.
It's amazing that no matter what the government does, people aren't happy.
I've heard people complaining because they would probably have to pay taxes on this money.
I also wonder if all those people who have hated President Trump all this time — and have said that he is "not their President" — will be returning their checks. If you are against everything this man does, you'd better not accept anything he wants to give you! We will see how strong the numbers are of people not cashing those checks to show their non-support of the President.
FACEBOOK ISSUES
Facebook had issues with a lot of people's posts yesterday.
They were getting flagged for no reason.
I posted a "Celebrity Death" and it was flagged because it was "against community standards".
Facebook has acknowledged that they had a problem and were working to correct the issue.
If your post was flagged, you were not alone! Most of those posts are back up now.
CELEBRITY DEATHS
I have two "Celebrity Deaths" to report today…
First, Lyle Waggoner, who performed on "The Carol Burnett Show" and also starred in TV's "Wonder Woman" has passed away at the age of 84. He died peacefully at his home Tuesday morning after a battling an illness. He was surrounded by his wife and sons. Read more here.
Also, World boxing champion and trainer Roger Mayweather has died at the age of 58. Mayweather was a two-weight class champion during the 1980s. He trained his nephew, world champion Floyd Mayweather, from 2000-2012. You can read more here.
WHICH RESTAURANTS ARE OPEN FOR TAKE-OUT?
With the ban on dine-in seating at restaurants, many have had to come up with take-out menus and delivery services.
While some restaurants are just closed during this time, many are offering up "food to go".
98.7 WFGR has compiled a pretty extensive list of the restaurants that are open for business. You can see that list here.
I know a few people that are making a point of buying and eating local during this time. They are ordering carryout from a different restaurant or bar every night.
GAS FOR UNDER $1 A GALLON?
WZZM TV-13 has an article on their website saying that we may see gasoline for under a buck a gallon!
I was gas down to about $1.85 a gallon last evening.
According to GasBuddy.com, prices will continue to drop.
Here is the article from TV-13.
Wash those hands, and stay safe and healthy.  I will talk to you on the air on this afternoon — local and live — from 3-7 pm on 98.7 WFGR! And it's "One Hit Wonder Wednesday"!!
If you have any comments on the above stories, please leave your remarks below…