How is your "Stay at Home" weekend going? Hopefully you are finding things to keep yourself busy. Here are today's "Random Thoughts"…
THE  NUMBERS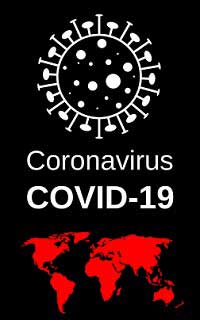 According to the website put together by the Michigan Department of Health and Human Services, as of Saturday afternoon at 3 pm there are 3.657 confirmed cases of COVID-19 in the state of Michigan.
Here in West Michigan, there are 45 confirmed cases in Kent County (up by 8), 21 in Ottawa (up by 2), six in Muskegon, three in Montcalm, two in Ionia County, one in Newaygo, one in Allegan, and one in Barry County.
We have had a total of 92 deaths in our state due to COVID-19. We have had one death in Kent County and two in Muskegon County.
I'm hoping that soon we see those numbers starting to shrink and we don't have more and more cases confirmed every day.
Hang in there. We will get through this.
FREAK DEATH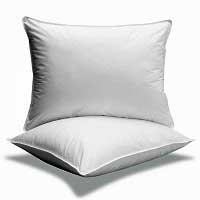 I am convinced that when I die, I will have passed away in some crazy accident, and will always be remembered as the guy that died in such a weird way.
Here's proof!
I work up early Saturday morning and felt like I was being strangled. There was something tightly wound around my neck. Who, or what, was trying to kill me?
It was may pillowcase!
The pillowcases that came with my sheets are king-sized. That means they are about twice the length of an average pillowcase or pillow.
My older pillows are just normal size, but they are old and tend to compact at one end of the pillow case, leaving over two feet of empty pillowcase material. When I make my bed I usually tuck this extra fabric into the pillowcase to get it out of the way.
On Friday night, I just couldn't sleep. I tossed and turned. Once I finally fell asleep, I must have continued my tossing and turning. As I was moving around so much, the extra pillowcase material was wrapping around my neck, getting tighter and tighter and tighter — until I couldn't breath!
Fortunately, I woke up and thwarted my pillowcases attempt to kill me!
So now I guess it's time to get new pillows. Maybe something the fills up the pillowcase more than a quarter of the way. What is the best type of pillow? Has anyone tried the "My Pillow" brand? Let me know. I'll probably have to do some stay at home pillow shopping in the next day or two!
At least you didn't have to see the headline "Radio Personality Dies After Strangulation by His Pillowcase" — at least not THIS time!
STAY AT HOME ACTIVITIES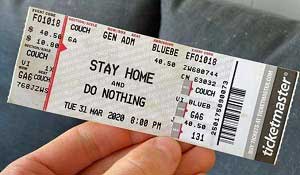 I never thought it would be so tough to just stay at home!
I'm the type of person that always has to be going somewhere and doing something.
But I understand the mandate to "Stay at Home" except for essential travel so I am doing just that.
With the exception of going to work because my job is considered to provide "essential services", I haven't really left the house except for food.
I know a lot of people have turned to a variety of different activities to keep themselves occupied. I'm actually working on restoring an old pool table!
Some people have turned a longtime pastime of doing jigsaw puzzles. I walked down the puzzle aisle at the store last weekend — and there was not a single puzzle to be found.
I haven't done a jigsaw puzzle in years. I used to enjoy them, but now I find I just get frustrated because I can't finish the puzzle fast enough.
I did see a picture of someone who did a puzzle featuring a beautiful horse…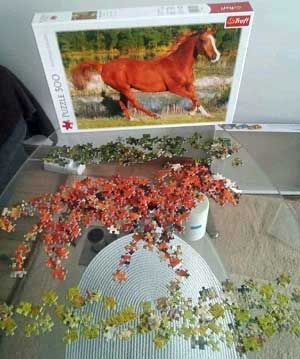 I don't know about you, but I think they nailed it!
A BLAST FROM THE PAST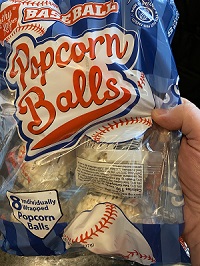 When I was a kid — before the world got so crazy — I remember getting popcorn balls when out Trick or Treating on Halloween.
I loved those things! They were usually wrapped in colored cellophane and were so go.
Now days we wouldn't even let kids eat something like that if it showed up in their trick or treat bag.
I don't think I've had a popcorn ball in probably 45 years.
Not only was I missing those, but with the delay of the baseball season — there is none of that either.
What a great way to combine two things and put a smile on my face! Popcorn balls packaged like baseballs!
They tasted just the way I remembered them.
I found these at Menard's on Alpine (I had to stop to get a piece for a home repair and found these at the checkout). I paid $3.99 for eight of them. I did find them on Amazon too, but you have to buy 24 of them.
Today is "Neighbor Day". Normally I would tell you to get out there and say hello to your neighbor, but this year I guess we just wave through the window! Keep washing those hands and staying home as much as possible. I will talk to you this afternoon from Noon until 3 pm on 98.7 WFGR. Please join me
If you have any comments on the above stories, please leave your remarks below…