Welcome to the first Monday in March! This year is looks more like "In like a lamb", instead of "in like a lion". I hope this warmer, spring-like weather continues. Here are today's "Random Thoughts"…
HAZARDS OF LIVING NEXT TO A GREAT LAKE
In the summer, a lot of people dream of having that home or cottage that looks over Lake Michigan, or one of the other great lakes.
There are issues that you have to deal with when you have a lake home…
First, they are very expensive. But if you can afford one, you then have to worry about erosion due to the waves. We've seen many stories recently about how with the high water levels more and more beach homes along Lake Michigan are being destroyed as they fall down the sand dunes that have been eroded away by the water.
I have never seen anything ice this extreme at homes along Lake Michigan, but last week along Lake Erie many homes were covered in frozen spray!
The pictures look very cool, but I'm sure the homeowners don't feel that way. Fortunately it looks like these ice formations are only along the side of the house facing the lake, giving the owners another option to getting into and out of their residences.
Here is a report from a TV station in Buffalo, New York…
JUDGE JUDY — 25 AND DONE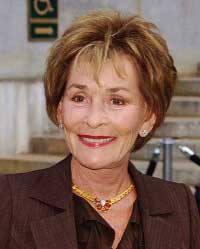 I think everyone at some point has watched "Judge Judy".
In 2021, She will have been on the air for 25 seasons. It looks like the 25th will be her final season.
I saw one article referring to the end of "Judge Judy" as "one of the biggest changes to daily syndicated television since Oprah Winfrey ended her talk show." I don't know if I'd go quite that far!
Judge Judy Sheindlin is paid $47 million per year to sit behind the bench. That makes her one of the highest-paid stars on any TV show.
It doesn't look like the 77 year old Sheindlin is finally retiring though. She plans to launch a new show called "Judy Justice". No details on exactly what that show will be about have been revealed.
LAUGHFEST

Gilda's LaughFest kicks off this Thursday, March 5th and runs through Sunday, the 15th.
They will be celebrating their 10th anniversary this year.
From the Laughfest website: "Gilda's LaughFest, the nation's first-ever community-wide festival of laughter, has quickly earned a reputation for being one of the nation's marquee events for both participants and artists. This major 10- day Midwest festival is based in Grand Rapids and includes events throughout West Michigan. Created by Gilda's Club Grand Rapids and launched in March 2011 to celebrate laughter for the health of it, the festival features stand-up, improv, showcases and a variety of seriously funny stuff.
All proceeds from LaughFest benefit the programs offered through Gilda's Club Grand Rapids, a free community with a comprehensive program of education, structured sharing times, networking, lectures, workshops, and social activities designed to support emotional health."
I will be emceeing an event coming up this Saturday, March 7th. Magician/Comedian Justin Willman will be performing at Fountain Street Church (24 Fountain St NE,
Grand Rapids, MI 49503) at 7:00 pm. I'd love to have you join me!
Here is the link for more information about Justin Willman.
TIM CONWAY AND HARVEY KORMAN
Growing up as a child, every weekend I would go and spend time with my great grandma Ella.
We would wrap up my visit with the two of us sitting down and watching "The Carol Burnett Show". Even as a kid I appreciated the comedy of all those involved in this program. As an adult I appreciated their humor even more!
I don't ever remember watching "The Carol Burnett Show" anywhere except at Grandma Ella's house. It brings back great memories.
I stumbled across this video over the weekend. The next time you are heading off to a dentist appointment, think about this skit…
JOKE OF THE DAY
I found a website that features jokes your dad might tell you. The website is actually called NiceOneDad.com.
In the next few weeks I'll occasionally share a joke from the site.
Here is the joke for today…
What lies at the bottom of the ocean and twitches?
A nervous wreck!
THANKS FOR YOUR HELP 
In my last "Random Thoughts" post I asked readers to take part in a survey. I wanted to know what format you liked best for my "Random Thoughts".
I could present them like I have been doing — all in one post, or I could present each thought as a separate post.
It looks like everyone who participated in the survey likes things just they way I'm doing them — as just one post — so that's the way I will continue to do them.
Thanks again for the insight.
Have a GREAT Monday. I will be on the air local and live from 3-7 pm on 98.7 WFGR. I will have more things to give away today…including passes for tubing at Cannonsburg Ski Area AND tickets to go off to the West Michigan Home and Garden Show this weekend.
If you have any comments on the above stories, please leave your remarks below…