It's Monday, and we kick off another Stay At Home, Work at Home week. Here are today's "Random Thoughts"…
THE  NUMBERS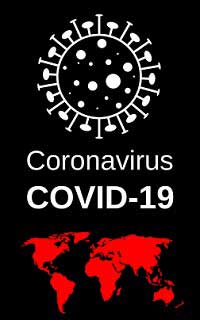 According to the website put together by the Michigan Department of Health and Human Services, as of Sunday afternoon at 3 pm there are 5.486 confirmed cases of COVID-19 in the state of Michigan. That number jumped up by 1,829 in 24 hours.
Here in West Michigan, there are 72 confirmed cases in Kent County (up by 27), 25 in Ottawa (up by 4), 13 in Muskegon (up by 7), three in Montcalm (no change), two in Allegan (up by 1), two in Ionia County (no change), one in Barry County (no change), and one in Newaygo County (no change).
We have had a total of 132 deaths in our state due to COVID-19 (an increase of 40). We have had one death in Kent County and two in Muskegon County.
I'm still hoping for the day when we don't see such huge increases in just a 24 hour period. We had almost 2,000 new confirmed cases in just the last day. Officials say we have not yet peaked and are several weeks away from that point.
I know there is the urge to get out of the house, but please, if you don't have to leave, stay home.
SHOWING SUPPORT
The residents of Riverhouse Condominiums are showing their support for all essential workers. Everyday they are out on their balconies waving American flags.
Here is the story that WZZM TV-13 did on them last week…
I am proud to say many of these people are my friends! Thank you for showing your support for our country in such a trying time for all of us.
CORONAVIRUS CELEBRITY DEATHS
The Coronavirus has caused the deaths of a couple of celebrities…
Country Singer Joe Diffie died on Sunday at the age of 61. He went public with his positive diagnosis on Friday, posting a message to Facebook which said: "I am under the care of medical professionals and currently receiving treatment after testing positive for coronavirus (COVID-19). My family and I are asking for privacy at this time. We want to remind the public and all my fans to be vigilant, cautious and careful during this pandemic."
Also passing away because of the Coronavirus was CBS Reporter Maria Mercader. She worked for over 30 years as a reporter and talent director. She died on Sunday after testing positive for coronavirus. She was 54. She worked on-air as a breaking news reporter before becoming director of talent strategy. She had fought multiple health issues for the past two decades, including a bout with cancer.
A CORONA VIRUS SONG
So many people are taking the time to record songs for the Coronavirus. I'll try to post some of those. Many are very good.
I had to laugh out load when I watched this one. It's probably not safe for work (unless you are working at home by yourself)…
I'm not sure who this man is, but he reminds me a lot of Dr. Demento. Do you remember listening to that radio show years ago? I was a big fan. It would be cool to hear reruns of that show. Also, let's bring back episodes of "Chicken Man" too while we are at it!
INCREDIBLE UNDERTAKING
Producing a video for a song is a major undertaking. I have been involved in the making of a few over the years.
This video was produced to promote a group called Playing For Change. According to their website: "Playing For Change is a movement created to inspire and connect the world through music, born from the shared belief that music has the power to break down boundaries and overcome distances between people. Our primary focus is to record and film musicians performing in their natural environments and combine their talents and cultural power in innovative videos we call Songs Around The World."
I can't imagine recording and editing all these segments together. The outcome is fantastic.
Here is "The Weight". A song made popular by the band called "The Band" back in 1968…
Learn more about Playing For Change and see additional videos on their official website.
I NEED ONE OF THESE
Who says you can't play with your food?…
I have a feeling you will be finding one of these things in my house! Here is the Kickstarter website for additional information!
Today is "Doctor's Day". Now, more than ever, we need to be thankful for our doctors.
Have a MAGNIFICENT Monday. Keep washing those hands and staying home as much as possible. I will talk to you this afternoon from 3 pm until 7 pm — local and live — on 98.7 WFGR. Please join me
If you have any comments on the above stories, please leave your remarks below…