The weekend is here, but it's going to be an hour shorter this week. Here are today's "Random Thoughts"…
COME TO CEDAR SPRINGS FOR CHEAP GAS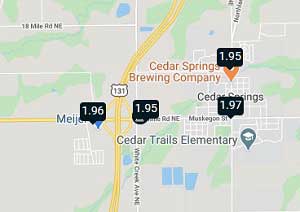 Yesterday I mentioned some gas stations were selling gas for $1.99 a gallon.
I noticed that in Grand Rapids most prices remained above the $2.00 mark, averaging about $2.15 a gallon.
Those prices came down even a little more on Friday.
According to the map on www.GasBuddy.com, it looks like the cheapest gas is in Cedar Springs, where it is running at about $1.95 a gallon.
I'd love to see it drop even more. Could we get under $1.90 soon? (I'm not holding my breath but it would be nice!)
SPRING FORWARD
It's that time of year again! Time to change the clocks and "spring forward".
Officially on Sunday, March 8, 2020, at 2:00 am, we turn the clock ahead one hour — to 3:00 am — as we begin Daylight Saving Time. (And yes, the correct spelling is "Saving" not "Savings". There should be no "S" on the end!) We will "fall back" again on Sunday, November 1st.
A few years ago, I found this great spoof of a preview for movie called "The Vanishing Hour"! The people who put this parody together did a great job. Check it out…
I also like to remind people to check the batteries in your smoke detectors and carbon monoxide detectors. Even most of your "hard wired" detectors have a battery backup, so remember to check those batteries so the devices are ready to go if they ever need to be used.
You can read more about Daylight Saving Time here.
JOIN ME AT LAUGHFEST TONIGHT
I will be introducing comedian/magician Justin Willman tonight at Fountain Street Church for his LaughFest performance. Show time is at 7:00 pm. I'd love to see you there.
If you aren't familiar with Justin, he has appeared on "Ellen" several times. Here is a video from one of his appearances…
In 2018, Willman premiered his six-episode magic series on Netflix entitled "Magic For Humans with Justin Willman". In the series, Willman brings his skills as a magician to the strange and misunderstood subcultures of America, while incorporating his disarming demeanor into street magic and social experiments that will boggle the mind.
Read more about Justin's LaughFest appearance this evening on the official LaughFest website.
I hope to see you there.
I STILL WANT A DRONE
It has been a few years now since they became readily available. I really want a drone.
For me this is just a want…not a need. Whenever I go to purchase something I always try to figure out if it is a "want" or a "need". I keep trying to figure out a way move a drone purchase from that "want" to the "need" category so I can justify spending the money on one.
Perhaps I have found a "need" for a drone…
I could start a new business…Drone Light Bulb Replacement!
Have a GREAT Weekend! I will talk to  you on the air this afternoon from 2-6 pm this afternoon on 98.7 WFGR.
If you have any comments on the above stories, please leave your remarks below…