I hope you are enjoying  your weekend. Today's "Random Thoughts" is shorter than yesterday's — I promise!
THE NUMBERS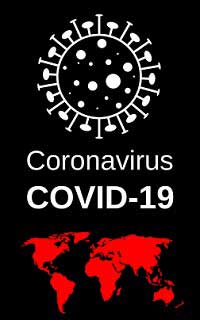 According to the website put together by the Michigan Department of Health and Human Services, as of Saturday afternoon at 3 pm there are 46,756 confirmed cases of COVID-19 in the state of Michigan. That number jumped up by 430 in 24 hours.
Here in West Michigan, there are 2,213 confirmed cases in Kent County (up by 88), 354 in Muskegon (up by 10), 373 in Ottawa (up by 20), 136 in Allegan (up by 6), 107 in Ionia County (up by 4), 49 in Barry County (up by 5), 46 in Montcalm (no change), and 34 in Newaygo County (no  change).
We have had a total of 4,526 deaths in our state due to COVID-19 (an increase of 133). We have had 41 deaths in Kent County (no change), 20 in Muskegon County (up by 1), 19 deaths in Ottawa County (up by 2), two deaths in Allegan County (no change), two deaths in Ionia County (no change), one death in Barry County (no change), and one death in Montcalm County (no change).
They are now also giving us the Cumulative Total of Recovered COVID-19 Cases. They will update this number every Saturday. As of May 1st, 22,686 have recovered from the virus.
There are more than 3.8 million confirmed cases of coronavirus worldwide and nearly 270,000 deaths. In the U.S. there are more than 1.25 million confirmed cases, with 75,670 deaths.
The latest we have on percentages from WDIV TV in Detroit: These results lag by a few days, but on Thursday, May 7th, the results of 13,882 tests came back with 1,099 confirmed as positive. That's 7.9% of the tests that came back positive. The previous day, Wednesday, May 6th, 8% of the tests came back positive. That means we have seen a decrease of .1% in cases testing positive in just a day. Those numbers are down overall from the peak on April 4th of 41.8%.
Stay Home, Wash Your Hands, and Social Distance Yourself! Please stay healthy.
HAPPY MOTHER'S DAY!
I just want to wish all the moms out there a Happy Mother's Day.
This year we will be celebrating just a little differently. I'll be masking up to go visit my Mom, Gloria Winters, later today. With her current health situation, I will definitely keep my distance to keep her healthy. (She has hopefully her last chemotherapy treatment this coming week.)
Here is a video I did several years ago for Mom…
And how much will you be spending on your mother?
According to the National Retail Federation, despite the economy being in the tank and one-fifth of the labor force out of work, Mother's Day spending is expected to be higher than last year.
A whopping $26.7 billion is expected to be spent on gifts for moms this year — that's a 7% increase over last year. Americans are expected to shell out about $204 for mom.
Experts believe that people feel bad about not being able to take mom out for Mother's Day this year, so they're spending a little extra on gifts.
CELEBRITY DEATHS
There have been a few Celebrity Deaths in the last day or so…
Roy Horn, one half of the famous Siegfried & Roy magic and entertainment act in Las Vegas, has died after being infected with the coronavirus. He passed away on Friday, May 8th at the age of 75. He was the one who had been attacked by a tiger back in October, 2003. Read more here.
And Little Richard has also died. He passed away on Saturday, May 9th at the age of 87. Richard had been sick for 2 months. He died at his Tennessee home, surrounded by his brother, sister and son. Read more here.
GOING BACK IN TIME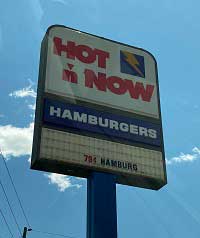 There was a time back in the mid 80s when I was working in the printing industry. The print shop was located on 28th Street in Wyoming. Across the street was a Hot 'N Now Hamburger joint. I would go there for lunch just about every day. I loved the double deluxe burger they had.
The Hot 'N Now franchise was founded in Kalamazoo in 1984 and grew to over 150 locations throughout the United States. They were actually owned by Pepsi. The chain filed for bankruptcy in 2004.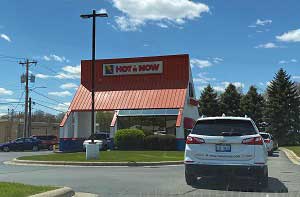 There is just one Hot 'N Now location still in existence and that is down in Sturgis, MI.
So, after being cooped up at home for way too long, I decided to hop in my car and go for a ride on Saturday afternoon. I headed south to Sturgis to get some food (allowed by the Governor's Executive Order).
The drive through line was long. It took about 30 minutes from the time I got in line until I finally received my order. Part of the delay was they somehow got the orders mixed up. They tried to give my order to the car in front of me, and then wanted to charge me for their order (their order was over $50!). They finally got things straightened out, but by that time the food was not "hot" and I certainly didn't get it "now", but it was still a nice break to go back in time for a few hours.
Enjoy the rest of your weekend! I am on the air today from Noon until 3 pm on 98.7 WFGR. I'll talk to you then!
If you have any comments on the above stories, please leave your remarks below…