What day is it?! It's "Hump Day"! Welcome Wednesday. Here are today's "Random Thoughts".
THE NUMBERS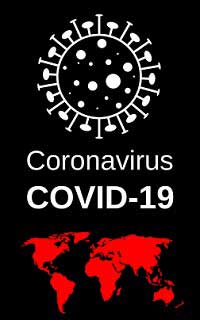 According to the website put together by the Michigan Department of Health and Human Services, as of Tuesday afternoon at 3 pm there are 52,350 confirmed cases of COVID-19 in the state of Michigan. That number jumped up by 435 in 24 hours.
Here in West Michigan, there are 2,934 confirmed cases in Kent County (up by 66), 573 in Ottawa (up by 15), 519 in Muskegon (up by 6), 184 in Allegan (no change), 123 in Ionia County (up by 4), 58 in Barry County (up by 1), 56 in Montcalm (up by 1), and 51 in Newaygo County (up by 1).
We have had a total of 5.017 deaths in our state due to COVID-19 (an increase of 102). We have had 58 deaths in Kent County (up by 2), 25 in Muskegon County (up by 1), 25 deaths in Ottawa County (up by 1), three deaths in Ionia County (no change), three deaths in Allegan County (up by 1), one death in Barry County (no change), and one death in Montcalm County (no change).
They are now also giving us the Cumulative Total of Recovered COVID-19 Cases. They will update this number every Saturday. As of May 15th, 28,234 have recovered from the virus.
There are now more than 4.9 million confirmed cases of coronavirus worldwide and more than 323,000 deaths. In the U.S., there are more than 1.5 million confirmed cases and more than 91,000 deaths.
The latest we have on percentages from WDIV TV in Detroit: These results lag by a few days, but on Sunday, May 17th, the results of 13,539 tests came back with 1,275 confirmed as positive. That's 9.4% of the tests that came back positive. The previous day, Saturday, May 16th, 7.7% of the tests came back positive. That means we have seen an increase of 1.7% in cases testing positive in just a day. Those numbers are down overall from the peak on April 4th of 41.8%.
Stay Home, Wash Your Hands, and Social Distance Yourself! Please stay healthy.
ANOTHER COVID-19 CANCELLATION
First it was the Tulip Time Festival, then the Ionia Free Fair, and now the annual Coast Guard Festival in Grand Haven has been cancelled due to the coronavirus.
It was originally scheduled for July 24-August 2 this year. The event typically brings up to 350,000 tourists to Grand Haven.
The Festival's Board of Directors released a statement saying…
"This decision is difficult but necessary to ensure a healthy community. Additionally we are committed to supporting our sponsors, small businesses, and local partners as we plan for the future and encourage the citizens of our partner municipalities including the City of Grand Haven, the Village of Spring Lake, the City of Ferrysburg, Spring Lake Township, and Grand Haven Township as well as the dedicated members of our volunteer Coast Guard Festival team to make the summer of 2020 a safe time of renewed reflection on the attributes of our communities and the pride we cherish in being the one and only 'Coast Guard City, U.S.A.'."
You can read the complete statement on the Grand Haven Coast Guard Festival website.
The festival is scheduled for 2021 to run from July 30-August 8.
CELEBRITY DEATH
Annie Glenn, the widow of first American astronaut in orbit — John Glenn, has died at the age of 100. She passed away on Tuesday, May 19th at a nursing home near St. Paul, Minnesota after suffering complications from COVID-19.
She married John Glenn back in 1943 and had been his spouse for 73 years when he died at the age of 95 in 2016.
On February 20th, 1962, Annie Glenn watched her husband launch into space on the Mercury-Atlas 6 mission. On that mission, John Glenn became the first American to orbit the Earth when he circled the planet three times before safely splashing down in the Atlantic Ocean.
You can read more about Annie Glenn here.
THOSE DAMN FACEBOOK ADS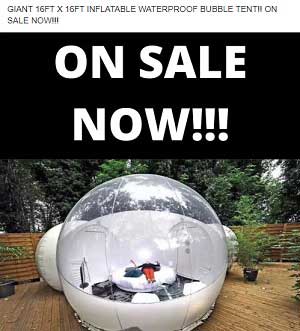 I don't think there is a day that goes by that I don't get sucked in by the ads on Facebook.
I usually don't ever buy the items, but many times I think…"If that is really that great of an item…I want one"!
The latest…a Giant 16′ x 16′ Waterproof Bubble Tent!
How could would it be to camp out under the stars in this thing? Or what about if  you are camping and the rain begins? You could actually lay there and watch the raindrops hit the top of the tent, and not get wet!
I really want one! And so spacious too at 16 feet x 16 feet.
OK, now the reality check on just how badly I want this thing…the price!
Originally priced at $3,500, it's on sale now for just $2,400!
I don't think I've spent that much money on tents in my entire lifetime!
At least seeing the cost made it easier to pass up this deal! I still want want one though.
If you want to buy one for yourself — or maybe for ME as a belated, your birthday got ruined by the coronavirus gift, here is the website.
TODAY IS…
Today is Be a Millionaire Day! OK, who is giving me the money? Then I could buy my tent!
A LOOK BACK
In 1899, a taxi driver named Jacob German of New York, NY, became the first driver to be arrested for speeding. The posted speed limit was 12 miles per hour.
Why in my head can I hear Sammy Hagar singing, "I Can't Drive…12!"
Find out what else has happened on May 20th.
WRAPPING UP
Have a WONDERFUL Wednesday! I will be on the air this afternoon — local and live — from 3-7 pm on 98.7 WFGR! I'll talk to you then.
If you have any comments on the above stories, please leave your remarks below…