What a wild and horrific 24 hour period we have just went through. It's been a busy day for me. I'm a little late getting this today, but here are today's "Random Thoughts".
THE NUMBERS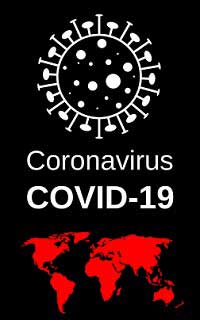 According to the website put together by the Michigan Department of Health and Human Services, as of Sunday afternoon at 3 pm there are 57,397 confirmed cases of COVID-19 in the state of Michigan. That number jumped up by 776 in 48 hours.
As for confirmed cases here in west Michigan, we have:
3,715 confirmed cases in Kent County
774 in Ottawa
643 in Muskegon
218 in Allegan
148 in Ionia County
105 in Newaygo County
66 in Montcalm
63 in Barry County
We have had a total of 5,491 deaths in our state due to COVID-19 (an increase of 85 in 48 hours). Here are the numbers for west Michigan:
85 deaths in Kent County
36 in Muskegon County
34 deaths in Ottawa County
6 deaths in Allegan County
4 deaths in Ionia County
2 deaths in Barry County
1 death in Montcalm County
They are now also giving us the Cumulative Total of Recovered COVID-19 Cases. They will update this number every Saturday. As of May 29th, 38,099 have recovered from the virus.
Worldwide, there are more than 5.8 million confirmed cases and more than 360,000 deaths. There are now approximately 1.72 million confirmed cases of coronavirus in the United States and more than 101,000 deaths.
The latest we have on percentages from WDIV TV in Detroit: These results lag by a few days, but on Thursday, May 28th, the results of 17,468 tests came back with 1,040 confirmed as positive. That's 6% of the tests that came back positive. The previous day, Tuesday, May 26th, 4.9% of the tests came back positive. That means we have seen an increase of 1.1% in cases testing positive in just a day. Those numbers have increased for four days in a row. Those numbers are down overall from the peak on April 4th of 41.8%.
The state has a new web dashboard for testing information. It shows that here in west Michigan, on Thursday, May 28th, 2.023 tests were administered and 6.6% of those tests came back positive. That is up from 5.6% the day before, Wednesday, May 27th. Those numbers have increased for two straight days. The peak was 42.1% on March 22nd.
Stay Home, Wash Your Hands, and Social Distance Yourself! Please stay healthy.
RIOTS IN DOWNTOWN GRAND RAPIDS
I watched in horror last evening as downtown Grand Rapids was under attack.
What started out as a peaceful protest for "Black Lives Matter", after the death of George Floyd in Minnesota, this peaceful protest by one group turned into a riot by another group of people.
I couldn't believe the things I was seeing on my TV. From windows being smashed and businesses being looted, to police vehicles on fire in the streets of Grand Rapids. A cameraman from WOOD TV-8 was also attacked.
I watched until the wee hours of the morning as the horror continued. I then went to bed and listened to the police scanner until about the time the sun came up this morning.
As I was getting ready to head into the radio station, I heard of groups organizing to go clean up the city. When I arrived downtown I was shocked at the number of people who were down there cleaning up the mess. They had brought their own cleaning supplies — shovels, brooms, cleaning supplies, and the like. Several individuals and businesses set up stations with refreshments and snacks for the workers. It was incredible to see the outpouring of help that was being provided by the people of the area.
After I got off the air, I walked around and took some pictures. You can see those pictures here.
The City of Grand Rapids posted the following on their Facebook page…
CURFEW TONIGHT AND TOMORROW
As a result of what has happened in our city in the last 24 hours, there is now a curfew in place for Sunday and Monday evenings within the city of Grand Rapids.
The curfew will be from 7 pm to 5 am on Sunday and Monday nights. It prevents community members from walking, running, loitering, standing or motoring upon any alley, street, highway, public property or vacant premises within the city of Grand Rapids. Community members may travel to and from work during the curfew.
Violation of the curfew is a misdemeanor that is punishable by up to 90 days in jail and/or a $500 fine.
Governor Gretchen Whitmer has authorized a state of emergency and has deployed the Michigan National Guard to assist with curfew enforcement and the protection of property in Grand Rapids.
Grand Rapids institutes citywide curfew in light of recent unrest. Please stay indoors 7 PM-5 AM Sun and Mon. https://t.co/SkxWW2nJwe

— Grand Rapids Police (@GrandRapidsPD) May 31, 2020
WOOD TV-8 COVERAGE SATURDAY NIGHT
I like to give credit when credit is due.
On Saturday night, WOOD TV-8 provided excellent coverage of what was happening on the streets of downtown Grand Rapids.
Anchor Leon Hendrix sat at the desk solo for many hours keeping us updated with the information he was getting. Not an easy task, but Leon did a fantastic job at keeping it all together for us.
Leon had the help of a few reporters, including Susan Samples and Justin Kollar. Both were in the thick of things in the downtown area. Susan's cameraman was attacked when he was focusing his camera on individuals trying to break into an ATM machine. He was pushed to the ground and was being kicked and punched when some people stepped in to break up the situation.
I am so proud of my former colleagues at TV-8. They did an INCREDIBLE job covering the situation on Saturday night and they should be proud of their work.
TODAY IS…
Today is Save Your Hearing Day!
All the years of wearing headphones at a pretty high level, I'm sure my hearing is less that perfect.
What did you say?
A LOOK BACK
On this date in 1998, "Derecho" winds accompanied thunderstorms that blew through West Michigan. Around 5 am that Sunday morning, the storms blasted through the area with winds estimated as high as 130 mph in Grand Haven and Walker. The storm caused damage from South Dakota to the east coast. According to the Storm Prediction Center, this episode ranks as one of the top thunderstorm events in world history!
Find out what else has happened on May 31st.
WRAPPING UP
Enjoy what's left of your Sunday evening. Back with another "Random Thoughts" on Monday.
If you have any comments on the above stories, please leave your remarks below…