I loved the weather over the weekend, but wait until next weekend. More on that later. Let's get this week started! Here are today's "Random Thoughts"…
THE NUMBERS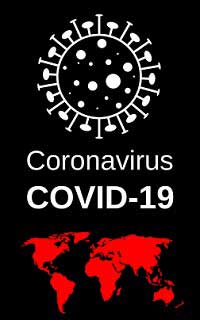 According to the website put together by the Michigan Department of Health and Human Services, as of Sunday afternoon at 3 pm there are 43,754 confirmed cases of COVID-19 in the state of Michigan. That number jumped up by 547 in 24 hours.
Here in West Michigan, there are 1,786 confirmed cases in Kent County (up by 89), 304 in Muskegon (up by 3), 275 in Ottawa (up by 14), 113 in Allegan (up by 5), 90 in Ionia County (up by 3), 44 in Montcalm (no change), 37 in Barry County (no change), and 26 in Newaygo County (no change).
We have had a total of 4,049 deaths in our state due to COVID-19 (an increase of 29). We have had 39 deaths in Kent County (up by 3), 17 in Muskegon County (no change), 12 deaths in Ottawa County (no change), two deaths in Allegan County (no change), two deaths in Ionia County (no change), one death in Barry County (no change), and one death in Montcalm County (no change).
They are now also giving us the Cumulative Total of Recovered COVID-19 Cases. They will update this number every Saturday. As of May 1st, 15,659 have recovered from the virus.
There are now more than 3.5 million confirmed cases of coronavirus worldwide and more than 247,000 deaths. In the U.S,. there are more than 1.15 million confirmed cases and more than 67,000 deaths.
The latest we have on percentages from WDIV TV in Detroit: These results lag by a few days, but on Friday, May 1st, the results of 11,385 tests came back with 1,126 confirmed as positive. That's 9.9% of the tests that came back positive. The previous day, Thursday, April 30th, 10.1% of the tests came back positive. That means we have seen a decrease of .2% in cases testing positive in just a day. Those numbers are down overall from the peak on April 4th of 41.8%.
Stay Home, Wash Your Hands, and Social Distance Yourself! Please stay healthy.
WHAT NEXT?
With everything we have had thrown at us already in the year 2020, what could be next?
Now scientists are telling us about this huge hornet, called the murder hornet, that has made it's way to the  United States.
This roughly 2-inch long insect has made its way to the U.S. for the first time ever. The Asian giant hornet has been known to kill up to 50 people a year in Japan and has the potential to devastate U.S. bee populations.
These things have been spotted in Washington state.
Bug experts say these hornets do not typically go after humans, but if they do, not even beekeeping suits can protect against the hornets. Their stingers are longer and more dangerous than a bee's. The murder hornet's sting is painful and packed with neurotoxins. Even if someone is not allergic to the hornet, multiple stings have the potential to kill.
FREEZING TEMPERATURES AND MAYBE SNOW?
After the beautiful weather over the weekend, get ready for a cool down.
From the National Weather Service in Grand Rapids: "FROM FRIDAY INTO SATURDAY TEMPERATURES ARE FORECAST TO FALL AND A CLOSED UPPER LOW WILL BE NEAR OR OVER US. SOME  LAKE ENHANCED SHOWERS ARE MORE THAN POSSIBLE. GIVEN HOW COLD THE  AIR WILL BE THEN, MORE THAN LIKELY THIS WOULD MOSTLY BE SNOW  SHOWERS. THE COLDEST AIR WILL BE FRIDAY INTO SATURDAY. HIGHS WOULD STRUGGLE TO GET TO THE MID 40S, SO IT WOULD BE MORE THAN POSSIBLE TO SET A FEW RECORD LOW HIGHS. RECORD LOWS FOR THE 8TH AND 9TH ARE MOSTLY IN  THE MID 20S. IF WE GOT THE SKY TO  CLEAR ONE OF THOSE NIGHTS. THIS WOULD BE A HARD FREEZE AND  TEMPERATURES MAY BE BELOW FREEZING FOR MORE THAN 6 HOURS IN MOST  LOCATIONS BOTH FRIDAY NIGHT AND SATURDAY NIGHT."

Can't we at least have sunny and warm temperatures to help us get through all of this?!
I SAW THE LIGHTS!
Several people on social media have been inquiring about what the string of lights they see in the sky from time to time are.
They are actually the Starlink satellites. It's a train of 60 satellites that are orbiting around the earth. Starlink is a satellite constellation being constructed by SpaceX to provide satellite Internet access. (Read more about it here.)
I was able to see them on Sunday night. It looks like your next chance to see them will be at 5:33 am on Tuesday morning. There is a very cool website that will tell you when you can see these satellites, along with other satellites and the International Space Station. Check out the website to see which direction to be looking.
STAR WARS DAY
Today is May 4th. "May the 4th be with you!"
Have a MAGNIFICENT Monday! I will be on the air this afternoon — local and live — from 3-7 pm on 98.7 WFGR. At 4:30 pm, I'll have your next chance to win $1,000 Social Distance Dollars and also get registered to win the Grand Prize of $10,000! Listen for details.
If you have any comments on the above stories, please leave your remarks below…