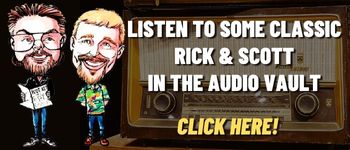 A quick look at Today in History, check out some Celebrity Birthdays, and find out what Days of the Year to celebrate.
TODAY IN HISTORY:
1789 – Thomas Jefferson was appointed America's first Secretary of State. John Jay was appointed the first chief justice of the U.S. Samuel Osgood was appointed the first Postmaster-General. Edmund Jennings Randolph was appointed the first Attorney General.
1903 – The Grand Rapids Speedrome, in Comstock Park, MI, opened for auto racing on its one mile track. It closed in 1966. It was located about where US-131 is today.
1905 – Albert Einstein published his first paper on the special theory of relativity.
1914 – The Federal Trade Commission was established by the Federal Trade Commission Act.
1934 – The steamship RMS Queen Mary was launched.
1949 – A new "Stadium" opened in Grand Rapids, MI. The first act was Spike Jones. The venue was located at 2500 Turner Avenue. It was most recently known as the DeltaPlex, before closing in 2022.
1955 – The New York Stock Exchange suffered its worst decline since 1929 upon receiving word of President Eisenhower's heart attack.
1960 – Chicago, IL, was host to the first televised debate between Presidential candidates Richard M. Nixon and John F. Kennedy.
1962 – The television show "The Beverly Hillbillies" debuted on CBS.
1964 – TV's "Gilligan's Island" premiered on CBS. The series ran until September 4, 1967.
1969 – "Abbey Road", the last recorded album by The Beatles, was released.
1969 – The television show "The Brady Bunch" premiered on ABC.
1973 – The Concorde made its first non-stop crossing of the Atlantic in record-breaking time.
1975 – The movie "The Rocky Horror Picture Show" opened in theaters.
1981 – The Boeing 767 made its maiden flight in Everett, WA.
1985 – Shamu was born at Sea World in Orlando, FL. Shamu was the first killer whale born in captivity to survive.
1986 – A television episode of "Dallas" aired in which Bobby Ewing returned from the dead.
1986 – William H. Rehnquist was sworn in as the 16th Chief Justice of the United States Supreme Court following the retirement of Warren Burger. Antonin Scalia became the 103rd Associate Justice.
1988 – Ben Johnson was stripped of his gold medal in the 100 m sprint at the Seoul Olympics for failing a drug test.
1990 – The Motion Picture Association of America announced its new rating, NC-17. The rating was designed to bar those under 17 from certain films without the commercial stigma of the old X rating.
1990 –  The first musical police drama "Cop Rock" premiered on TV. Thankfully it only lasted 11 episodes!
1991 – Four men and four women began their two-year stay inside the sealed off structure known as "Biosphere II", in Oracle, AZ. The project was intended to develop technology for future space colonies.
1993 – The eight people who had stayed in "Biosphere II" emerged from their sealed off environment.
1995 – The prosecution began its closing arguments in the murder trial of O.J. Simpson.
1996 – Astronaut Shannon Lucid returned to Earth after being in space for 188 days. She set a time record for both a U.S. astronaut in space and longest time spent by a woman in space in the world.
2006 – Facebook was opened up to everyone at least 13 years or older who had a valid email address.
BIRTHDAYS:
Kent McCord – 80 years old (1942) – Actor (Played Officer Jim Reed on TV's "Adam 12", "Battlestar Gallactica")
Anne Robinson – 78 years old (1944) – TV Host (TV's "Weakest Link")
Mary Beth Hurt – 76 years old (1946) – Actress ("Interiors", "The World According to Garp", "The Age of Innocence", "Six Degrees of Separation")
Craig Chaquico – 68 years old (1954) – Guitarist (Jefferson Starship)
Cesar Rosas – 68 years old (1954) – Singer, guitarist (Los Lobos)
Linda Hamilton – 66 years old (1956) – Actress ("Terminator", "Terminator 2", "Mr. Destiny", TV's "Beauty and the Beast", "Chuck")
Melissa Sue Anderson – 60 years old (1962) – Actress (Played Mary Ingalls on TV's "Little House on the Prairie")
Patrick Bristow – 60 years old (1962) – Actor (TV's "Ellen", "Mad About You", "Curb Your Enthusiasm")
James Caviezel – 54 years old (1968) – Actor ("The Passion of the Christ", "Bobby Jones: Stroke of Genius", TV's "Person of Interest")
Ben Shenkman – 54 years old (1968) – Actor (TV's "Royal Pains")
Shawn Stockman – 50 years old (1972) – Singer (Boyz II Men)
Serena Williams – 41 years old (1981) – Tennis player. Born in Saginaw, MI.
TODAY IS:
Human Resource Professional Day
International Day for the Total Elimination of Nuclear Weapons
National Compliance Officer Day
National Situational Awareness Day
For additional information check out websites like: www.on-this-day.com, www.born-today.com, www.famousbirthdays.com, www.daysoftheyear.com, and www.nationaldaycalendar.com.