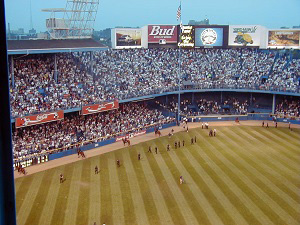 September 27, 1999 was a Monday. It was a sunny afternoon. Down at the intersection of Michigan and Trumbull in Detroit, it would be the final major league baseball game ever played at Tiger Stadium.
I was fortunate to be able to get media passes to attend that final game. "Rovin' Ralph" and I made the drive down to the ball park.
As you walked through the stands, you could tell it was probably time for the ball park to be put to rest. I remember looking at the blue paint and wondering just how many layers of paint there might actually be adhered to that wood.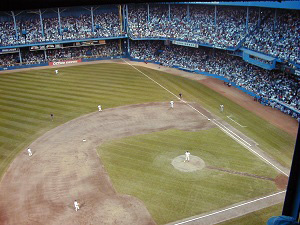 We had seats in part of the press box section of the park. We walked up and past Ernie Harwell getting ready for his broadcast. As Ernie always did, he said hello and would engage in a conversation with anyone who wanted to talk to him.
There was something nostalgic about that old park. That was where I saw my first professional baseball game. For many years I watched the park on television whenever there was a Tigers game on the tube. And how many times had I heard Ernie calling a game from Tiger Stadium on the radio growing up?
On that late September day back in 1999 the Kansas City Royals were in town to play the Tigers. What a great way to end the era of Tiger Stadium — The Tigers beat the Royals 8-2 in that final game. Many games had been played on "The Corner" over it's 87 years.
I still have my souvenir baseball sitting on the shelf. Every time I have to dust it off, I can almost hear Ernie Harwell describing a hit that is "long gone" out into center field.
What has happened to the old Tiger Stadium in the last 23 years? According to a post on the www.detroit.curbed.com website: "In 2016, ground broke on the first development at the site —- a new headquarters and ball field for the Detroit Police Athletic League, who serves 14,000 youth a year. The stadium and headquarters are the result of a $20 million fundraising campaign by Detroit PAL. The new development includes the 8,500-square-foot headquarters and banquet hall, plus the new baseball field, which maintained dimensions of the old field. Some elements of the old ballpark have made it to the new field, including the green chairs behind home plate and the old flagpole, which has been repainted and sits at the far end of center field."
I found a tribute that was narrated by Ernie Harwell…oh the memories…
To read more about the history of Tiger Stadium, here is the Wikipedia page.
What are your memories of Tiger Stadium? Please share them below…