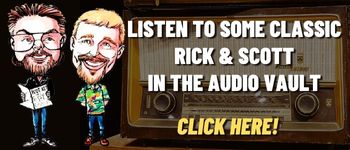 A quick look at Today in History, check out some Celebrity Birthdays, and find out what Days of the Year to celebrate.
TODAY IN HISTORY:
1789 – A regular army was established by the U.S. War Department with a strength of several hundred men.
1916 – John D. Rockefeller became the first billionaire.
1930 – Lowell Thomas made his debut on CBS Radio. He was in the radio business for the next 46 years.
1950 – Bell Laboratories introduced the first telephone answering machine.
1953 – The television show "Make Room for Daddy" debuted on ABC.
1960 – The TV show "My Three Sons" premiered on ABC.
1963 – TV's "My Favorite Martian" premiered on CBS.
1966 – The Chevrolet Camaro — originally named Panther — was introduced.
1978 – Pope John Paul I was found dead in his Vatican apartment just over a month after becoming pontiff of the Roman Catholic Church.
1982 – Seven people died in Chicago, IL, after taking capsules of Extra-Strength Tylenol that had been laced with cyanide. The company recalled 264,000 bottles. This led to the use of safety seals on most consumer products.
1985 – The TV show "MacGyver" debuted on ABC.
1986 – The TV show "Designing Women" debuted on CBS.
1988 – The Space Shuttle Discovery (STS-26) blasted off from Cape Canaveral, in Florida, marking America's return to manned space flight following the Challenger disaster.
1989 – Zsa Zsa Gabor was convicted of battery for slapping a Beverly Hills police officer who had pulled over her Rolls Royce for expired license plates. (Gabor served three days in jail.)
1992 – Magic Johnson announced that he was returning to professional basketball. The comeback ended in November, 1993.
1994 – The Pointer Sisters received a star on the Hollywood Walk of Fame.
1995 – The O.J. Simpson trial was sent to the jury.
1996 – The Nintendo 64 gaming system debuted.
2000 –  The movie "Remember the Titans" premiered in theaters.
2001 – New York mayor Rudy Giuliani opened the first "Saturday Night Live" episode after the 9-11 attacks. Paul Simon, a longtime friend of SNL producer Lorne Michaels, sings "The Boxer."
2008 – Following the bankruptcy of Lehman Brothers and Washington Mutual, the Dow-Jones Industrial Average fell 777.68 points — the largest single day point loss in its history.
2013 – The TV series "Breaking Bad" aired it's last episode.
BIRTHDAYS:
Ian McShane – 81 years old (1942) – Actor (TV's "Lovejoy", "Deadwood", "Game of Thrones")
Patricia Hodge – 77 years old (1946) – Actress ("Betrayal")
Mark Farner – 75 years old (1948) – Singer, guitarist (Grand Funk Railroad). Born in Flint, MI.
Bryant Gumbel – 75 years old (1948) – TV host (TV's "The Today Show", "The Early Show", "Real Sports")
Andrew Dice Clay – 66 years old (1957) – Actor, comedian ("The Adventures of Ford Fairlane", "Blue Jasmine", TV's "Crime Story", "Making the Grade", "Dice: Undisputed")
Jill Whelan – 57 years old (1966) – Actress (Played Vicki Stubing on TV's "The Love Boat")
Erika Eleniak – 54 years old (1969) – Actress ("Bordello of Blood", "The Beverly Hillbillies", "Under Siege", TV's "Baywatch")
Emily Lloyd – 53 years old (1970) – Actress ("Wish You Were Here")
TODAY IS:
International Day of Awareness of Food Loss and Waste
National Gay Men's HIV/AIDS Awareness Day
Urban National Wildlife Refuge Day
For additional information check out websites like: www.on-this-day.com, www.born-today.com, www.famousbirthdays.com, www.daysoftheyear.com, and www.nationaldaycalendar.com.