Good luck trying to escape the snow today…and an iconic tree has fallen in California —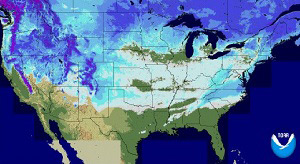 News from the the National Oceanic and Atmospheric Administration (NOAA) on Sunday, January 8, 2017, reported that Florida is currently the only state in the country that does not have snow on the ground. A winter storm that rolled through the deep south dropped some snow on Alabama, Georgia and the Carolinas over the weekend. Even Hawaii has the white stuff on some of the volcano tops. According to NOAA, about 60% of the country right now is snow-covered.
In California, a powerful winter storm in the Sierra Nevada mountains has destroyed one of that state's most iconic landmarks…
The Pioneer Cabin Tree, or "Tunnel Tree", a former "drive-through" giant sequoia in Calaveras Big Trees State Park in Calaveras County, toppled on Sunday afternoon. The tree was hollowed out in the 1880's to allow tourists and their cars to pass through it. Recently only hikers were able to go through the "tunnel". The tree was part of the "Big Trees Trail" at the state park.
A volunteer working at the park on Sunday said the tree went down about 2 pm and "shattered" on impact. The tree was still living and experts were surprised that it fell. Heavy flooding around its roots is believed to have caused its collapse. The giant sequoia's have a shallow root system — the roots only go about two or four feet deep. The trail around the tree was flooded due to rain.
Many people have visited the tree over the years. It was one of the things I had hoped to some day see, but I've missed that opportunity.
To read more about the Pioneer Cabin Tree and Calaveras Big Trees State Park, here is the Wikipedia page.