I really hate to do this to you, but you are going to see something you will never be able to "unsee". It will stick in your memory forever. No matter how much you try… you will always be able to visualize the modified version.
OK, I've warned you…
I'm not sure why holiday themed coffee cups have to be so controversial. The good news is that Starbucks cups are now out of the spotlight. They have been bumped by the McDonald's McCafé holiday cups this year.
At first you would think it was an innocent enough looking design — a pair of white mittens with stars, hearts and snowflakes and the words "Warmest Greetings".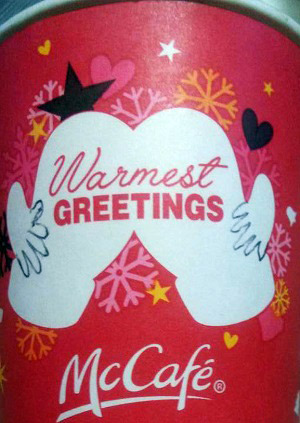 But, when someone grabbed a pen and added two squiggly lines to the thumbs of the mittens, making the thumbs into hands… the graphic transforms into what looks like someone bending over and pulling their butt cheeks apart! You've been mooned!
Now don't blame me. I didn't do the crafty little artwork, but I will guarantee that you will never again see one of those McDonald's McCafé holiday cups and not think about those "warmest greetings" butt cheeks!
You are welcome!