My mother, Gloria, had talked about wanting to walk across the Mackinac Bridge for many years. About 5 or 6 years ago, I had plans to take her up to make the hike across the bridge, but she injured a rib and she couldn't make it. 2017 was the year we finally made it happen!
We started of our journey at midnight on Sunday night. I picked up Mom and my niece, Trisha. (It is Trisha's birthday on September 4th, so it made the day an extra special way for her to celebrate her birthday as well.)
We made the trek north to Mackinaw City in the darkness of the early morning hours. We pulled into town just shortly after 3:00 am. It was a windy ride up, but no rain as of yet.
Once we found a place to park the car, we walked over to the Mackinaw Bakery for an early morning sugar buzz and some "walking energy". For some in the group, it was also a time to have that "wake-up" cup of coffee.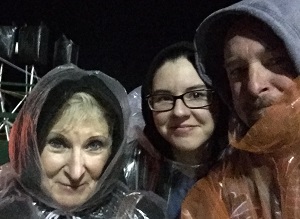 Once we had our pre-walk snack, we headed over to the area where they lined everyone one up to catch the shuttle bus over to St. Ignace to start our Labor Day journey. We were among the very first people to get in line. We had bus ticket numbers 41-43. While we were standing in line for the bus, the sky began to open up — with a few added bolts of lightning to keep things interesting. Fortunately, Mom and I had brought along several rain ponchos, so everyone was able to put one of those on and keep ourselves somewhat dry. The temperatures were still in the 70's, so we were not too uncomfortable standing out in the storm.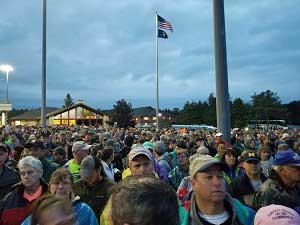 The bus shuttled us across the Mackinac Bridge and dropped us off at the starting point in St. Ignace at about 4:30 am. We were able to get right near the starting gate so that we could be some of the first ones to begin our journey when the opened the gates at 7:00 am. Now we just had to wait with thousands of others — from not only Michigan but beyond — to start our five-mile hike.
The heavy rain, lightning,  and wind continued for awhile. At one point a Michigan State Police motorcycle officer made the journey over the bridge. As he went by, he turned on his speaker and remarked to the waiting crowd: "You haven't lived until you have crossed the Mackinac Bridge in the dark, on a motorcycle, in a thunderstorm!" The lower half of our pants were pretty soaked by the time the rain stopped, but the warm winds continued to blow…so it was only a matter of about 30 minutes and we had dried.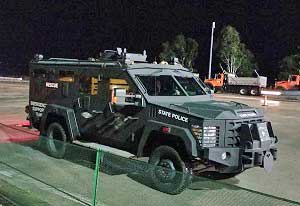 There was an increased security presence this year…from more police officers, to explosive sniffing dogs, to decked out vehicles. Also new this year, traffic was stopped on the bridge during the walk. With the exception of a shuttle bus or occasional police or safety vehicle, you wouldn't see much vehicle traffic as you hiked across the bridge.
At about 6:30 the runners were release to start their run across the bridge. That was followed by a few remarks from Governor Rick Snyder. After the Governor's entourage made their departure, we were released to begin our journey at about 6:50 am. Although the rain had stopped, the wind continued to blow as we made our journey, on foot, from St. Ignance to Mackinaw City. We kept our rain ponchos on as more of a wind breaker — but overall the weather wasn't too bad.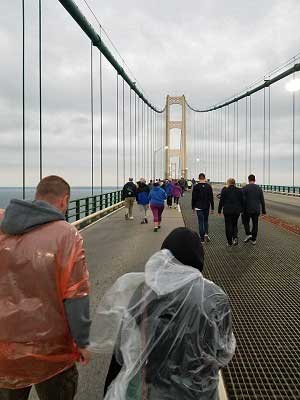 At 74, my Mom was making her first walk across the "Mighty Mac". She kept up a great pace and I think we were more winded than she ever was. She walks several miles every morning, so this was just her "Monday" morning walk…a few hundred miles away from her usual course.
As we walked across the concrete, metal and wire span we stopped to take a few pictures and just view the bridge up close. It takes on a whole different perspective when you are walking across the bridge compared to driving over it. It took us about an hour and 15 minutes to complete the 5 mile walk.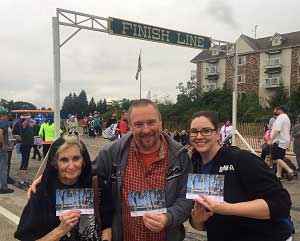 At the end, we all received our certificates that stated we had completed our Labor Day Mackinac Bridge Walk. Mom was such a trooper. She was the least winded of the bunch! I may have a tough time getting out of bed in the morning the next day, but Mom…she will have already been out of bed and on her 5 or 6 mile walk around her neighborhood!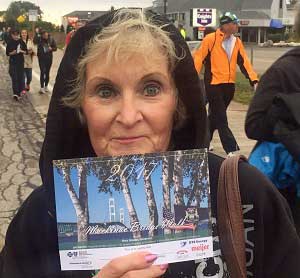 Good job Mom!! Now you can cross "Walking the Mackinac Bridge" off of your Bucket List! What a great way to spend Labor Day together creating such a cool memory…and celebrating Trisha's birthday as well.
(Thanks to Trisha for taking some of the photos!)