Attention Wine Drinkers, Beer Drinkers and Foodies… This coming weekend, November 17th-19th is the 9th Annual Grand Rapids International Wine, Beer & Food Festival at DeVos Place in downtown Grand Rapids!
This is a "don't miss" event for me. More than 18,000 people are expected to enjoy a vast menu of food and beverage this weekend. For me it's a chance to check out foods that I might not have otherwise thought of pairing up with different wines or beers. I always walk away with a few "must try" restaurants or dishes that I've discovered at the Festival, along with sampling a few new adult beverages. It's a 3-day event that exposes you to dozens of area restaurants and over a thousand wine, beer, cider, mead, malt beverage and spirit offerings. There are even complimentary workshops and seminars.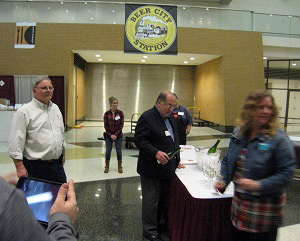 Media Preview…
I was honored to be invited to the Media Preview on Wednesday night. We were treated very well!
We were welcomed to the Festival in the lobby of Devos Place by ShowSpan's Henri Boucher and Dianna Stampfler. They gave us a little background on the history of the Festival and got our evening started with a toast with GR Sparkling Wine from Michigan's L. Mawby Vineyards.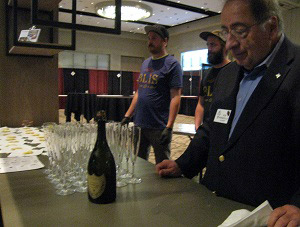 It was then on to the Elite Wine Collection area. Joe Borello of Tasters Guild International gave us a history of Dom Perignon, told us why the tradition of clinking glasses all began, and showed us how to open and pour a bottle of champaign. Then it was time for  more sampling of course. The champagne was paired with caviar from Blis. (I told you they treated us very well!) It is amazing the flavor you can get from foods depending on how your pair it up with other food or drink (and I was slightly handicapped because I have a cold, but it still was wonderful to experience some new tasting opportunities).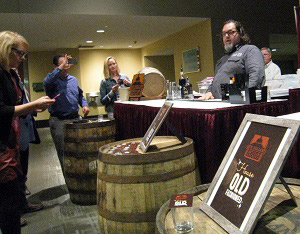 We then moved to a cocktail workshop with Fred Bueltmann from New Holland Artisan Spirits. He showed us how to make an Old Fashioned and told us the reasoning behind each ingredient (and of course more sampling!).
Then we followed the scent of bacon across DeVos Place and journeyed over to the Bacon Pavilion to meet with Chef Chris Perkey from IRON. We  sampled some great bacon dishes and learn about Smithfield Bacon and how to create a Bacon Bar (a great idea for the holidays).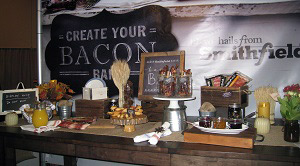 Ben Darcie of Experience Beer then lead beer tasting session in the Beer City Station.
And we wrapped it all up in the RendezBREW area with a Barista demo with A.J. Willet from Ferris Coffee and a dessert sampling from Grand Rapids Cheesecake.
This was just a sampling of some of the wine, beer, food, workshops and pairings that you could take part in this weekend at the Grand Rapids International Wine, Beer & Food Festival. What a great evening of food, drink, and hanging out with some of my media friends!
Returning to the Grand Rapids International Wine, Beer & Food Festival this year are…
Beer City Station: Here is your chance to step into the world of creative craft beers, imported and domestic brews, hard ciders and foods that pair well with both. New products, as well as traditional favorites, will be offered for sampling.
Cider Row: Almost 20 cider producers from Michigan and nationally-known brands will be on hand. Hard cider is among the fastest growing craft beverages on a national scale.
Flavored Malt Beverages: Another sector of the beverage industry with great beverages like hard iced tea; sodas—such as root beer, orange, cherry, lemon and other fruit flavors; seltzer waters and carbonated caffeinated products.
Growers Champagne Flights: Add a little extra class to your glass with an intimate tasting with Bradford Hammerschmidt from Imperial Beverage. These special flights offer champagnes you will not find anywhere else in the Festival. Each of the champagnes will be paired with specially selected cheese and crudités. (Flights offered Saturday at 4 pm and 7 pm only. The cost is $40 per person. Reservations may be made online or on site — space permitting.)
Pairings: Select restaurants partner with distinguished wineries and breweries for special limited-seating Pairings. These gourmet multi-course meals are served on-site in a casual yet intimate "bar top" setting. Tickets are $45-$65 each and may be purchased in advance online or at the Festival on a first-come, first-served basis. This year's restaurants include: Ganders, San Chez, six.one.six, Reds at Thousand Oaks, Vander Mill Cider and Wolfgang Puck's The Kitchen.
Ultimate Dining Opportunities: Chefs from about a dozen of the area's top restaurants prepare and serve small plates of their culinary specialties.
RendezBREW: The Coffee, Cordials and Dessert Café will be open in the Grand Gallery for the duration of the Festival. Start your Festival experience, or make it a nightcap, with unique pairings of coffee, lattes and cocktails crafted for your enjoyment with a variety of cordials, indulgent sweets and other treats.
Seminars & Workshops: Esteemed individuals from the culinary world host complimentary demonstrations on the Meijer Food Stage. Complimentary beverage seminars, held classroom-style in the rooms off the Grand Gallery, give attendees an in-depth look in to the world of wine, beer and spirits. Cocktail workshops are also offered for a unique hands-on experience for those wishing to learn tricks of the trade from top leaders.
But wait, there's more! New this year…
Enhanced Elite Wine Collection: First introduced last year, this feature has matured into its second year (just like a fine wine) and will be hosted by the Tasters Guild — an organization founded in Michigan in 1987 representing now over 30 active chapters throughout the country. The nearly 50 offerings in the Elite Wine Collection have been hand-selected by our consulting sommeliers and importing specialists as the "best of the best" top shelf vintages, chosen from among 1200 assorted wines at the Festival. These high-end wines—like Opus 1, Robert Mondavi Reserve Cabernet Sauvignon, Cakebread Cabernet Sauvignon, and Dom Perignon—require a minimum 10-ticket ($5) tasting fee due to the cost of the product being served. Each of these wines have at least a 90-point value in a recognized wine rating system and are regarded as among the most exclusive wines of the Festival, according to industry experts. No need to invest hundreds of dollars in a full bottle — the Elite Wine Collection allows you the opportunity to sample these wines for a minimal cost.
The GR Mixer blends together award-winning spirits and mixers into craft artisan cocktails, the region's noted mixologist and distillers who will serve up hands-on workshops guaranteed to educate and entertain. Plus, check out the complimentary 15-minute workshops. Here is your chance to beef up your bartending skills just in time for the holidays.
Nearly two dozen craft beverage workshops will be held throughout the weekend, presented by Coppercraft Distilling and New Holland Artisan Spirits. The new craft cocktail concourse workshops are limited to the first 12 people who step up to the bar at the scheduled times.
Bartenders from six-one-six inside the JW Marriott are also planning an exciting "Chopped"-style competition during their Pairing aimed to perfectly match cocktails with prix fixe menu.
Once again, the Festival is the culmination of Cocktail Week Grand Rapids, which this year runs Nov. 9-20 and is presented by Experience Grand Rapids.
You want to go don't you!? Tickets for the Festival are $15 for Thursday (and for advanced Friday and Saturday ticket sales) and $20 for Friday at Saturday at the door. A 3-Day Pass is available for $40 and allows admission each day of the Festival and is intended for those who want to get the most out of their tasting experience. Online sales end Thursday, Nov. 17 at 5 pm (Box Office sales for the pass end at 10 pm on Thursday, Nov. 17). Food and beverage samples require varied amounts of sampling tickets of 50-cent denominations (sold at the Festival). It is suggested that you start with at least $20 worth of tasting tickets.
Please keep in mind Attendance at this festival is for those 21 years of age and older. ID is required for admittance.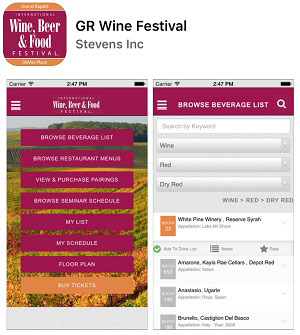 Plus, for your smartphone… a Festival App is available in both the Android and Apple systems. The free app allows you to check out beverage lists (including notes, ratings and personalized lists), workshops/seminars, restaurant menus and also purchase admission and Pairing tickets. Download it now and plan your visit, as well as use it to navigate the Festival.
If you would like to see the Festival Program in advance, click here.
I'll see you there!!