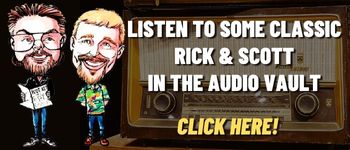 A quick look at Today in History, check out some Celebrity Birthdays, and find out what Days of the Year to celebrate.
TODAY IN HISTORY:
1833 – Charles Gaylor patented the fireproof safe.
1861 – The Civil War began as Confederate soldiers fired on Fort Sumter in Charleston, South Carolina's harbor.
1877 – A catcher's mask was used in a baseball game for the first time by James Alexander Tyng.
1892 – Voters in Lockport, NY, became the first in the U.S. to use voting machines.
1892 – A patent was issued for the first portable typewriter.
1934 – The strongest surface wind gust in the world at 231 mph, was measured on the summit of Mount Washington, NH. It is still the highest wind ever recorded in the U.S..
1938 – The first U.S. law requiring a medical test for a marriage license was enacted in New York.
1945 – In New York, NY, the organization of the first eye bank, the Eye Bank for Sight Restoration, was announced.
1945 – President Franklin D. Roosevelt died in Warm Spring, GA of a cerebral hemorrhage at the age of 63. Harry S. Truman was sworn in as the 33rd President.
1954 – Bill Haley & His Comets recorded the song "Rock Around the Clock" in New York, NY. Unsuccessful at first, the recording would help launch the rock and roll revolution the following year.
1955 – The University of Michigan Polio Vaccine Evaluation Center announced that the polio vaccine of Dr. Jonas Salk was "safe, effective and potent".
1961 – Soviet Yuri Alexeyevich Gagarin became first man to orbit the Earth.
1966 – Jan Berry (Jan & Dean) crashed his car near "Dead Man's Curve" in Beverly Hills, CA. He suffered severe head injuries and was in a coma for nearly two months.
1981 – The Space Shuttle Columbia (STS-1) blasted off from Cape Canaveral, FL, on its first test flight.
1983 – Harold Washington was elected the first black mayor of Chicago, IL.
1984 – Astronauts aboard the Space Shuttle Challenger made the first satellite repair in orbit by returning the Solar Max satellite to space.
1985 – U.S. Senator Jake Garn of Utah became the first (but not the last) Senator to fly in space as the Shuttle Discovery lifted off from Cape Canaveral, FL.
1985 – Federal inspectors declared that four animals of the Ringling Brothers and Barnum & Bailey Circus were not unicorns. They were goats with horns that had been surgically implanted.
1985 – USA for Africa's "We Are the World" album is released.
1987 – Texaco filed Chapter 11 bankruptcy after it failed to settle a legal dispute with Pennzoil Co.
1988 – Sonny Bono was elected mayor of Palm Springs, CA.
1988 – Harvard University won a patent for a genetically altered mouse. It was the first patent for a life form.
1990 – James Brown was released from a South Carolina jail on work furlough after serving 15 months of a six-year sentence for aggravated assault.
1992 – The Euro Disney Resort officially opened with its theme park Euro Disneyland in Marne-La-Vallee, France. The resort and its park's name were subsequently changed to Disneyland Paris.
1994 – The West Michigan Whitecaps baseball team played their first game at Old Kent Park (now LMCU Ballpark) in Comstock Park, MI.
1999 – District Judge Susan Webber Wright found President Bill Clinton in contempt of court for giving "intentionally false statements" about his relationship with former White House intern Monica Lewinsky in connection with a lawsuit filed by Paula Jones.
2000 – The dangerous stunt-filled television show "Jackass" debuted on MTV.
2002 – Ozzy Osbourne received a star on the Hollywood Walk of Fame.
2006 – West Michigan radio legend Bruce Grant did his final interview on "The Rick and Scott Show" on WOOD Radio. Read more and listen to the interview here.
2007 – The U.S. Post Office started to sell the "forever" stamp.
2007 – After charges against three former Duke lacrosse players were officially dropped, Durham, NC district attorney Mike Nifong issued an apology to the players for their wrongful prosecution.
2009 – Navy Seal snipers killed three Somali pirates to end a five day standoff on an American shipping vessel in the Indian Ocean. The incident was later dramatized in the movie "Captain Phillips", starring Tom Hanks.
2012 – The game "Candy Crush Saga" was released on Facebook.
BIRTHDAYS:
Herbie Hancock – 83 years old (1940) – Jazz/fusion musician, composer
John Kay – 79 years old (1944) – Singer, guitarist (Steppenwolf)
Ed O'Neill – 77 years old (1946) – Actor (TV's "Modern Family", "Married….with Children", movies "Wayne's World")
Alex Briley – 76 years old (1947) – Singer (The Village People)
Dan Lauria – 76 years old (1947) – Actor (TV's "The Wonder Years", "Stakeout")
David Letterman – 76 years old (1947) – TV host, comedian (TV's "Late Night With David Letterman")
Scott Turow – 74 years old (1949) – Author ("Presumed Innocent", "The Burden of Proof")
Pat Travers – 69 years old (1954) – Singer
Andy Garcia – 67 years old (1956) – Actor ("When a Man Loves a Woman", "The Untouchables", "The Godfather: Part 3", "Internal Affairs", "Oceans 11", "Oceans 12")
Suzzanne Douglas – 66 years old (1957) – Actress (TV's "The Parent 'Hood", movies "Tap", "How Stella Got Her Groove Back", "Jason's Lyric", "The Inkwell")
Vince Gill – 66 years old (1957) – Musician, singer
Art Alexakis – 61 years old (1962) – Singer, guitarist (Everclear)
Amy Ray – 59 years old (1964) – Singer, musician (Indigo Girls)
Nicholas Brendon – 52 years old (1971) – Actor (TV's "Buffy the Vampire Slayer", "Criminal Minds")
Shannen Doherty – 52 years old (1971) – Actress (TV's "Beverly Hills 90210", "Little House on the Prairie", "Charmed", "Our House", "Dancing With the Stars: Season 10")
Guy Berryman – 45 years old (1978) – Bassist (Coldplay)
Claire Danes – 44 years old (1979) – Actress (TV's "Little Women", "Law & Order", "My So-Called Life", "Homeland", movies "Shopgirl", "Brokedown Palace", "Mod Squad", "Romeo and Juliet")
Jennifer Morrison – 44 years old (1979) – Actress (TV's "House", "Once Upon a Time")
Brooklyn Decker – 36 years old (1987) – Model, actress ("Just Go with It", "Battleship", "What to Expect When You're Expecting")
Saoirse Ronan – 29 years old (1994) – Actress ("Atonement," "The 16 Lovely Bones", "Brooklyn", "The Grand Budapest Hotel", "The Host", "Hanna")
TODAY IS:
International Day of Street Children
International Day for Human Space Flight
National Grilled Cheese Sandwich Day
For additional information check out websites like: www.on-this-day.com, www.born-today.com, www.famousbirthdays.com, www.daysoftheyear.com, and www.nationaldaycalendar.com.