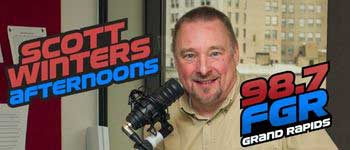 A quick look at Today in History, check out some Celebrity Birthdays, and find out what Days of the Year to celebrate.
TODAY IN HISTORY:
1818 – The U.S. Senate ratified Rush-Bagot amendment to form an unarmed U.S.-Canada border.
1900 – The first book of postage stamps was issued. The two-cent stamps were available in books of 12, 24 and 48 stamps.
1905 – Andrew Carnegie donated $10,000,000 of personal money to set up the Carnegie Foundation for the Advancement of Teaching.
1922 – Annie Oakley shot 100 clay targets in a row, to set a women's record.
1940 – The first no-hit, no-run game to be thrown on an opening day of the major league baseball season was earned by Bob Feller. The Cleveland Indians beat the Chicago White Sox 1-0.
1943 – In Basel, Switzerland, chemist Albert Hoffman accidentally discovered the the hallucinogenic effects of LSD-25 while working on the medicinal value of lysergic acid.
1947 – The Zoomar lens, invented by Dr. Frank Back, was demonstrated in New York, NY. It was the first lens to exhibit zooming effects.
1962 – Walter Cronkite began anchoring TV's "The CBS Evening News".
1966 – Sherman Poppen of Muskegon, MI was issued a patent for a "surf-type snow ski". He called the sport toy a "snurfer". He sold the idea to Brunswick Corp and it was sold beginning Christmas of 1966. It is considered to be the original snowboard.
1968 – The Pentagon announced that troops would begin coming home from Vietnam.
1968 – Major league baseball's longest night game was played when the Houston Astros defeated the New York Mets 1-0. The 24 innings took six hours, six minutes to play.
1972 – Apollo 16 blasted off from Cape Canaveral, FL, on a voyage to the Moon. It was the fifth manned Moon landing.
1972 – Two giants pandas, named Ling-Ling and Hsing-Hsing, arrived in the U.S. from China. They would reside at the National Zoo in Washington, DC.
1985 – Mickey Mantle was reinstated after being banned from baseball for several years.
1987 – The Federal Communications Commission (FCC) sternly warned U.S. radio stations to watch the use of indecent language on the airwaves.
1987 – The U.S. Patent Office began allowing the patenting of new animals created by genetic engineering.
1990 – Dr. Jack Kevorkian participated in his first assisted suicide.
1993 – Two of the four Los Angeles, CA police officers charged with violating Rodney King's rights are convicted. The other two are acquitted.
1994 – Minnie Pearl and her $1.98 hat entered the National Comedy Hall of Fame. She was the very first female inductee.
1999 – Wayne Gretzky announced his retirement from the National Hockey League.
2001 – A British TV game show called "You Are the Weakest Link" debuted in the U.S.
2007 – In Blacksburg, VA, a student opens fire on the campus of Virginia Tech University, killing 32 and injuring at least 28 people before committing suicide. The gunman is later identified as Cho SeungHui, a student at the school.
BIRTHDAYS:
Joseph Alois Ratzinger – 95 years old (1927) – Pope Benedict XVI (2005-2013)
Bobby Vinton – 87 years old (1935) – Singer ("Blue Velvet")
Kareem Abdul-Jabbar – 75 years old (1947) – Basketball player, actor ("Airplane!")
Bill Belichick – 70 years old (1952) – NFL Coach (New England Patriots)
Peter Garrett – 69 years old (1953) – Singer (Midnight Oil)
Jay O. Sanders – 69 years old (1953) – Actor ("The Day After Tomorrow", "Green Lantern", "Glory", "JFK", "Angels in the Outfield", "Half Nelson", "Revolutionary Road")
Ellen Barkin – 68 years old (1954) – Actress ("Eddie and the Cruisers", "Tender Mercies", "Sea of Love", "Ocean's 13", "This Boy's Life", TV's "The New Normal")
Jimmy Osmond – 59 years old (1963) – Singer (The Osmonds), the youngest Osmond
David Pirner – 58 years old (1964) – Lead Vocalist (Soul Asylum)
Jon Cryer – 57 years old (1965) – Actor ("Superman 4: The Quest for Peace", "Pretty in Pink", TV's "Two and a Half Men")
Martin Lawrence – 57 years old (1965) – Actor, comedian (TV's "Martin", movies "Death at a Funeral", "Wild Hogs", "National Security", "Bad Boys", "Big Momma's House" and sequels)
Peter Billingsley – 51 years old (1971) – Actor (Played Ralphie in "A Christmas Story")
Lukas Haas – 46 years old (1976) – Actor ("Lady in White", "Solarbabies", "Music Box")
TODAY IS:
National Healthcare Decisions Day
National Wear Your Pajamas to Work Day
For additional information check out websites like: www.on-this-day.com, www.born-today.com, www.famousbirthdays.com, www.daysoftheyear.com, and www.nationaldaycalendar.com.