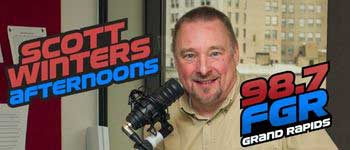 A quick look at Today in History, check out some Celebrity Birthdays, and find out what Days of the Year to celebrate.
TODAY IN HISTORY:
1833 – A patent was granted for first soda fountain.
1889 – The Edison General Electric Company was organized.
1897 – William Price became the first to be named White House news reporter.
1941 – Detroit Tank sent their first unit to the U.S. Army. By the end of World War II, the plant had built 22,000 tanks.
1953 – Winston Churchill was knighted by Queen Elizabeth II.
1961 – Sandy Koufax, of the Los Angeles Dodgers, struck out 18 batters becoming the first major-league pitcher to do so on two different occasions.
1961 – President John F. Kennedy accepted "sole responsibility" following Bay of Pigs invasion of Cuba.
1962 – MIT sent a TV signal by satellite for the first time.
1973 – Albert Sabin reported that herpes viruses were factors in nine kinds of cancer.
1981 – IBM introduced the first personal computer.
1990 – The Space Shuttle Discovery blasted off from Cape Canaveral, FL. It was carrying the $1.5 billion Hubble Space Telescope.
1996 – Margot Kidder was placed in a psychiatric ward after being found dirty, dazed, and fearful in a stranger's backyard in Glendale, CA.
1998 – ABC confirmed that it was canceling "Ellen", the first TV series to feature an openly gay lead character.
2005 – Cardinal Joseph Ratzinger was inaugurated as the 265th Pope of the Roman Catholic Church taking the name Pope Benedict XVI.
2007 – Sheryl Crow called for a ban on using too much toilet paper in order to help the environment. The singer suggested using "only one square per restroom visit, except, of course, on those pesky occasions where two or three could be required".
BIRTHDAYS:
Shirley MacLaine – 88 years old (1934) – Actress ("Terms of Endearment", "The Turning Point", "Irma la Douce", "The Apartment", "Some Came Running", "Bernie", "Being There", "Valentine's Day", "Coco Chanel", "Bewitched", "Rumor Has It", TV's "Shirley's World", "Downton Abbey")
Barbra Streisand – 80 years old (1942) – Singer, actress ("Funny Girl", "Meet the Fockers")
Richard Sterban – 79 years old (1943) – Singer (The Oak Ridge Boys)
Doug Clifford – 77 years old (1945) – Drummer (Creedence Clearwater Revival)
Bob Lunn – 77 years old (1945) – Golfer
Eric Bogosian – 69 years old (1953) – Actor ("Talk Radio", "Wonderland")
Jack Blades – 68 years old (1954) – Bass guitarist (Night Ranger, Damn Yankees)
Michael O'Keefe – 67 years old (1955) – Actor ("Caddyshack", "The Great Santini")
Boris Williams – 65 years old (1957) – Drummer (The Cure)
Glenn Morshower – 63 years old (1959) – Actor (TV's "24")
Billy Gould – 59 years old (1963) – Bass guitarist (Faith No More)
Cedric the Entertainer – 58 years old (1964) – Actor, comedian ("The Honeymooners", "Be Cool", "Man of the House", the "Barbershop" movies, TV's "Steve Harvey Show")
Djimon Hounsou – 58 years old (1964) – Actor ("Blood Diamond", "In America", "Beauty Shop", "Gladiator", "Amistad")
Omar Vizquel – 55 years old (1967) – Baseball player, coach (Detroit Tigers 2014-2017)
Melinda Clarke – 53 years old (1969) – Actress (TV's "The OC")
Brian Marshall – 49 years old (1973) – Bass guitarist (Creed)
Derek Luke – 48 years old (1974) – Actor ("Antwone Fisher", "Biker Boyz", "Glory Road")
Eric Balfour – 45 years old (1977) – Actor (TV's "Six Feet Under", "24")
Rebecca Mader – 45 years old (1977) – Actress (TV's "All My Children", "Lost", "Justice")
Danny Gokey – 42 years old (1980) – Singer (3rd place finished on TV's "The American Idol: Season 8")
Austin Nichols – 42 years old (1980) – Actor (TV's "One Tree Hill", movies "The Day After Tomorrow", "Wimbledon"). Born in Ann Arbor, MI.
Kelly Clarkson – 40 years old (1982) – Singer (Finished first in the first season of TV's "American Idol")
TODAY IS:
National Pigs in a Blanket Day
For additional information check out websites like: www.on-this-day.com, www.born-today.com, www.famousbirthdays.com, www.daysoftheyear.com, and www.nationaldaycalendar.com.