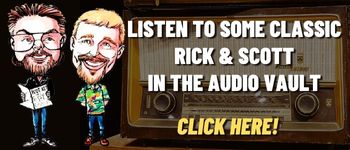 A quick look at Today in History, check out some Celebrity Birthdays, and find out what Days of the Year to celebrate.
TODAY IN HISTORY:
1684 – A patent was granted for the thimble.
1846 – The Mexican-American War ignited as a result of disputes over claims to Texas boundaries. The outcome of the war fixed Texas' southern boundary at the Rio Grande River.
1898 – The U.S. declared war on Spain. Spain had declared war on the U.S. the day before.
1901 – The Detroit Tigers played their first game at home as a major league team against the Milwaukee Brewers at Bennett Park.
1901 – New York became the first state to require license plates for cars. The fee was $1.
1928 – A seeing eye dog was used for the first time. Buddy, a German Shepherd, became Morris Frank's companion.
1940 – W2XBS (now WCBS-TV) in New York, NY, presented the first circus on TV.
1953 – U.S. Senator Wayne Morse ended the longest speech in Senate history. The speech on the Offshore Oil Bill lasted 22 hours and 26 minutes.
1953 – Dr. James D. Watson and Dr. Francis H.C. Crick suggested the double helix structure of DNA.
1954 – The first practical solar cell is publicly demonstrated by Bell Telephone Laboratories in New York, NY.
1959 – St. Lawrence Seaway opened to shipping. The water way connects the Great Lakes and the Atlantic Ocean.
1961 – Robert Noyce was granted a patent for the integrated circuit.
1962 – The U.S. spacecraft, Ranger, crashed on the Moon.
1963 – Amway held their first International Sales Convention.
1966 – Jack Valenti, an aide to President Lyndon Johnson, was hired as the head of the Motion Picture Association of America. A position he held for 38 years. While there, he created movie ratings.
1976 – It was rollercoaster spring weather in West Michigan. After four days with temperatures in the 80s from the 15th to the 18th, temperatures dropped back into the 30s with 3″ of heavy wet snow falling in Grand Rapids, MI.
1982 – Jane Fonda released her first workout video.
1983 – The Pioneer 10 spacecraft crossed Pluto's orbit, speeding on its endless voyage through the Milky Way.
1988 – Sonny Bono was elected mayor of Palm Springs, CA. Six years later, in 1994 he was elected to Congress. He died in a skiing accident in 1997.
1990 – The U.S. Hubble Space Telescope was placed into Earth's orbit. It was released by the Space Shuttle Discovery.
1992 – The final episodes of TV's "Growing Pains" and "Who's the Boss" aired on ABC.
1998 – First Lady Hillary Rodham Clinton was questioned by Whitewater prosecutors on videotape about her work as a private lawyer for the failed savings and loan at the center of the investigation.
2000 – In a move to preserve public areas, the National Park Service prohibited the recreational use of snowmobiles in nearly all national parks, monuments and recreational areas.
2003 – Southwest Airlines fired two pilots for "inappropriate conduct" after they removed most of their clothes in the cockpit of a Boeing 737. The pilots claimed they spilled coffee on their uniforms. The Federal Aviation Administration said that rules forbid behavior that distracts crew members, but there was no specific ban on flying naked.
2005 – "Runaway Bride" Jennifer Wilbanks turned up in Albuquerque, NM after claiming she had been abducted.
2007 – The Dow Jones industrial average closed above 13,000 for the first time.
2014 – The Flint, MI water crisis began when officials switched the city's water supply to the Flint River, leading to lead and bacteria contamination.
2018 – Ford Motor Company announced that in the near future they would be condensing their line of U.S. car models to just the Mustang and the forthcoming Focus Active. The company would still manufacture a range of SUVs and trucks, including the Escape, Explorer, Bronco, and F-150.
2019 – Microsoft became the third company in the United States to be listed with a market value of $1 trillion, after Apple and Amazon.
BIRTHDAYS:
Al Pacino – 83 years old (1940) – Actor ("Scent of a Woman", "Glengarry Glen Ross", "Dick Tracy", "And Justice for All", "Dog Day Afternoon", "The Godfather", "The Godfather 2, "Serpico")
Stu Cook – 78 years old (1945) – Bass guitarist (Creedence Clearwater Revival)
Bjorn Ulvaeus – 78 years old (1945) – Musician (ABBA)
Talia Shire – 77 years old (1946) – Actress ("The Godfather", "Rocky" movies)
Jeffrey DeMunn – 76 years old (1947) – Actor ("The Green Mile", "The Shawshank Redemption," TV's "The Walking Dead")
Steve Ferrone – 73 years old (1950) – Drummer (Tom Petty and the Heartbreakers, Duran Duran, Average White Band)
Hank Azaria – 59 years old (1964) – Actor (provides numerous voices for TV's "The Simpsons", "Mad About You", movie "Godzilla")
Andy Bell – 59 years old (1964) – Singer (Erasure)
Eric Avery – 58 years old (1965) – Bass guitarist (Jane's Addiction)
James Barbour – 57 years old (1966) – Actor, singer ("A Tale of Two Cities")
Jane Clayson Johnson – 56 years old (1967) – Journalist (TV's "Good Morning America", "World News Tonight")
Joe Buck – 54 years old (1969) – Play-by-play announcer
Renée Zellweger – 54 years old (1969) – Actress ("Bridget Jones's Diary", "Chicago", "Cold Mountain", "New in Town", "Down With Love", "Miss Potter", "Cinderella Man", "Me Myself and Irene", "Nurse Betty", "One True Thing", "Jerry Maguire")
Jason Lee – 53 years old (1970) – Actor (TV's "My Name is Earl", "Memphis Beat", movies "Vanilla Sky", "Chasing Amy", "Mallrats", "Almost Famous", "Dogma", "Jay & Silent Bob Strike Back")
Emily Bergl – 48 years old (1975) – Actress ("The Rage: Carrie 2")
Sara Paxton – 35 years old (1988) – Actress (TV's "Darcy's Wild Life", "Summerland", movies "Aquamarine", "Return to Halloweentown", "Sydney White", "Superhero Movie", "The Last House on the Left", "The Innkeepers"
TODAY IS:
National Financial Awareness Day
For additional information check out websites like: www.on-this-day.com, www.born-today.com, www.famousbirthdays.com, www.daysoftheyear.com, and www.nationaldaycalendar.com.