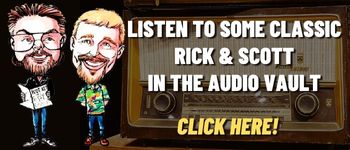 A quick look at Today in History, check out some Celebrity Birthdays, and find out what Days of the Year to celebrate.
TODAY IN HISTORY:
 4977 B.C. – German Astronomer Johannes Kepler claimed that the world was created on this date.
1880 – Francis Clarke and M.G. Foster patented the electrical hearing aid.
1897 – Grant's Tomb was dedicated.
1937 – The first Social Security checks were issued.
1938 – A colored baseball was used for the first time in any baseball game. The ball was yellow and was used between Columbia and Fordham Universities in New York, NY.
1953 – The U.S. offered $50,000, and political asylum, to any Communist pilot that delivered a MIG jet.
1956 – Heavyweight boxing champion Rocky Marciano retired with a perfect record of 49-0.
1960 – The submarine Tullibee was launched from Groton, CT. It was the first sub to be equipped with closed-circuit television.
1961 – ABC's "Wild World of Sports" premiered on TV.
1965 – "Pampers" were patented by R.C. Duncan.
1971 – Curt Flood, the baseball player whose court case resulted in free agency in all sports, quit the Washington Senators and moved to Denmark.
1973 – Opryland opened in Nashville, TN.
1978 – Former President Richard Nixon aide John D. Ehrlichman was released from an Arizona prison after serving 18 months for Watergate-related crimes.
1980 – Studio 54 in New York, NY shut down due to various questionable activities three years and a day after opening its doors.
1981 – Xerox PARC introduced the computer mouse.
1982 – The trial of John W. Hinckley Jr. began in Washington, DC. Hinckley was later acquitted by reason of insanity for the shooting of President Ronald Reagan and three others.
1983 – Nolan Ryan, of the Houston Astros, broke a 55-year-old major league baseball record when he struck out his 3,509th batter of his career.
1985 – "We Are the World", an album by the all-star assembly of artists calling itself USA for Africa, hit #1 in Billboard. It remained in that spot for three weeks.
1986 – Captain Midnight (John R. MacDougall) interrupted HBO.
2005 – The A380, the world's largest jetliner, completed its maiden flight. The passenger capability was 840.
2005 – President George Bush signed a law that allowed for up to three years in prison for anyone that pirated music or films on the Internet.
2005 – Former American Idol hopeful Corey Clark claimed he and judge Paula Abdul had sex in the guest room of her house while he was still a contestant on the show.
2006 – In New York, NY, construction began on the 1,776-foot Freedom Towner on the site of the former World Trade Center.
2011 – From 8 am on April 27th to 8 am on April 28th, the United States saw more tornadoes in a 24 hour period than in any other period in history.
2014 – Popes John XXIII and John Paul II were declared saints in the first papal canonization since 1954.
2020 – The Blue Angels flew over Detroit, MI to thank essential workers who worked so hard during COVID-19.
2020 – The U.S. Defense Department declassified and released videos of unidentified "aerial phenoma" from 2004 and 2015.
BIRTHDAYS:
Anouk Aimee – 91 years old (1932) – Actress ("La Dolce Vita", "Dr. Bethune")
Ann Peebles – 76 years old (1947) – Singer ("I Can't Stand the Rain")
Kate Pierson – 75 years old (1948) – Singer (B-52's)
Douglas Sheehan – 74 years old (1949) – Actor (TV's "Knots Landing", "General Hospital", "Sabrina, the Teenage Witch")
Ace Frehley – 72 years old (1951) – Guitarist (KISS)
Sheena Easton – 64 years old (1959) – Singer ("Morning Train (Nine to Five)")
Marco Pirroni – 64 years old (1959) – Musician (Siouxsie & the Banshees, Adam & the Ants)
James Le Gros – 61 years old (1962) – Actor ("Drugstore Cowboy", "Living in Oblivion", TV's "Sleeper Cell", "Law & Order", "Ally McBeal")
Sally Hawkins – 47 years old (1976) – Actress ("Blue Jasmine", "Jane Eyre", "An Education", "Happy-Go-Lucky")
William Moseley – 36 years old (1987) – Actor ("The Chronicles of Narnia" movies, TV's "The Royals")
TODAY IS:
National Poem in Your Pocket Day
National Take Our Daughters and Sons to Work Day
National Teach Your Child to Save Day
For additional information check out websites like: www.on-this-day.com, www.born-today.com, www.famousbirthdays.com, www.daysoftheyear.com, and www.nationaldaycalendar.com.