ArtPrize 8 is now in the history books. The final winners were announced on Friday, October 7th, 2016. Overall, I would pretty much agree with at least the public vote. The juried winners usually always leaving me scratching my head!
One of my favorites this year — among many — was a 3D sculpture piece called "Embrace". It was on display at the DeVos Place Convention Center on the second floor.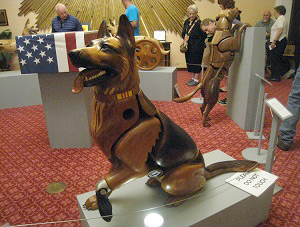 Now please don't get me wrong. I think the winner of the public vote for the 3D Sculpture, "Wounded Warrior Dogs", was deserving of a first place finish, not only in it's 3D category, but overall as well. A big congratulations to James Mellick from Milford Center, OH.
The juried winner of the 3D category was "Excavations" by William Lamson of New York, NY. I didn't get a chance to see that piece, so I will hold back on making any comments on that piece. (To see a list of all the winners, check out the ArtPrize website.)
But back to "Embrace". The sculptor, Marc Sijan is from Milawukee, WI. When I first saw his entry I wasn't sure what to think. I remember standing in the crowd and watching the guy and gal in their hugging embrace. The piece was so realistic. I overheard one elderly lady say she thought they were actually real people sitting there. I have to admit, I had to watch closely to see if they were breathing or not.
I personally have very little artistic ability. However, the talent that Mr. Sijan demonstrates with this very life-life sculpture, is beyond the level of what most people could even dream to do.
But why didn't it make it into at least the top five? I have my theory…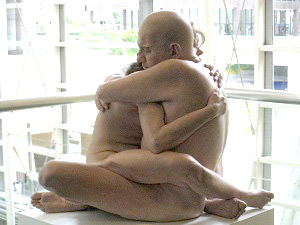 Sijan has done other life-like pieces. You can see them on his website at www.marcsijan.com. I wonder if one of his other pieces might have done better in the ArtPrize competition. Why do I say that? I think the fact that the subject of the sculpture was two naked people turned many people off.
Now I'm no prude. (Keep in mine I've actually done radio broadcasts from a nudist resort!) Unfortunately I think there are some here in west Michigan that are just a tad bit too conservative.
On my second visit to ArtPrize (and also my second visit to see "Embrace") I overheard and man and woman talking about how the piece was almost pornographic. Really? "Pornographic"? Even though the sculpture featured two nude individuals, there was no way to see anything you shouldn't be seeing. You can see more revealing things at a west Michigan beach in the summer.
Obviously the artist had great placement in the Convention Center. Many people walked past and admired the piece, but it just didn't get the votes. I would hate to think that just because his subjects were sans clothing, that people refrained from voting on the piece.
I would be curious to know your thoughts. What held this piece back from being in at least the top 5 in the 3D category? Where there just too many other good pieces? Or do you think it was something else? I'm sticking with my nudity theory, but please leave your comments below.
I sure hope Mr. Sijan returns again next year. I would hate to see him discouraged by this year's results.