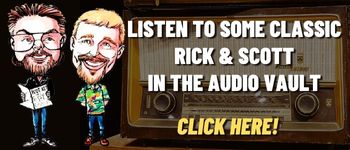 A quick look at Today in History, check out some Celebrity Birthdays, and find out what Days of the Year to celebrate.
TODAY IN HISTORY:
1848 – The Oregon Territory was established.
1885 – Rust proof paint was patented in Japan.
1888 – Thomas Edison's phonograph was introduced in London, England.
1888 – A patent for the electric meter was issued to Oliver B. Shallenberger.
1896 – Gold was discovered in Canada's Yukon Territory. Within a year more than 30,000 people rushed to the area looking for gold.
1919 – A state law in Michigan went into effect requiring all drivers of motor vehicles to carry licenses while driving.
1935 – President Franklin D. Roosevelt signed the Social Security Act, creating a government pension system for the retired.
1941 – Congress appropriated the funds to construct the Pentagon (approximately $83 million). The building was the new home of the U.S. War Department.
1945 – It was announced, by President Harry Truman, that Japan had surrendered unconditionally. The surrender ended World War II.
1953 – The whiffle ball was invented.
1959 – Founding and first official meeting of the American Football League.
1962 – A U.S. mail truck was held up in Plymouth, MA. The robbers got away with more that $1.5 million dollars.
1975 – "The Rocky Horror Picture Show" opened at the USA Theatre in Los Angeles, CA. It went on to become the longest-running release in film history.
1980 – People for Ethical Treatment of Animals (PETA) was incorporated.
1985 – Michael Jackson outbid Paul McCartney and Yoko Ono for the ATV music-publishing catalog. Jackson paid $47.5 million for the rights to more than 250 songs written by John Lennon and Paul McCartney.
1992 – Wayne Newton filed for Chapter 11 bankruptcy protection.
1995 – Shannon Faulkner became the first female cadet in the history of The Citadel, South Carolina's state military college. She quit the school less than a week later.
1998 – A U.S. federal appeals court in Richmond, VA, ruled that the Food and Drug Administration had no authority to regulate tobacco. The FDA had established rules to make it harder for minors to buy cigarettes.
2000 – Valujet was ordered to pay $11 million in fines and restitution for hazardous waste violations in the crash that killed 110 people in 1996.
2000 – It was announced that Charles Grodin would be joining CBS' "60 Minutes II" as a commentator.
2003 – A widescale power blackout affected the northeast United States and Canada. It was out for almost two weeks in some areas. Read more about it here.
2007 – Apple announced that the entire catalog of John Lennon would be available at iTunes Music Store.
2015 – In Havana, Cuba, the U.S. Embassy was re-opened after being closed 54 years earlier.
2017 – The Corner Bar, in Rockford, MI, burned for hours after a gas meter exploded. The building was pretty much destroyed. They have since rebuilt and are open for business once again.
BIRTHDAYS:
David Crosby – 81 years old (1941) – Singer, musician (Crosby, Stills and Nash, The Byrds)
Steve Martin – 77 years old (1945) – Actor, comedian ("All of Me", "Roxanne", "Parenthood", "Father of the Bride", "The Jerk", "Dead Men Don't Wear Plaid", TV's "Saturday Night Live")
Antonio Fargas – 76 years old (1946) – Actor ("Putney Swope", Played Huggy Bear on TV's "Starsky & Hutch")
Larry Graham – 76 years old (1946) – Bass guitarist (Sly and the Family Stone)
Susan St. James – 76 years old (1946) – Actress (TV's "Kate and Allie", "McMillan and Wife", "The Name of the Game", "It Takes a Thief")
Danielle Steel – 75 years old (1947) – Author (Fourth-best selling author of all time)
Gary Larson – 72 years old (1950) – Creator of "The Far Side" Comics
Jackée Harry – 66 years old (1956) – TV actress ("Sister Sister", "The Royal Family", "227")
Marcia Gay Harden – 63 years old (1959) – Actress ("Pollock", "Mystic River", "Into the Wild", "The Mist", "The First Wives Club", "Bad News Bears", TV's "The Newsroom")
"Magic" Johnson – 63 years old (1959) – Basketball player (Michigan State 1977-1979). Born in Lansing, MI.
Halle Berry – 56 years old (1966) – Actress ("Monster's Ball", "Swordfish", "The Wedding", "Why Do Fools Fall in Love", "Die Another Day", "X-Men")
Catherine Bell – 54 years old (1968) – Actress (TV's "Army Wives," "JAG")
Mila Kunis – 39 years old (1983) – Actress ("Ted", "Black Swan", "Forgetting Sarah Marshall". TV's "That 70's Show", "Family Guy")
TODAY IS:
For additional information check out websites like: www.on-this-day.com, www.born-today.com, www.famousbirthdays.com, www.daysoftheyear.com, and www.nationaldaycalendar.com.