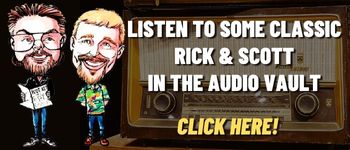 A quick look at Today in History, check out some Celebrity Birthdays, and find out what Days of the Year to celebrate.
TODAY IN HISTORY:
1812 – American General William Hull surrendered Michigan and Fort Detroit to the British Army without a fight during the War of 1812.
1842 – In New York City, NY, the U.S. government took over operations of the City Despatch Post. It became the first congressionally authorized local postal delivery.
1858 – A telegraphed message from Britain's Queen Victoria to U.S. President James Buchanan was transmitted over a recently laid trans-Atlantic cable. A weak signal forced a shutdown of the service in a few weeks.
1861 – President Abraham Lincoln prohibited the Union states from trading with the Confederate states.
1923 – The eight hour workday started at Carnegie Steel Corporation.
1930 – The first color sound cartoon, Called "Fiddlesticks", was made by Ub Iwerks.
1954 – The first issue of "Sports Illustrated" was published by Time, Inc.
1960 – Joseph Kittinger parachuted from a balloon over New Mexico at 102,800 feet, setting three records that held until 2012: High-altitude jump, free fall, and highest speed by a human without an aircraft.
1962 – Pete Best was let go from the Beatles, to be replaced two days later by Ringo Starr.
1977 – Elvis Presley died of heart failure at the age of 42 at his Graceland Mansion in Memphis, TN. His girlfriend Ginger Alden discovered his body on a bathroom floor. An autopsy found 14 drugs in his system.
1984 – The U.S. Jaycees voted to admit women to full membership in the organization.
1987 – Northwest Airlines Flight 255 crashed after take off in Detroit, MI, killing 154 people on board and two people on the ground. The only survivor was a 4 year old girl.
1999 – The game show "Who Wants to be a Millionaire", with host Regis Philbin, debuted on TV.
2005 – Madonna starts out celebrating her 47th birthday riding a horse at her British estate. She was thrown from the horse and ended up in the hospital with three cracked ribs, a broken collarbone and a broken hand.
2008 – The Trump International Hotel and Tower in Chicago, IL, was topped off at 1,389 feet, at the time becoming the world's highest residence above ground level.
2013 – The power went out at Google, causing all of their online services to crash for about five minutes. During the outage, internet traffic worldwide plummeted by about 40%.
2020 – The enormous August Complex fire in California was reported. It burned more than one million acres of land.
BIRTHDAYS:
Julie Newmar – 90 years old (1933) – Actress (Played Catwoman on TV's "Batman", movie "To Wong Foo, Thanks for Everything! Julie Newmar")
Ketty Lester – 89 years old (1934) – Singer, actress ("Love Letters," TV's "Little House on the Prairie", "Getting Personal", movies "Blacula", "Uptown Saturday Night")
Bob Balaban – 78 years old (1945) – Actor ("Gosford Park", "Deconstructing Harry", "Close Encounters of the Third Kind")
Lesley Ann Warren – 77 years old (1946) – Actress ("The Happiest Millionaire", "Victor Victoria", "Clue", "Color of Night", TV's "Mission: Impossible", "Desperate Housewives", "Will & Grace")
Reginald VelJohnson – 71 years old (1952) – Actor ("Die Hard", TV's "Family Matters")
Kathie Lee Gifford – 70 years old (1953) – Television host ("Today", "Live! With Regis and Kathie Lee")
James "J.T." Taylor – 70 years old (1953) – Singer (Kool and The Gang)
James Cameron – 69 years old (1954) – Director ("Titanic", "Avatar", "True Lies", "The Abyss", "Aliens", "The Terminator", "Terminator 2: Judgment Day")
Tim Farriss – 66 years old (1957) – Guitarist (INXS)
Laura Innes – 66 years old (1957) – Actress (Played Dr. Kerry Weaver on TV's "ER", "The Event"). Born in Pontiac, MI.
Angela Bassett – 65 years old (1958) – Actress ("What's Love Got to Do With It?", "Sunshine State", "How Stella Got Her Groove Back", "Waiting to Exhale")
Madonna – 65 years old (1958) – Singer. Born in Bay City, MI.
Timothy Hutton – 63 years old (1960) – Actor ("Ordinary People", "The Ghost Writer", "The General's Daughter", "The Falcon & the Snowman", "Taps")
Steve Carell – 61 years old (1962) – Actor (TV's "The Office", movies "Foxcatcher", "Crazy Stupid Love", "Date Night", "Get Smart", "The 40-Year-Old Virgin", "Anchorman: The Legend of Ron Burgundy")
Donovan Leitch – 56 years old (1967) – Actor ("Breakin' 2: Electric Boogaloo", "The In Crowd", "…And God Created Woman", "The Blob")
Andy Milder – 54 years old (1969) – Actor ("Apollo 13", "Armageddon", "Rumor Has It…", "Frost/Nixon", "Transformers", TV's "Fame", "L.A.", "Weeds")
Emily Robison – 51 years old (1972) – Singer, musician, songwriter (The Dixie Chicks, Court Yard Hounds)
George Stults – 48 years old (1975) – Actor (TV's "7th Heaven"). Born in Detroit, MI.
TODAY IS:
For additional information check out websites like: www.on-this-day.com, www.born-today.com, www.famousbirthdays.com, www.daysoftheyear.com, and www.nationaldaycalendar.com.