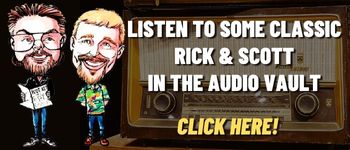 A quick look at Today in History, check out some Celebrity Birthdays, and find out what Days of the Year to celebrate.
TODAY IN HISTORY:
1841 – A patent for venetian blinds was issued to John Hampton.
1878 – The American Bar Association was formed by a group of lawyers, judges and law professors in Saratoga, NY.
1888 – The first successfull adding machine was patented by William Seward Burroughs.
1897 – Oldsmobile was founded.
1912 – Arthur R. Eldred became the first American boy to become an Eagle Scout — the highest rank in the Boy Scouts of America.
1923 – In Kalamazoo, MI, an ordinance was passed forbidding dancers from gazing into the eyes of their partner.
1942 – The Walt Disney animated movie "Bambi" premiered in the United States.
1959 – Hawaii became the 50th state. President Dwight D. Eisenhower also issued the order for the 50 star flag.
1961 – Motown released what would be their first #1 hit, "Please, Mr. Postman", by The Marvelettes.
1965 – Gemini Five was launched from Cape Canaveral on an eight day mission.
1969 – The Gap opened their first store in San Francisco, CA.
1984 – Clint Eastwood received a star on the Hollywood Walk of Fame.
1987 – The movie "Dirty Dancing" opened in theaters.
1989 – The space probe, Voyager 2, got close to the Neptune moon called Triton.
1992 – The Ruby Ridge standoff in Idaho began.
1993 – NASA lost contact with the Mars Observer spacecraft. The fate of the spacecraft was unknown. The mission cost $980 million.
1996 – President Bill Clinton signed the Health Insurance Portability and Accountability Act of 1996. The act made it easier to obtain and keep health insurance.
1997 – Hudson Foods Inc. closed a plant in Nebraska after it recalling 25 million pounds of ground beef that was potentially contaminated with E. coli. It was the largest food recall in U.S. history.
1997 – Cicely Tyson received a star on the Hollywood Walk of Fame.
1998 – Wesley Snipes received a star on the Hollywood Walk of Fame.
2017 – Great American Eclipse traversed the continental United States.
BIRTHDAYS:
Patty McCormack – 77 years old (1945) – Actress (Played Pat Nixon in "Frost/Nixon")
Carl Giammarese – 75 years old (1947) – Lead guitarist, vocalist (The Buckinghams)
Loretta Devine – 73 years old (1949) – Actress ("Madea's Big Happy Family", "Death at a Funeral", "Waiting to Exhale", TV's "Boston Public")
Harry Smith – 71 years old (1951) – Broadcast journalist (NBC News, CBS News, TV's "The Early Show", "CBS This Morning")
Kim Cattrall – 66 years old (1956) – Actress ("Sex and the City", "Police Academy", "Mannequin")
Carrie-Anne Moss – 55 years old (1967) – Actress ("Love Hurts", "The Matrix" series, "Red Planet")
Alicia Witt – 47 years old (1975) – Actress ("Mr. Holland's Opus", "Urban Legend", TV's "Cybill")
Usain Bolt – 36 years old (1986) – The Jamaican sprinter, Olympic medalist
Hayden Panettiere – 33 years old (1989) – Actress (TV's "Nashville", "Heroes", "Guiding Light", "One Life to Live", movies "Scream 4", "I Love You Beth Cooper")
R.J. Mitte – 30 years old (1992) – Actor (Played Walter "Flynn" White Jr. on TV's "Breaking Bad")
TODAY IS:
International Day of Remembrance and Tribute to the Victims of Terrorism
National Brazilian Blowout Day
For additional information check out websites like: www.on-this-day.com, www.born-today.com, www.famousbirthdays.com, www.daysoftheyear.com, and www.nationaldaycalendar.com.