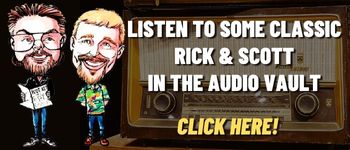 A quick look at Today in History, check out some Celebrity Birthdays, and find out what Days of the Year to celebrate.
TODAY IN HISTORY:
1840 – Joseph Gibbons received a patent for a seeding machine.
1916 – The National Park Service was established as part of the U.S. Department of the Interior.
1920 – The first airplane to fly from New York to Alaska arrived in Nome.
1939 – The movie "Wizard of Oz" opened in wide release around the United States.
1941 – President Franklin Roosevelt signed the bill providing funds for construction of the Pentagon.
1950 – President Harry Truman ordered the seizure of U.S. railroads in an effort to avert a strike.
1958 – Momofuku Ando marketed the first package of pre-cooked instant noodles under the brand name of Chikin Ramen.
1971 – President Richard Nixon tried to slow inflation by imposing a 90-day wage and price freeze.
1972 – Computerized axial tomography (CAT scan) was introduced in Great Britain.
1978 – The Turin Shroud, believed to be the burial cloth of Jesus Christ, went on display for the first time in 45 years.
1981 – The U.S. Voyager 2 sent back pictures and data about Saturn. The craft got as close as 63,000 miles of the planet.
1989 – The Voyager 2 spacecraft made its closest approach to Neptune, the second to the last planet in the Solar System at the time.
1991 – Linus Torvalds announced the first version of what would become Linux.
1993 – The Dow Jones Industrial Average closed at 3,652.09, an all-time high.
1998 – Gary Coleman pleaded innocent to a charge that he hit a women in a mall, where he is working as a security guard, after she asked for his autograph.
1998 – A survey released said that 1/3 of Americans used the Internet. Up to 93% were using the internet in 2021.
2001 – American singer Aaliyah and several members of her record company were killed when their overloaded aircraft crashed shortly after takeoff from Marsh Harbour Airport, Bahamas.
2012 – The Voyager 1 spacecraft entered interstellar space, becoming the first man-made object to do so.
2017 – Hurricane Harvey made landfall in Texas as a powerful Category 4 hurricane, the strongest hurricane to make landfall in the United States since 2004. Over the next few days, the storm causes catastrophic flooding throughout much of eastern Texas, killing 106 people and causing $125 billion in damage.
2021 – In Boyne City, Michigan, a truck hauling several bee hives overturned, releasing a swarm of bees, It was estimated that roughly 50 million beers were on the vehicle. Residents were alerted to keep their doors and windows closed. Beekeepers arrived to collect as many of the bees as they could.
BIRTHDAYS:
Tom Skerritt – 89 years old (1933) – Actor (TV's "Picket Fences", movies "M*A*S*H", "Top Gun"). Born in Detroit, MI.
Anthony Heald – 78 years old (1944) – Actor (TV's "Boston Public", movies "The Silence of the Lambs", "Red Dragon")
John Savage – 73 years old (1949) – Actor ("The Deerhunter", "Hair", "The Amateur", TV's "Dark Angel")
Gene Simmons – 73 years old (1949) – Singer, bassist, Reality TV Star (KISS, TV's "Gene Simmons Family Jewels")
Rob Halford – 71 years old (1951) – Singer (Judas Priest)
Elvis Costello – 68 years old (1954) – Musician
Tim Burton – 64 years old (1958) – Director ("Batman", "Batman Returns", "Edward Scissorhands", "Charlie and the Chocolate Factory", "Alice in Wonderland", "Beetlejuice", "Frankenweenie")
Billy Ray Cyrus – 61 years old (1961) – Country singer ("Achy Breaky Heart")
Ally Walker – 61 years old (1961) – Actress (TV's "Profiler", "Moon Over Miami")
Joanne Whalley – 61 years old (1961) – Actress ("Scandal", "Willow")
Vivian Campbell – 60 years old (1962) – Musician (Def Leppard, Whitesnake, Dio)
Blair Underwood – 58 years old (1964) – Actor ("Madea's Family Reunion", "Full Frontal", TV's "LA Law", "One Life to Live")
Rachael Ray – 54 years old (1968) – TV Chef (TV's "Rachael Ray")
Jo Dee Messina – 52 years old (1970) – Country Music Singer
Claudia Schiffer – 52 years old (1970) – Super Model
Kel Mitchell – 44 years old (1978) – Actor ("Good Burger", "Mystery Men", TV's "Kenan and Kel")
Rachel Bilson – 41 years old (1981) – Actress (TV's "Hart of Dixie", "The OC")
Blake Lively – 35 years old (1987) – Actress (TV's "Gossip Girl")
TODAY IS:
National Franchise Appreciation Day
National Park Service Founders Day
National Secondhand Wardrobe Day
For additional information check out websites like: www.on-this-day.com, www.born-today.com, www.famousbirthdays.com, www.daysoftheyear.com, and www.nationaldaycalendar.com.