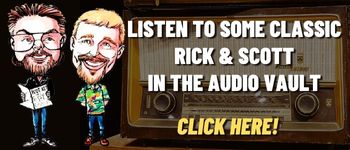 A quick look at Today in History, check out some Celebrity Birthdays, and find out what Days of the Year to celebrate.
TODAY IN HISTORY:
1824 – No candidate received a majority of the total electoral college votes in the Presidential election, so the U.S. House of Representatives was given the task of deciding the winner in accordance with the Twelfth Amendment to the United States Constitution. John Quincy Adams became our 6th President, defeating Andrew Jackson. The 1824 Presidential election was the first election in which the winner of the election lost the popular vote.
1866 – The Michigan Home for Veterans was established in Grand Rapids, MI. It was originally opened for veterans of the Mexican War, Civil War, and Spanish-American War who were disabled by wounds or disease and were not able to earn a living. It was originally called the Michigan Soldiers Home.
1885 – Dr. Pepper was served for the first time at Morrison's Old Corner Drug Store in Waco, TX.
1909 – The Pennsylvania Trust Company, of Carlisle, PA, became the first bank in the in the U.S. to offer a Christmas Club account.
1913 – Ford Motor Co. began using a new movable assembly line that ushered in the era of mass production.
1913 – The first drive-in automobile service station opened in Pittsburgh, PA.
1941 – The Civil Air Patrol was created. In April 1943 the Civil Air Patrol was placed under the jurisdiction of the Army Air Forces.
1942 – Nationwide gasoline rationing went into effect.
1952 – The first successful sex-change operation was performed in Denmark.
1953 – Hugh Hefner published the first edition of "Playboy" with Marilyn Monroe on the front cover.
1955 – A black seamstress in Montgomery, AL, named Rosa Parks, refused to give up her bus seat to a white man. She was arrested marking a milestone in the civil rights movement in the U.S. Her arrest sparks a yearlong bus boycott by blacks and a Supreme Court ruling against segregation on public transportation.
1959 – 12 countries, including the U.S. and U.S.S.R., signed a treaty that set aside Antarctica as a scientific preserve, which would be free from military activity.
1969 – The government held its first draft lottery since World War II.
1973 – The #1 song was "Top of the World" by the Carpenters.
1982 – The movie "Tootsie", starring Dustin Hoffman, premiered in theaters.
1984 – NASA conducts the Controlled Impact Demonstration where a remote-controlled Boeing 720 jetliner was deliberately crashed into California's Mojave Desert. The plan was to test technologies and gather data to help improve survival rates in crashes.
1984 – The movie "Beverly Hills Cop", starring Eddie Murphy, premiered in theaters.
1987 – Construction began on the Channel Tunnel between the United Kingdom and France.
1987 – NASA announced four companies had been given contracts to help build a space station. The companies were Boeing Aerospace, G.E.'s Astro-Space Division, McDonnell Douglas Aeronautics, and Rocketdyne Division of Rockwell International.
1989 – Sylvester Stallone was sentenced to 55 days in jail for driving under the influence of cocaine.
1989 – The movie "National Lampoon's Christmas Vacation", starring Chevy Chase, Beverly D'Angelo, and Randy Quaid, premiered in theaters.
1990 – British and French workers digging the Channel Tunnel (nicknamed "The Chunnel") finally met under the English Channel. Workers started digging from opposite ends and met in the middle.
1994 – The cable channel HGTV debuted. It is now one of the most watched cable channels.
1994 – The Game Show Network debuted.
1997 – Kenny G set a record when he held a note on his saxophone for 45 minutes and 47 seconds. The record has since been broken by Geovanny Escalante who held a note for 1 hour, 30 minues and 45 seconds.)
1998 – Exxon announced that it was buying Mobil for $73.7 billion creating the largest company in the world to date.
2001 – Captain Bill Compton landed Trans World Airlines Flight 200, and MD-83, at St. Louis International Airport bringing an end to 76 years of TWA operations after TWA's purchase by American Airlines.
2013 – Amazon.com CEO Jeff Bezos revealed "Amazon Prime Air" on "60 Minutes." The service planned to use unmanned aerial vehicles to deliver packages to customers.
BIRTHDAYS:
Woody Allen – 87 years old (1935) – Comedian, actor, director ("Annie Hall", "Hannah and Her Sisters", "Midnight in Paris")
Lee Trevino – 83 years old (1939) – Golfer
Federico Faggin – 81 years old (1941) – Inventor (Designed the first commercial microprocessor)
Eric Bloom – 78 years old (1944) – Lead vocalist, "stun guitar" and keyboard/synthesizer player (Blue Oyster Cult)
John Densmore – 78 years old (1944) – Drummer (The Doors)
Bette Midler – 77 years old (1945) – Singer, actress ("Outrageous Fortune", "The Rose", "Ruthless People", "Get Shorty", "For the Boys", "Beaches")
Gilbert O'Sullivan – 76 years old (1946) – Singer ("Alone Again, Naturally")
Treat Williams – 71 years old (1951) – Actor ("The Phantom", "Dead Heat", "Prince of the City", "Hair", TV's "Everwood")
Charlene Tilton – 64 years old (1958) – Actress ("Totally Blonde", TV's "Dallas", "Love Boat")
Carol Alt – 62 years old (1960) – Supermodel, actress ("Private Parts", "Revelation", "Beyond Justice")
Jeremy Northam – 61 years old (1961) – Actor ("Gosford Park", "Emma", "Amistad", "The Winslow Boy", "Enigma", "Martin and Lewis", TV's "The Tudors")
Nestor Cabonell – 55 years old (1967) – Actor (TV's "Lost", "Cold Case")
Julie Condra – 52 years old (1970) – Actress (TV's "The Wonder Years")
Emily Mortimer – 51 years old (1971) – Actress ("The Pink Panther", "Match Point", "The 51st State", "Hugo", "Shutter Island", "The Kid", HBO's "The Newsroom")
Ashley Monique Clark – 34 years old (1988) – Actress (TV's "The Hughleys")
Zoe Kravitz – 34 years old (1988) – Actress ("X Men: First Class", "The Brave One")
TODAY IS:
Bifocals at the Monitor Liberation Day
For additional information check out websites like: www.on-this-day.com, www.born-today.com, www.famousbirthdays.com, www.daysoftheyear.com, and www.nationaldaycalendar.com.