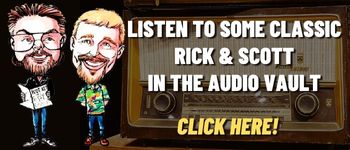 A quick look at Today in History, check out some Celebrity Birthdays, and find out what Days of the Year to celebrate.
TODAY IN HISTORY:
1816 – The Philadelphia Savings Fund Society, the first savings bank in the United States, opened for business.
1823 – President James Monroe outlined his doctrine opposing European expansion in the Western Hemisphere.
1901 – Gillette patented the KC Gillette Razor. It was first razor to feature a permanent handle and disposable double-edge razor blades.
1927 – After 19 years of Model T production, the Ford Motor Company unveiled the Model A automobile — the successor to the Model T
1939 – New York's La Guardia Airport began operations as an airliner from Chicago, IL, landed at 12:01 am.
1942 – A self-sustaining nuclear chain reaction was demonstrated by Dr. Enrico Fermi and his staff at the University of Chicago.
1949 – Gene Autry's song "Rudolph, the Red-Nosed Reindeer," hit the record charts.
1962 – Breast implants were invented by a Texas doctor.
1969 – The Boeing 747 jumbo jet got its first public preview as 191 people flew from Seattle, WA, to New York, NY. Most of the passengers were reporters and photographers.
1969 – Jeannie" and Major Nelson got married on TV's "I Dream of Jeannie".
1970 – The Environmental Protection Agency began operations.
1976 – Fidel Castro became President of Cuba.
1982 – In the first operation of its kind, doctors at the University of Utah implanted a permanent artificial heart in the chest of a retired dentist named Barney Clark. He lived 112 days with the device.
1983 – MTV aired Michael Jackson's "Thriller" video for the first time.
1988 – The movie "Naked Gun: From the Files of Police Squad", starring Leslie Neilsen, premiered in theaters.
1991 – American Joseph Cicippio is released by kidnappers after five years of captivity in Lebanon.
1993 – The Space Shuttle Endeavor (STS-61) blasted off on a mission to fix the Hubble Space Telescope.
1994 – "Hollywood Madam" Heidi Fleiss was convicted in Los Angeles, CA of three counts of pandering.
1994 – The U.S. government agreed not to seek a recall of allegedly fire-prone General Motors pickup trucks. Instead, GM agrees to spend more than $51 million on safety research.
1995 – NASA launched a U.S.-European observatory on a $1 billion mission intended to study the sun.
1997 – The movie "Good Will Hunting", starring Matt Damon, Ben Affleck, and Robin Williams, premiered in theaters.
1998 – Microsoft Corp. chairman Bill Gates donated $100 million to help immunize children in developing countries.
2001 – Enron Corp. filed for Chapter 11 reorganization. The filing came five days after Dynegy walked away from a $8.4 billion buyout. It was the largest bankruptcy in U.S. history.
2010 – NASA announced the discovery of a new arsenic-based life form.
2013 – The animated TV series "Rick and Morty" debuted on Adult Swim.
2020 – Cannabis was removed from the list of most dangerous drugs of the international drug control treaty by the UN Commission on Narcotic Drugs.
BIRTHDAYS:
Edwin Meese III – 91 years old (1931) – U.S. Attorney General (1985–1988)
Tom McGuinness – 81 years old (1941) – Guitarist, singer (Manfred Mann, The Blues Band)
Cathy Lee Crosby – 78 years old (1944) – Actress, TV host (TV's "That's Incredible!")
Keith Szarabajka – 70 years old (1952) – Actor (TV's "The Equalizer", "Angel", "Golden Years", "The Dark Knight")
Dan Butler – 68 years old (1954) – Actor (TV's "Frasier")
Stone Phillips – 68 years old (1954) – Broadcast journalist (TV's "Dateline NBC")
Dennis Christopher – 67 years old (1955) – Actor ("Breaking Away", "Fade to Black", "Chariots of Fire", "Django Unchained")
Steven Bauer – 66 years old (1956) – Actor (TV's "Ray Donovan", "Breaking Bad", movies "Traffic", "Thief of Hearts", "Scarface")
Rick Savage – 62 years old (1960) – Bass player (Def Leppard)
Lucy Liu – 54 years old (1968) – Actress ("Lucky Number Slevin", "Kill Bill: Vol. 1", "Charlie's Angels", TV's "Elementary", "Dirty Sexy Money", "Ally McBeal")
Nate Mendel – 54 years old (1968) – Bass player (Foo Fighters)
Monica Seles – 49 years old (1973) – Tennis player
Nelly Furtado – 44 years old (1978) – Singer
Britney Spears – 41 years old (1981) – Singer, TV judge (TV's "The X Factor")
Jana Kramer – 39 years old (1983) – Country singer, actress (TV's "One Tree Hill"). Born in Rochester Hills, MI.
TODAY IS:
International Day for the Abolition of Slavery
For additional information check out websites like: www.on-this-day.com, www.born-today.com, www.famousbirthdays.com, www.daysoftheyear.com, and www.nationaldaycalendar.com.