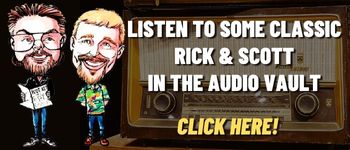 A quick look at Today in History, check out some Celebrity Birthdays, and find out what Days of the Year to celebrate.
TODAY IN HISTORY:
1827 – The first school in Grand Rapids, MI was opened. Five Indians and one adult white laborer were the first students. By April, there were 15 students who were fed and clothed by missions.
1867 – The Grand Rapids and Indiana Railroad began service between Grand Rapids and Cedar Springs, MI.
1914 – British and German soldiers took a break from fighting during World War I. They gave gifts and played football together.
1930 – The Mt. Van Hoevenberg bobsled run at Lake Placid, NY opened to the public. It was the first bobsled track of international specifications to open in the U.S.
1939 – Charles Dickens' "A Christmas Carol" was read on CBS radio for the first time.
1941 – The first public performance of the song "White Christmas" by Bing Crosby on his NBC radio show "The Kraft Music Hall".
1962 – The movie "To Kill a Mockingbird" premiered in theaters.
1962 – The Department of Commerce Census Clock in Washington, DC, recorded the U.S. population on this day at 188,000,000.
1968 – Apollo 8 performed the very first successful Trans-Earth injection (TEI) maneuver, sending the crew and spacecraft on a trajectory back to Earth from Lunar orbit.
1996 – The movie, "The People vs. Larry Flynt", starring Courtney Love was released.
1998 – Near Hawaii, seven days into their journey, Virgin mogul Richard Branson, Steve Fossett and Per Lindstrand of Sweden gave up an attempt to make the first non-stop round-the-world balloon flight.
2003 – The ill-fated Beagle 2 probe, which was released from the Mars Express spacecraft on December 19th, stopped transmitting shortly before its scheduled landing.
2004 – The Cassini orbiter released Huygens probe which successfully landed on Saturn's moon Titan on January 14th, 2005.
2008 – The movie "Marley and Me" premiered in theaters.
2009 – Underwear Bomber, Umar Farouk Abdulmutallab, attempted to bring down Northwest flight 253 on its way to Detroit, MI. He had plastic explosives sewn into his underwear but failed to deoniate tehem properly. He was restrained by passengers and a fire was put out. He was arrested when the plane landed in Detroit.
2021 – The James Webb Space Telescope was launched.
BIRTHDAYS:
Gary Sandy – 77 years old (1945) – Actor (Played Andy Travis on TV's "WKRP In Cincinnati")
Jimmy Buffett – 76 years old (1946) – Singer ("Margaritaville")
Barbara Mandrell – 74 years old (1948) – Country singer
Sissy Spacek – 73 years old (1949) – Actress ("Coal Miner's Daughter", "In the Bedroom", "Crimes of the Heart", "The River", "Missing", "Carrie")
C.C.H. Pounder – 70 years old (1952) – Actress ("Avatar", "Face/Off", "End of Days", "Bagdad Cafe", TV's "Brothers", "The Shield", "The X-Files")
Annie Lennox – 68 years old (1954) – Singer (Eurythmics)
Klea Scott – 54 years old (1968) – Actress ("Minority Report", "Collateral", TV's "Millennium")
Noel Hogan – 51 years old (1971) – Lead guitarist (The Cranberries)
Alecia Elliott – 40 years old (1982) – Country singer, actress (TV's "All About Us")
TODAY IS:
For additional information check out websites like: www.on-this-day.com, www.born-today.com, www.famousbirthdays.com, www.daysoftheyear.com, and www.nationaldaycalendar.com.