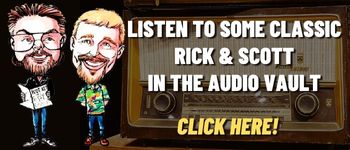 A quick look at Today in History, check out some Celebrity Birthdays, and find out what Days of the Year to celebrate.
TODAY IN HISTORY:
1787 – Delaware became the first state to ratify the U.S. Constitution becoming the first of the United States.
1796 – John Adams was elected to be the second President of the United States.
1836 – Martin VanBuren was elected the eighth President of the United States.
1854 – The steamer "Westmoreland" sank near Sleeping Bear Dunes in Lake Michigan. It was rumored to have had 280 barrels of whiskey on board along with $10,000 in gold coins. The shipwreck was finally found in 2010.
1925 – Old Main, Central Michigan University's first building, was destroyed by fire.
1926 – The gas operated refrigerator was patented by The Electrolux Servel Corporation.
1930 – The first television commercial in the United States was broadcast in Boston, MA. The commercial was for I.J. Fox Furriers.
1941 – Pearl Harbor, located on the Hawaiian island of Oahu, was attacked by nearly 200 Japanese warplanes. The attack resulted in the U.S. entering into World War II.
1945 – The microwave oven was patented.
1946 – A fire at the Winecoff Hotel in Atlanta, GA, killed 119 people. It was the deadliest hotel fire in U.S. history.
1963 – CBS became the first network to use "instant replay" during a nationally televised sporting event. A fourth-quarter touchdown by Army quarterback Rollie Stichweh was played back moments after it took place during the Army-Navy football game at Philadelphia, PA.
1972 – Apollo 17 was launched at Cape Canaveral, FL. It was the last U.S. Moon mission. The crew took the photograph known as "The Blue Marble" as they left the Earth.
1982 – Charlie Brooks Jr., a convicted murderer, became the first prisoner in the U.S. to be executed by injection, at a prison in Huntsville, TX.
1987 – The MTV game show "Remote Control" debuted. It was hosted by Ken Ober and featured Colin Quinn as the announcer/sidekick.
1990 – Johnny Depp and Tim Burton teamed up for the first time when "Edward Scissorhands" was released in theaters.
1993 – Surgeon General Joycelyn Elders suggested that the U.S. government study the impact of drug legalization.
1995 – A probe sent from the Galileo spacecraft entered into Jupiter's atmosphere. The probe sent back data to the mother-ship before it was destroyed. It had been launched by Space Shuttle Atlantis six years earlier.
1996 – The Space Shuttle Columbia returned from the longest-ever shuttle flight of 17 days, 15 hours and 54 minutes.
1999 – The Recording Industry Association of America sued the peer-to-peer file-sharing service Napster, alleging copyright infringement.
1999 – A U.S. federal grand jury indicted a former convict in the 1995 disappearance of atheist leader Madalyn Murray O'Hair.
2001 – The movie "Ocean's Eleven", starring George Clooney, Brad Pitt, and Matt Damon, premiered in theaters.
2001 – A double-album of music from "America: A Tribute to Heroes", the three hour telethon staged just days after the September 11th terrorist attacks, was certified gold three days after its release.
2003 – A 12 x 26 inch painting of a river landscape and sailing vessel by Martin Johnson Heade was sold at auction for $1 million. The painting was found in the attic of a suburban Boston, MA home where it had been stored for more than 60 years.
2004 – Technology giant IBM sold its personal computer division to Beijing company Lenovo for $1.75 billion.
BIRTHDAYS:
Ellen Burstyn – 90 years old (1932) – Actress ("Alice Doesn't Live Here Anymore", "Requiem for a Dream", "Resurrection", "Same Time Next Year", "The Exorcist", "The Last Picture Show"). Born in Detroit, MI.
Carole Simpson – 82 years old (1940) – Journalist (TV's "NBC News", "ABC News", the first African-American woman to anchor a major network news program)
Johnny Bench – 75 years old (1947) – Hall of Fame Baseball player
Tom Waits – 73 years old (1949) – Singer
Larry Bird – 66 years old (1956) – Basketball player, coach
Priscilla Barnes – 68 years old (1954) – Actress (TV's "Three's Company", movies "A Vacation in Hell", "Licence to Kill", "Mallrats", "The Devil's Rejects")
Tim Butler – 64 years old (1958) – Bass player (Psychedelic Furs)
Edd Hall – 64 years old (1958) – TV personality, announcer (TV's "The Tonight Show")
Jeffrey Wright – 57 years old (1965) – Actor ("Angels in America", "Basquiat", "Hunger Games" movies, "Source Code", "Quantum of Solace", "Casino Royale", "Syriana", "The Manchurian Candidate", "Ali", "Shaft", TV's "Boardwalk Empire")
C. Thomas Howell – 56 years old (1966) – Actor ("The Outsiders", "The Hitcher", "Grandview U.S.A.", "Red Dawn", "Secret Admirer", "Soul Man", "E.T. the Extra-Terrestrial", "The Amazing Spider-Man", "Justice League: The Flashpoint Paradox", TV's "Southland", "Amazon")
Shiri Appleby – 44 years old (1978) – Actress (TV's "Six Degrees", "ER", "Life Unexpected", "Dating Rules From My Future Self", "Chicago Fire", "Code Black", "UnREAL")
Sara Bareilles – 43 years old (1979) – Singer ("Brave", "Love Song")
Jennifer Carpenter – 43 years old (1979) – Actress ("The Exorcism of Emily Rose", TV's "Dexter")
TODAY IS:
International Civil Aviation Day
National Pearl Harbor Remembrance Day
For additional information check out websites like: www.on-this-day.com, www.born-today.com, www.famousbirthdays.com, www.daysoftheyear.com, and www.nationaldaycalendar.com.