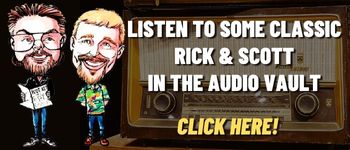 A quick look at Today in History, check out some Celebrity Birthdays, and find out what Days of the Year to celebrate.
TODAY IN HISTORY:
1690 – The colony of Massachusetts issued the first paper money in America. The currency was used to pay soldiers that were fighting in the war against Quebec.
1809 – The territory of Illinois was created by the 10th United States Congress.
1815 – The world's first commercial cheese factory was established in Switzerland.
1838 – The Michigan Central Railroad began service. It took V.I.P.'s from Detroit to Ypsilanti. The cars and engine were hauled back to Detroit by horses after the engine broke down.
1862 – Thomas Edison printed the "Weekly Herald" and distributed it to train passengers traveling between Port Huron and Detroit, MI. It was the first time a newspaper had been printed on a train.
1870 – The Fifteenth Amendment to the Constitution was ratified, guaranteeing voting rights to citizens regardless of race.
1913 – The 16th Amendment to the U.S. Constitution was ratified. It authorized the power to impose and collect a federal income tax.
1927 – The Federal Radio Commission is created by President Calvin Coolidge.
1956 – Highway speed limits of 65 mile per hour during the day and 55 mph at night went into effect in Michigan. Prior to this time, motorists could determine their own speed that they felt was safe and reasonable.
1959 – Musicians Buddy Holly, Ritchie Valens, J.P. "The Big Bopper" Richardson, and pilot Roger Peterson died when their plane crashed near Clear Lake, IA.
1977 – The airing of the eighth and final night of the television mini-series based on Alex Haley's "Roots" scored the highest ratings ever for a single TV program.
1983 – The Sony and Philips corporations announce the development of the compact disc.
1984 – John Buster and the research team at Harbor-UCLA Medical Center announced the first embryo transfer, from one woman to another resulting in a live birth.
1984 – Challenger 4 was launched as the tenth Space Shuttle mission (STS-41-B).
1993 – Gloria Estefan received the 1,974th star on the Hollywood Walk of Fame.
1995 – Astronaut Eileen Collins became the first woman to pilot the Space Shuttle as mission STS-63 got underway from Kennedy Space Center in Florida.
1998 – Novelist Tom Clancy was one of the investors who agreed to buy the Minnesota Vikings for more than $200 million, which was a record price for an NFL team.
2004 – Traces of the poison Ricin were found in Senate majority leader Bill Frist's office.
2009 – Eric Holder was sworn in as attorney general. He was the first African-American to hold the post.
2015 – The British House of Commons voted to approve letting scientist create babies from the DNA of three people.
2019 – Tom Brady and the New England Patriots defeated the Los Angeles Rams 13-3 in Super Bowl 53 in Atlanta, GA. It was the Pat's sixth championship.
2020 – The United States declared a Public Health Emergency due to COVID-19.
BIRTHDAYS:
Fran Tarkenton – 83 years old (1940) – Football Hall of Famer/TV host
Blythe Danner – 80 years old (1943) – Actress ("Meet the Parents/Fockers", "Mr. & Mrs. Bridge")
Dave Davies – 76 years old (1947) – Lead guitarist, backing singer (The Kinks)
Morgan Fairchild – 73 years old (1950) – Actress (TV's "The City", "Falcon Crest", "Flamingo Road")
Nathan Lane – 67 years old (1956) – Actor ("The Producers", "The Birdcage")
Thomas Calabro – 64 years old (1959) – Actor ("Melrose Place", "Without a Trace", "Touched by an Angel", "Nip/Tuck")
Lol Tolhurst – 64 years old (1959) – Drummer, keyboardist (The Cure)
Keith Gordon – 62 years old (1961) – Actor ("Christine", "Dressed to Kill", "Jaws 2", "Back to School")
Maura Tierney – 58 years old (1965) – Actress (TV's "The Affair", "ER", "NewsRadio")
Isla Fisher – 47 years old (1976) – Actress ("The Great Gatsby", "Now You See Me", "Home and Away", "Wedding Crashers", "Confessions of a Shopaholic")
Matthew Moy – 39 years old (1984) – Actor (TV's "2 Broke Girls")
Ryne Sanborn – 34 years old (1989) – Actor ("High School Musical")
Sean Kingston – 33 years old (1990) – Singer
Mishon Ratliff – 30 years old (1993) – Actor, singer (TV's "Lincoln Heights")
TODAY IS:
National Give Kids a Smile Day
For additional information check out websites like: www.on-this-day.com, www.born-today.com, www.famousbirthdays.com, www.daysoftheyear.com, and www.nationaldaycalendar.com.