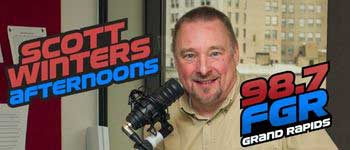 A quick look at Today in History, check out some Celebrity Birthdays, and find out what Days of the Year to celebrate.
TODAY IN HISTORY:
1663 – First recorded earthquake in Michigan.
1861 – Samuel Goodale patented the moving picture peep show machine.
1881 – The city of Phoenix, AZ, was incorporated.
1884 – When lawyer John Ball died, 40 acres of land were given to the city of Grand Rapids, MI, for a park. The land later became the home of John Ball Park Zoo.
1917 – Congress passed the Immigration Act of 1917 (Asiatic Barred Zone Act) with an overwhelming majority. The action overrode President Woodrow Wilson's December 14, 1916 veto.
1919 – Charlie Chaplin, Mary Pickford, Douglas Fairbanks, and D.W. Griffith launched United Artists.
1937 – President Theodore Roosevelt proposed enlarging the U.S. Supreme Court. The plan failed.
1952 – In New York, NY, four signs were installed at 44th Street and Broadway in Times Square that told pedestrians "don't walk".
1953 – The Walt Disney animated film "Peter Pan" opened at the Roxy Theater in New York, NY.
1958 – A hydrogen bomb known as the Tybee Bomb was lost by the U.S. Air Force off the coast of Savannah, GA, never to be recovered.
1971 – Astronauts landed on the moon in the Apollo 14 mission.
1972 – Airlines around the U.S. began mandatory screening of passengers and baggage.
1972 – Bob Douglas became the first black man elected to the Basketball Hall of Fame in Springfield, MA.
1976 – The 1976 swine flu outbreak began at Fort Dix, NJ.
1987 – The Dow Jones industrial average closed above the 2,200-point for the first time. The market closed at 2201.49.
1999 – Boxer Mike Tyson was sentenced to a year in jail for assaulting two people after a car accident on August 31, 1998. Tyson was also fined $5,000, had to serve 2 years of probation, and had to perform 200 hours of community service upon release.
2001 – It was announced that Kelly Ripa would be Regis Philbin's new permanent co-host on his morning talk show, which was renamed "Live! With Regis and Kelly".
2003 – U.S. Secretary of State Colin Powell presented evidence to the U.N. concerning concerning Iraq and weapons of mass destruction. The evidence later proved to be false.
2008 – A major tornado outbreak across the Southern United States killed 57.
2020 – United States President Donald Trump was acquitted by the U.S> Senate in his first impeachment trial.
BIRTHDAYS:
David Selby – 81 years old (1941) – Actor (TV's "Dark Shadows", "Falcon Crest", "Flamingo Road", movie "Raise the Titanic")
Barrett Strong – 81 years old (1941) – Singer ("Money, That's What I Want")
Roger Staubach – 80 years old (1942) – Hall of Fame football player
Nolan Bushnell – 79 years old (1943) – Engineer, businessman (Established Atari, Inc. and the Chuck E. Cheese's Pizza-Time Theaters. Creator of "Pong")
Michael Mann – 79 years old (1943) – Movie and TV producer, writer, director ("The Aviator", "The Insider", "Miami Vice", "Ali", "The Last of the Mohicans", "Manhunter", "Thief")
Al Kooper – 78 years old (1944) – Musician (Blood, Sweat & Tears)
Charlotte Rampling – 76 years old (1946) – Actress ("Swimming Pool", "The Night Porter", "Georgy Girl")
David Ladd – 75 years old (1947) – Actor ("The Serpent and the Rainbow")
Christopher Guest – 74 years old (1948) – Actor ("Best in Show", "Waiting for Guffman", "This Is Spinal Tap")
Barbara Hershey – 74 years old (1948) – Actress ("The Portrait of a Lady", "Black Swan", "The Last Temptation of Christ", "Hannah and Her Sisters", "Last Summer")
Tom Wilkinson – 74 years old (1948) – Actor ("Michael Clayton", "In the Bedroom", "Selma", "Batman Begins", "The Best Exotic Marigold Hotel", "The Ghost Writer", "Shakespeare in Love", "The Full Monty")
Tim Meadows – 61 years old (1961) – Actor, comic ("Mean Girls", "The Ladies Man", "Wayne's World 2", TV's "Saturday Night Live"). Born in Highland Park, MI.
Jennifer Jason Leigh – 60 years old (1962) – Actress ("The Hateful Eight", "The Anniversary Party", "Georgia", "Dolores Claiborne", "Mrs. Parker and the Vicious Circle", "Single White Female", "Backdraft", "Last Exit to Brooklyn", "Fast Times at Ridgemont High")
Laura Linney – 58 years old (1964) – Actress (TV's "The Big C", "John Adams", movies "You Can Count on Me", "The Savages", "Kinsey", "The Squid and The Whale", "Mystic River", "The Truman Show")
Duff McKagan – 58 years old (1964) – Bass guitarist (Guns 'N Roses)
Chris Parnell – 55 years old (1967) – Actor, comic (TV's "Saturday Night Live", "30 Rock")
Bobby Brown – 53 years old (1969) – Musician (New Edition)
Michael Sheen – 53 years old (1969) – Actor ("The Queen", "The Special Relationship", "The Deal", "Frost/Nixon", TV's "Masters of Sex")
Sara Evans – 51 years old (1971) – Singer
TODAY IS:
National Shower with  a Friend Day
Take Your Child to the Library Day
For additional information check out websites like: www.on-this-day.com, www.born-today.com, www.famousbirthdays.com, www.daysoftheyear.com, and www.nationaldaycalendar.com.