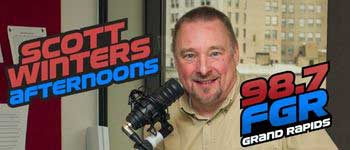 A quick look at Today in History, check out some Celebrity Birthdays, and find out what Days of the Year to celebrate.
TODAY IN HISTORY:
1825 – The U.S. House of Representatives elected John Quincy Adams as President. No candidate had received a majority of electoral votes.
1870 – The United States Weather Bureau was authorized by Congress. The bureau is officially known as the National Weather Service (NWS).
1884 – Thomas Edison and Patrick Kenny executed a patent application for a chemical recording stock quotation telegraph (U.S. Pat. 314,115).
1895 – William G. Morgan created a game called Mintonette, which soon would be called Volleyball.
1932 – America entered the 2-man bobsled competition for the first time at the Olympic Winter Games held at Lake Placid, NY.
1934 – Lowest temperature ever recorded in the state of Michigan… -51 at Vanderbilt.
1942 – Year-round Daylight Saving Time was re-instated as a wartime measure to help conserve energy resources.
1951 – Trying to dodge the draft by being guilty of a small crime, Richard Shay sets fire to the Michigan State Offices in Lansing. The fire caused $5 million in damage.
1964 – The Beatles made the first of three record-breaking appearances on TV's "The Ed Sullivan Show" before a record breaking audience of 73 million television viewers.
1969 – The first test flight of the Boeing 747.
1971 – Satchel Paige became the first Negro League player to be voted into the Baseball Hall of Fame.
1971 – The Apollo 14 spacecraft returned to Earth after the third manned Moon landing.
1975 – Cher's television variety show debuted on CBS with Elton John, Bette Midler and Flip Wilson as guest stars.
1979 – The movie "The Warriors" opened in theaters.
1986 – Halley's Coment last appeared in the inner Solar System.
1997 – With their 167th episode, "The Simpsons" became the longest-running prime-time animated series, taking the record previously held by "The Flintstones". The show still holds the record.
1999 – A California jury awarded the largest judgment ever reached in a smoking related case. A woman said that her inoperable lung cancer was caused by decades of smoking cigarettes, primarily the Philip Morris Marlboro brand. She was awarded $51.5 million.
1999 – The Reverend Jerry Falwell insisted that "Tinky Winky", the purple Teletubby, was gay.
2001 – The movie "Hannibal," the sequel to "Silence of the Lambs," opened in theaters.
2002 – Conan O'Brien signed an $8 million a year deal to stay at his Late Night desk for another four years.
2004 – Diana Ross pleaded guilty to DUI charges in Tucson, AZ, and was ordered to spend two days in jail.
2018 – The opening ceremony for the Winter Olympics took place in Pyeongchang County in South Korea.
2021 – The second impeachment trial of Donald Trump began.
BIRTHDAYS:
Carole King – 80 years old (1942) – Singer ("Will You Love Me Tomorrow", "The LocoMotion", "Up on the Roof", "I'm Into Something Good", "One Fine Day"
Barbara Lewis – 79 years old (1943) – Singer. Born in Salem, MI.
Joe Pesci – 79 years old (1943) – Actor ("Goodfellas", "Raging Bull", "Casino", "My Cousin Vinny", "Home Alone")
Alice Walker – 78 years old (1944) – Author ("The Color Purple")
Mia Farrow – 77 years old (1945) – Actress ("Rosemary's Baby", "John and Mary", "Broadway Danny Rose", "The Purple Rose of Cairo", "Hannah and Her Sisters", "Arthur and the Invisibles", "The Omen", TV's "Peyton Place")
Joe Ely – 75 years old (1947) – Musician
Judith Light – 73 years old (1949) – Actress (TV's "Who's the Boss?", "Dallas", "Law & Order: Special Victims Unit", "Ugly Betty")
Charles Shaughnessy – 67 years old (1955) – Actor (TV's "Days of Our Lives", "The Nanny")
Holly Johnson – 62 years old (1960) – Singer (Frankie Goes to Hollywood)
Travis Tritt – 59 years old (1963) – Country singer
Julie Warner – 57 years old (1965) – Actress ("Doc Hollywood", "Mr. Saturday Night", "Indian Summer", "The Puppet Masters", "Tommy Boy", TV's "Family Law", "Nip/Tuck")
Charlie Day – 46 years old (1976) – Actor (TV's "It's Always Sunny in Philadelphia", movies "Horrible Bosses" and its sequel, "Monsters University", "Pacific Rim", "The Lego Movie", "Fist Fight")
Ziyi Zhang – 43 years old (1979) – Actress ("Memoirs of a Geisha", "The Road Home", "Crouching Tiger, Hidden Dragon", "Rush Hour 2", "Hero", "House of Flying Daggers", "The Banquet")
David Gallagher – 37 years old (1985) – Actor (TV's "7th Heaven", movies "Look Who's Talking Now", "Angels in the Endzone", "Richie Rich's Christmas Wish")
Michael B. Jordan – 35 years old (1987) – Actor (TV's "Fruitvale Station", "Creed", "Friday Night Lights", "The Wire", "All My Children", "Parenthood", movies "Fantastic Four", "Chronicle")
Camille Winbush – 32 years old (1990) – Actress (TV's "The Bernie Mac Show")
TODAY IS:
National Read in the Bathtub Day
For additional information check out websites like: www.on-this-day.com, www.born-today.com, www.famousbirthdays.com, www.daysoftheyear.com, and www.nationaldaycalendar.com.