I made a trip to the Ionia Free Fair recently, and as I was walking around, I started to get a little nostalgic…
Growing up in West Michigan, the last part of July always meant it was time for the Ionia Free Fair! For years my parents would take us to the fair. It was almost a yearly summer tradition. Even as an adult I try to make it out there — just to walk around and people watch than anything. I'm not a big fan of the rides. Even as kid I wasn't really that big on going on carnival rides, but just being at the fair was something special.
How has the Ionia Free Fair changed over the years…
The Performers — I remember back in the day there were some pretty big musical acts that would be featured at the Ionia Free Fair. I found a website called The Concert Database that listed some of the performers who made appearances over the years:
1968: Hank Williams Jr. and the Detroit Wheels
1973: Loretta Lynn and Doc Severinsen
1976: The Letterman
1979: Shawn Cassidy
1981: Kool and the Gang
1982: Rick Springfield
1983: The Little River Band, Cheap Trick, Mitch Ryder, Blue Oyster Cult
1984: The Romantics
1985: The Beach Boys, Loretta Lynn, Conway Twitty, Night Ranger
1986: Stevie Ray Vaughn, Willie Nelson, Ted Nugent, The Nitty Gritty Dirt Band
1987: The Monkees, Weird Al Yankovic, Night Ranger, REO Speedwagon, Richard Marx, Eddie Money
1988: Def Leppard, Europe, The Beach Boys (again)
1994: Metallic, Danzig, Suicidal Tendencies
1995: Deep Purple
1996: Foreigner, Peter Frampton, REO Speedwagon (again), The Beach Boys (yet again)
1999: REO Speedwagon (one more time!), Styx
2000: Def Leppard (again)
2001: Vince Neil, Stephen Pearcy, Slaughter, Vixen
2005: Deep Purple, Kenny Wayne Shepherd, Blue Oyster Cult, ZZ Top, Mat Kearney
2006: Styx
As you can see that's a pretty impressive list of performers — and I'm sure that's not all of them. Keep in mind that we didn't have many concert venues back then, so local fairs were sometimes a nice option to see concerts. I'm sure the cost to bring in a big act now days is too big now for the local fair. (Oh by the way, the performers for 2016 are "Ionia Idol" and hypnotist "The Amazing Arthur"!)
The Food — Most of the food I remember from my childhood is still there. You can still get a bag of cotton candy or maybe a candy apple. The new thing now is "deep fried" anything. I have to admit, I've tried some of it and it's pretty tasty. You can get deep friend Twinkies, Oreos, Snickers, Milkway, Cheese, Reese's Peanut Butter Cups, Cheesecake, Cookie Dough, and even — I'm not kidding here — Deep Fried Butter! I'll pass on the deep fried butter…I have to watch my waistline.
The Organ Grinder — I realize that groups like PETA have done away with acts like this, but I always remember the little monkey and the organ grinder. The monkey would come up and take a nickle, dime or quarter from your hand and put it in his pocket. I think he would even tip his little hat at you afterwards. And don't even think about trying to trick the monkey. If you game him a penny he would hand it right back to you! Now days you would need to be handing him $5 bills or higher. You give him a $1 bill and you are getting in back!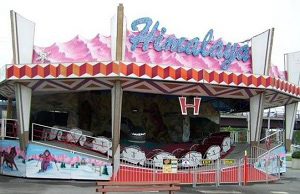 The Rides — Like I said I was never a big fan of the rides, but I was a little upset to see "The Himalaya" is now called "Flying Bobs". I'm sorry, it will still always be "The Himalaya" to me! Don't worry, the "Tilt-A-Whirl" and "The Zipper" are still in existence.
The Side Shows — If you want to talk about an attraction that was far from being "politically correct" — it was the side shows. As a child, I remember walking down the midway where all the tents would be set up with the individual side shows…The bearded lady, the tallest man, the shortest man, Siamese twins, the smallest horse…the list goes on and on. I always wanted to go and see what was behind the canvas walls, but my parents would never allow it. Looking back, I'm not sure I really wanted to see these things, or if I was just more intrigued because my parents DID NOT want me to see them.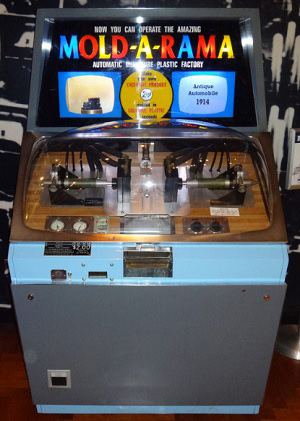 The Souvenirs — As I was getting ready to leave the Ionia Free Fair, I was reminded of what it was like leaving as a child. I remembered always walking out with a warm piece of plastic in my hands. There used to be a machine called a "Mold-A-Rama". Every year my parents would get me one of these plastic sculptures.
If you don't remember the machine…for $1 or 2, it would bring together the two halves of a mold and inject melted plastic into the mold. You could watch the entire process taking place under a bubble of glass. As a child, It was so cool watching this automation at work. Once the plastic sculpture was finished, the machine would cool it off and drop it out of the door for you to pick up. The piece was still warm and had the smell of melting plastic… oh the memories. I had several of the plastic "works of art"…a bust of Abe Lincoln, John F. Kennedy, a oversized penny, and a dinosaur…just to name a few.
What do you miss most about the fairs of days gone by? Leave me a reply below. I would love to have you walk down memory lane with me!
Photo credit: Mold-A-Rama – Flickr.com Brian Katzberger